The Vampire Diaries "Plan B" Recap
The Vampire Diaries "Plan B": The Good, the Bad and the Bloody
Holy Vampire Diaries, you guys! This week's title ends up being foreboding and hostile, due to the wicked machinations of Katherine. What's even more insane is that we witness the loss of one of the characters—yes, the one we were recently warned about.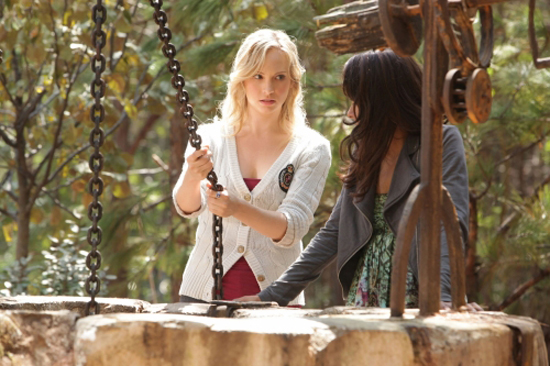 This is truly my favourite episode of season two—it has more excitement and shocking moments (even if some of them were hard for me to stomach) than any other one so far, and I can't wait to discuss it. To suck up all of this week's action, just read more.
Keep reading . . .
The Good:
Bow-chicka-bow-wow! Stefan and Elena are illicitly rolling around in bed at the same time Katherine and Mason are. This steam-fest is only kind of wrecked by the fact that Jenna is listening in, and later tells Stefan that she heard them and knows they're still together. It's a subtle happening that I wrote off . . . at first. Meanwhile, Bonnie has a vision of Mason making out with Elena, and shares it with Stefan, who deduces that Mason and Katherine are lovahs.
Caroline's relationship with her mother takes a step forward and a step back when she tends to Prisoner Forbes in the Salvatore dungeon. I haven't cared much for the way Liz has been treating her daughter (with utter disgust) so my heart warmed for them when she finally started trying to understand Caroline's new way of life. It felt so bittersweet when Caroline says, "When life gives ya lemons . . . " and I actually thought that Caroline was going to trust her mother when she says she'll never tell anyone about her vampire secret. Though her heart is breaking, Caroline tearfully compels her mother to forget everything, knowing that she'd never be able to trust Damon and Stefan. Nice work, Candice Accola.
Amen to Damon telling Bonnie "Get over yourself and help us." She's been pretty crusty about Caroline's situation, so to have someone shut her down feels good. Finally, she does get over herself and helps the boys get the moonstone, doing her Bonnie Jedi mind trick and giving Mason Lockwood aneurysms until he's incapacitated. Once in Damon's torture chamber, Bonnie can see that the moonstone is in the well at the old Lockwood place.
Although I was freaking out the entire time Stefan and Elena are in that awful well, I have to give props to the show, because it's a genuinely frightening scene. Especially if you're like me and hate snakes . . . and screamed and jumped out of your chair the whole time the serpents were on screen.
I was pretty sure that once Mason was under Damon's control, he would be a goner (and I was right), but the fact that he dies had me totally off guard for the episode's big twist. Katherine has had control over Jenna (Kat's "Plan B"), and to show how powerful she is, she makes Jenna stab herself right in the gut. The body count remains just one, though, because Auntie is going to be OK. The next person who's in Katherine's way of harm may not be so lucky. Katherine has Matt now, and is making him go after Tyler—until Tyler kills him.
The Bad:
I know it has be expensive to show superfast, superhuman vampire running, but Caroline looks so dumb rushing to Elena's side at the well that I would just rather not see her run. It's so silly that it's just a distraction.
All right, you guys have the moonstone now; can we please stop talking about it? The whole Aztec curse story is just so campy.
I'm playing the world's tiniest violin for the Stefan/Elena breakup. If it only takes Katherine to keep them apart and the situation could be temporary, then does Stefan really need to cry over the split? Whatever, tears. This is one way to clear the path for Damon and Elena to get together.
The Bloody:
So long Mason, we hardly knew ye. I giggled when Damon ridicules Mason rightly with "The guy's a surfer," but D takes a page out of the True Blood playlist and rips out Mason's heart. At least it isn't as graphic as a True Blood scene, but still. Ick.
Also horrible: Jenna stabbing herself right in the gut. I'm going to have nightmares tonight.
So, what did you think? Were you as impressed and flabbergasted by this week's episode as I was? And will you miss Mason? Let me know what you think in the comments!