The Vampire Diaries "Rose" Recap
The Vampire Diaries "Rose": The Good, the Bad and the Bloody
This week's The Vampire Diaries picks up after Elena's kidnapping last week, and aside from being introduced to a few new vampires (some friendly, some not so much), fans of the Damon/Elena/Stefan love triangle get a little bit of satisfaction.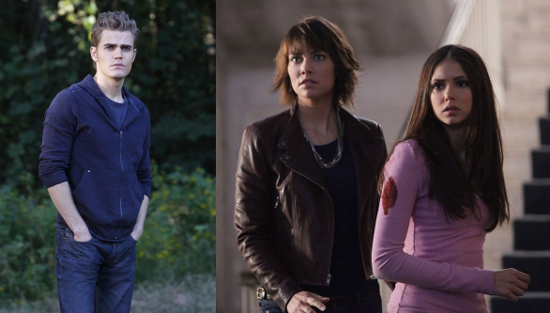 Meanwhile, there are a couple of other pairings the writers seem to be laying the groundwork for, along with hints that new villains are on the horizon. Ready to discuss? Let's break it down when you read more.
Keep reading . . .
The Good
New vampire alert: We meet three new bloodthirsty characters, one of whom retrieves Elena from her masked captor—Trevor, a sexy, scruffy vamp with a hot accent. With him is Rose, a female vampire who looks like a cross between Nymphadora Tonks and Alice

Cullen

. They've kidnapped Elena because she's the Petrova Doppelganger (aka Katherine's doppelganger), and she's a valuable bargaining chip between them and the Originals (whose description hews very closely to The Volturi of Twilight). Elena can absolve them of their previous offense (helping Katherine back in the day) because her blood breaks the Sun and the Moon Curse. The only catch: Elena has to die. The third vampire we meet is Elijah, one of the Originals, a bad guy (who's also sporting a hot accent) who shows up and pardons Rose, but shows Trevor no mercy (keep reading for more specifics).
Caroline and Tyler share tons of face time this week, beginning with us learning that she covered for him after he killed Sarah last week. Tyler confronts her in the halls at school, demanding that she tell him whatever she knows, but Caroline plays dumb. She can't avoid him for long, though, and they get into a physical confrontation where Caroline owns Tyler, and he really knows something's up. Over at her house, Tyler accuses her of being a werewolf, and when pressed (literally), she shows off her teeth to reveal that she's a vampire. I love that we kind of get a glimpse of a partnership between them (maybe even romantic?). Think: vampires and werewolves: buds! Oh, despite the fact that a werewolf bite can kill a vampire. Still, it's cute that Tyler confides in Caroline that he's scared to turn at the next full moon.
Speaking of new twosomes, Bonnie and Jeremy are also getting quite cozy. When Stefan has no way of finding the missing Elena, he employs Bonnie's witchcraft to locate her, which she does, using Jeremy's blood and a map. Unfortunately, Bonnie is starting to feel the side effects of her spells, as evidenced by a couple of bloody noses, which feels like a bad sign (Lost, anyone?).
I like that the show is keeping Katherine relevant even though the villainess is imprisoned. Taking her spot as the resident baddie is Elijah—whom Damon appears to kill, but it's not as it seems. The vampire handily pulls out the stake that impaled him and wakes up, ready to do more damage. But maybe it's not even him we need to worry about, since Rose comes to the Salvatores and invokes a name that sounds much more foreboding: Klaus. Shudder.
How sweet is Damon and Stefan's quality brother time? It all starts when Damon accompanies Stefan to the decrepit mansion where Elena's being kept, and though Stefan is a little suspicious of Damon's willingness to help, they seem to be communicating well. Damon is astounded to find out Stefan has been drinking blood, and is visibly jealous when Stefan says he's been drinking Elena's blood. When Damon references the old, crazy vampire Stefan ("What happened to that guy? He was a hoot."), it actually wakes something up in Stefan, and he apologises to Damon for making him turn all those years ago.
The best moment this week is also the biggest tease! I'm talking, of course, about Damon and Elena's L-word interface. After Stefan gets all the glory when Damon kills Elijah to save Elena, they have brief, sexy eye contact, and she mouths "thank you." But it's back in her bedroom that the heat is really turned on, and Damon lays it all out there and says he loves her, but his brother deserves her. I actually died, guys. Too bad he erases her memory immediately afterward.
The Bad
Nothing bad to report this week! Except the fact that I'm sad that a new attractive character (Trevor) is killed so quickly.
The Bloody
Ugh, why do they have to drag the knife across Jeremy's hand for the tracking spell, and then slowly squeeeze his blood out over the map? So indelicate.
Was anyone else reminded of the Magister's death in this season of True Blood when Elijah lops Trevor's head off? It's slightly less graphic than that scene, but it's still got enough blood splattering to make it the goriest scene this week.
How did you like this episode of The Vampire Diaries? Are you bummed that Damon reveals his true feelings, only to erase Elena's memory, or are you still Team Stefan? Share your thoughts in the comments!