Vanessa Sunshine The Bachelor 2018 Elimination Interview
Vanessa Sunshine's Real Name Really Is in Fact, Vanessa Sunshine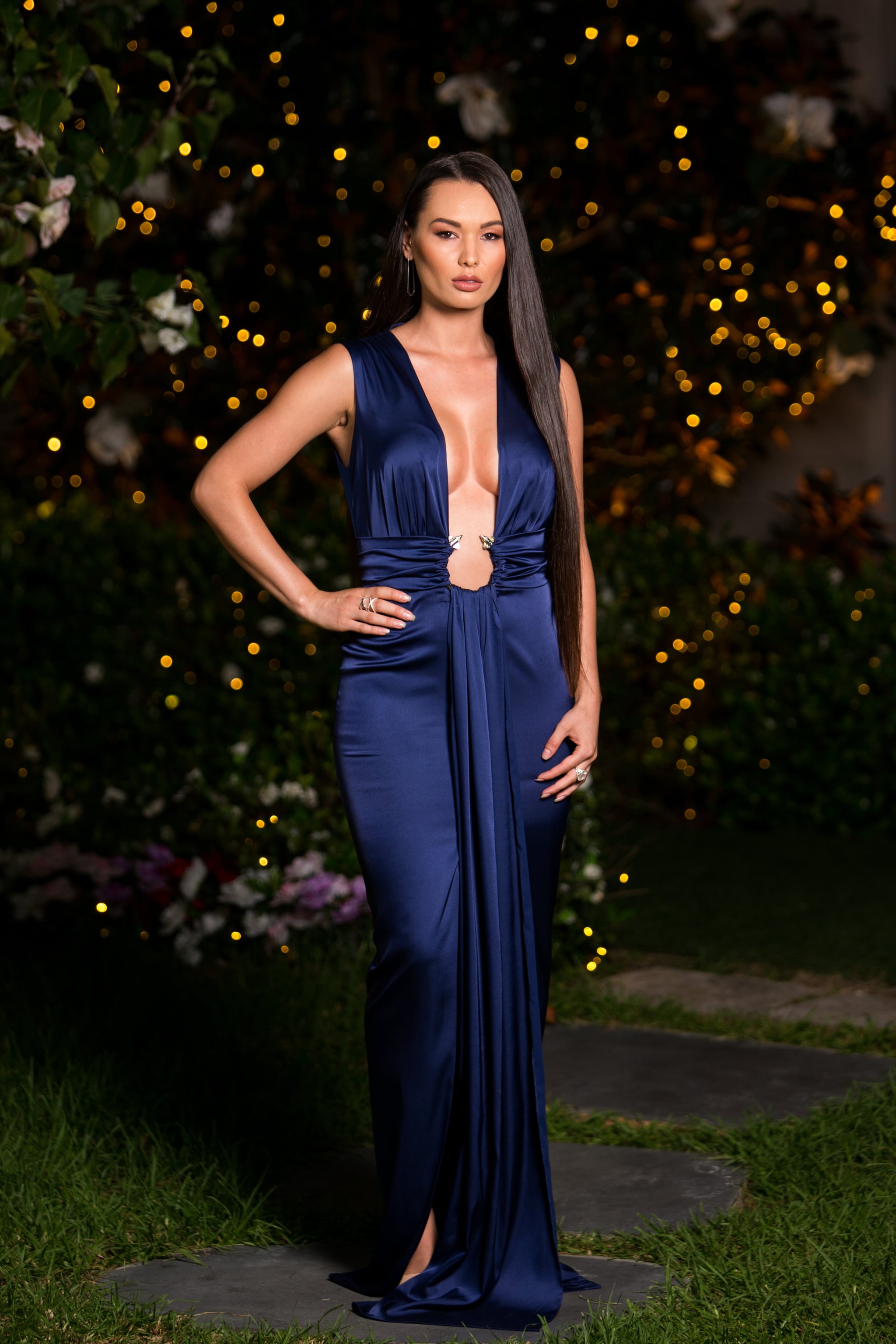 Vanessa Sunshine, where do we even begin? The mermaid-haired Melburnian was a divisive Bachelor contestant from the start — some love her give-no-f*cks attitude, while some think she could smile a little more and show some interest. But I think what we can all agree on is that she's truly one of a kind, never putting on an act or pretending to be something she wasn't.
Although she was sent home on Thursday night in the rose ceremony, she was still as real as ever about her experience. Here, she opens up about her connection with Nick, bullying in the house and what's behind her name.
POPSUGAR Australia: Sorry to see you go! How are you feeling about everything?
Vanessa: I'm fine! [Laughs] I'm all good.
PS: Have you been watching yourself as the episodes have aired? Do you think you've been portrayed accurately?
Vanessa: It's a bit surreal. The first episode, I was at home crying! [Laughs] But most of it [is fine]. Obviously it's pretty hard to get all of my personality into a timeslot, but I'm pretty happy with it.
PS: I have to ask you about that one on one time with Nick. You didn't say much, to say the least. Can you tell us more about that time?
Vanessa: Yeah, there's like a whole other hour of footage. Of course the start was a little awkward. For me, a guy coming up and saying, "Vanessa pull up a stump and chat to me", I was thinking, oh geez, this is like the guys who slide into my DMs and go, "What's up? Yo! Peace sign emoji." I'm thinking, oh, what do you want? So for me, that wasn't thought-provoking, riveting conversation, and yeah, I kind of shut down his dad jokes and he didn't know what to do with that. We were a little bit awkward at the start, but isn't that dating? Like surely other people have been on slightly awkward dates at the start, but you figure it out and you're just two strangers getting to know each other. There's all it was, and there's unseen footage that's probably never going to see the light of day, but we actually did have a nice time.
PS: Oh good! And were you really disappointed when you saw Nick when you got out of the limo?
Vanessa: [Laughs] Er . . . Look, I genuinely had no clue who he was. I didn't realise he was a celebrity, and I've got hair that's almost done to my ass, so I get it, his moustache and golden curly locks are his thing, but I didn't know that. I figured it out when filming wrapped and I could google him, but I couldn't do that in the house, I was just getting given what I was given. I'm also very aware that for me, it isn't just about physical looks, and I've even been very surprised with some of the men I've dated and ended up really liking. That kind of stuff, the physical part kind of builds for me. It's conversation — that's such a turn-on for me — how he treats me, how I treat him as well. It's all those things just kind of building up and I'll be like, oh, I'm actually really into you! It doesn't happen straight off the bat for me. So when I was having to make that judgement then and there, I was like, oh sh*t! [Laughs] Not quite what I was envisioning!
PS: Did you have any romantic feelings for Nick at all, or could see potential?
Vanessa: It's just too soon . . . Like, am I really supposed to fall head over heels in love with someone after an hour's interaction? That's not normal to me. And then every other time I'm getting with him is with other girls, so yeah, it's way too soon for me.
PS: How did you feel about the girls in the house?
Vanessa: Are you going to be more specific? [Laughs]
PS: [Laughs] I mean . . . Yes, but overall, did you enjoy your time in the house?
Vanessa: For the most part, yes. I think I'm quite a realistic person and I never went in there thinking everyone was going to be friends and everyone was going to get along. I was just going to be happy if I made a couple of friends, and I was so fortunate that I did. That was enough for me.
PS: Who were you closest with?
Vanessa: I was closest with Dasha and Tenille. They're really nice and literally only hung out with them in cocktail parties! [Laughs]
PS: What made you butt heads with Romy and Cat?
Vanessa: Well, it was Alisha as well. The fact that they're flat out, blatant bullies.
PS: Has that just been editing or . . .?
Vanessa: No, it's 100 percent real. It's not produced or coerced, it's not editing, it's nothing . . . What you're seeing isn't even half of what went down. For me, that behaviour is just disgusting, and they always seem to justify it by scape-goating other people. I see the way that those girls get their self-worth, self-confidence and validation is by belittling and berating and bullying other people. They can sugar-coat it whatever way they want at the end of the day, but that's what it is, it's bullying. And you know, I'm very particular about who I spend my time with in my normal life, and they're just not people I would ever associate myself with. Even if I didn't like someone, I would never go out of my way to belittle or degrade who they are as a human, or attack their physical attributes.
PS: Did you have any favourite moments from the show?
Vanessa: I actually freaking loved quad-biking! [Laughs] And the down-time we got. Overall, it was such a once in a lifetime experience. It literally takes a village to make that show and I had no idea what went into it and the people behind the scenes. I enjoyed it, to be honest.
PS: Would you do it again?
Vanessa: Er, I would prefer to be in Nick's position, to be honest! [Laughs] I would much prefer to have a little more control, but yeah, I would.
PS: Why did you choose to go on the show?
Vanessa: So I have the words, "Trust your intuition" tattooed on my inner forearm. And pretty much, my gut just told me this was what I needed to do and needed to be. I applied online and was fortunate enough to be one of the girls selected.
PS: I have to ask, where does the name Vanessa Sunshine come from?
Vanessa: [Laughs] I don't know what the big deal is! It's like people calling themselves Iggy Azalea, Cardi B, Lady Gaga . . . No one gives a sh*t. It is my real name, I'm not pulling it out of my ass. It's the name I was born with, it's on my birth certificate and everything like that. That's it! [Laughs] It's not fake.
PS: Who do you think is the best match for Nick?
Vanessa: My top picks would be Britt, Sophie and Brooke. They're lovely girls, and I'm still in touch with them.