The Veronicas Music Interview on You Ruin Me Success
The Veronicas Get Emotional About Their "Consistent" Fans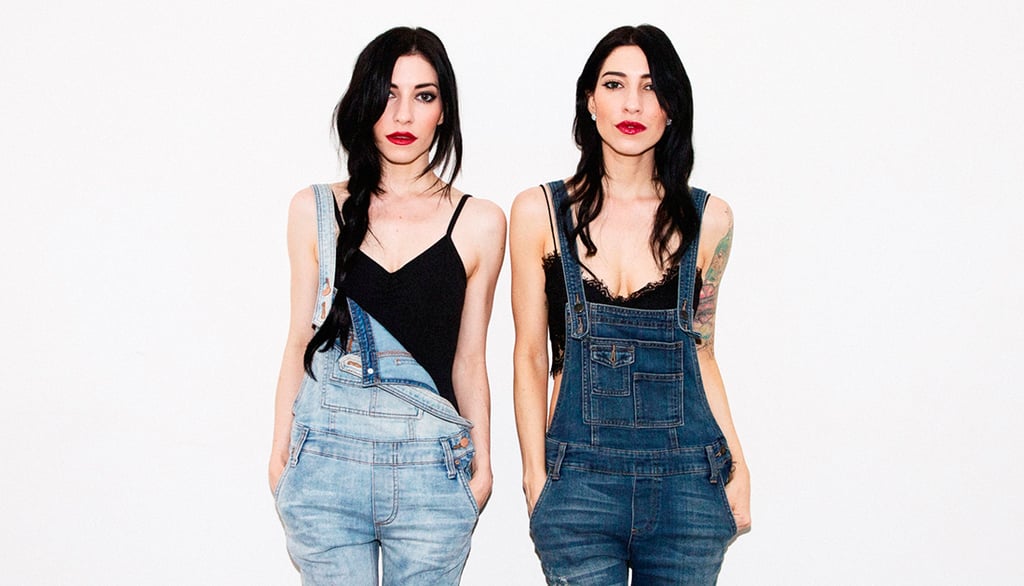 When The Veronicas dropped their new single, "You Ruin Me," the reaction went something like this: "Is this really The Veronicas? What happened to their rock sound? The Veronicas have released a ballad? You're sure this is The Veronicas?" The fact that the emotional ballad quickly reached number one on the Australian Shazam Chart proves that people needed a bit of time to adjust to the Brisbane-born twins' new sound, but before long it shot to the top of the ARIA singles chart, proving that people were loving it. Jessica and Lisa Origliasso have started a new chapter in their music careers, and while "You Ruin Me" was never intended to be their 'comeback' single, their new record company Sony Music believed it would be the perfect track to lead their third studio album, which is expected to be released later this year.
We recently caught up Jessica and Lisa to talk about how the single (very quickly) came together, how their style has evolved over the years, and why their fans are the most "consistent" people in the world.
POPSUGAR Australia: How do you feel about the reaction to "You Ruin Me"? How have you been celebrating, if you have?
Jessica: Oh gosh, we were overwhelmed. We're still overwhelmed. It's the absolute pinnacle for an artist to have people embrace your music, and for people to connect with it, and this some is an incredibly vulnerable song, full of emotion, so to people to have connected with it, enough people that it's at number one, that's the celebration! That's the reward for us. It's incredibly validating that we fought to sing from our hearts and have that put out as the first thing, and that people dig it.
PS: How did you know it was the one to put out first?
Jessica: Well, we kind of didn't! We were going with a different song, we'd finished the album, and then at the last minute — well, not really the last minute; we continue to write anyway, even when it's cut off, we love to write — so we were here writing, with two other guys who are awesome, and Lise was like, "I really wanna right a ballad, I wanna ride out this situation I'm feeling," and we were like, "Cool, let's do it!" It was written and recorded in about three-four hours — done. That was it, we didn't really think about it again. And then everyone in the company heard it, and everyone freaked out.
Lisa: It was a unanimous, "This has gotta be it." It connected with them.
Jessica: They said, "We would love for this to be put out." And for us, because it was such a self-indulgent moment, that song, we were a little confused. We were like, "Really? But it's a ballad! Everyone wants the badarse Veronicas blazing with guns!" They were like, "No, we really believe, if you girls want, we believe in this song to be leading you." We were just blown away that they encouraged that side of ourselves. So we were like, "Awesome, we'd love to. We'd love to be able to do something people don't expect."
PS: People are labelling it as a 'comeback' — thoughts on that word?
Jessica: Hell yeah!
Lisa: We'll take it.
Jessica: I mean we never stopped doing music. It's not like we stopped — we didn't have kids, we didn't go and do something else for a while — we kept creating, we've been in the studio almost every single day. Obviously we've been living our lives — we did a lot of travelling, we had a lot of life experience in the time we've had off from touring. But we just use all that as fuel to keep creating, and keep doing our music. So that's what we've been doing the last few years, and loving it. It is nice to fly under the radar for a little bit.
PS: How do you decide who's going to take on what role in a song? Lisa, you do lots of the singing in this, and Jess you seem to do more back-up and the instruments.
Lisa: It's whatever feels the most natural, depending on what song. Our voices are so different, so sometimes it comes down to what parts suit who. This song was kind of an exception because it wasn't necessarily . . . There was no strategy, it wasn't thought out, it just happened. Jess let me feel the verses and sing it from my heart, because I was so deeply in it. She was like, "Babe, you just go on and do your thing, and just have your time with the song." It was a healing process for me, too.
Jessica: A lot of times the way we'll approach a song, if we both really love a song, is we'll both put down the whole song each — so I'll sing through the whole song, she'll sing through the whole song — then we'll sit there and go, "Your verse is there, my chorus is here." So you can hear, sonically, what tells the story the best. Obviously when you're thinking of a specific single we'll make it even, just because for video clips and stuff it's easier, and for live shows.
Lisa: That's why this song is kind of crazy!
Jessica: We literally did not even go into it with a single format. We didn't even think we would be adding any more songs to the album.
PS: How did the deal with Sony Music come about?
Lisa: I think it was just a mutual love for the energy they bring. They showed their love for us as artists. They loved the music. We played them a bunch of stuff we've been writing and recording over the past few years.
Jessica: We knew we didn't want to get into a situation, like the last situation. We wanted to connect with whoever it was that we wanted to partner up with, and the team here is unreal.
PS: Is your third album the one you were planning to release before, or has it changed a lot from what it was going to be?
Jessica: It hasn't totally changed. It's basically an amalgamation of all of it. It's just the best stuff from the last few years, so some of it is more recent, some of it is not so recent, but all of it is relevant, if that makes sense, to the journey.
PS: I heard that on a radio interview recently you were talking about how your style had returned to a more 'emo,' or not necessarily emo, but 'darker' look.
Lisa: I think the interviewer said, "Your look is a little more this and that." We feel like we have honestly just returned to our natural state of being. Which is, you know, the dark hair. We have a bit of that gothic thing, and those rock and roll notes. Emo, I don't even think that term's used anymore.
Jessica: That's like a phase.
Lisa: Sometimes we do feel like being a little more dressed up, like in couture, and we get to wear beautiful gowns. But there is a certain darkness to us that's always been there — we've always embraced it, and it's a big part of who we are, even in the music, in the stage show. It's a rock show when you come to a Veronicas show.
PS: Have you previously ever felt like you had to fit in a certain pop or rock mould when you were doing music years ago?
Both: No.
PS: So it's always been true to yourself, whatever you were feeling at that time?
Lisa: Of course you grow along the way.
Jessica: I wish someone had stepped in for some of it, and been like, "You know what, girls? We'll get you a real makeup artist!" [Laughs] "You don't have to wear black all over your eyelid!" Or a stylist to say, "That bright orange jumpsuit you wore on the red carpet probably wasn't the best idea." But we did it ourselves. You see people like Miley, you see people like Ariana Grande, and they have all these designers making outfits for them.
Lisa: They look flawless! We had none of that. There was nobody helping in any capacity. We were literally left to our own devices.
Jessica: And looking back, we were pretty punk-rock. I look at old photos of Alison Mosshart from The Dead Weather — she was exactly like us. It's a very punk-rock mentality where it is do-it-yourself. And you know what? Everyone around us was like, "Yeah, you girls are so cool! You're doing your thing." We're so opinionated and we know what we like, so they just left us to our own devices. Now it's like, "Do you know what? It would be nice to have someone do my makeup?" [Laughs] I'm a little older now, can someone else do this for me?
PS: Do you have more people wanting to dress you now? The dresses you wore on The X Factor were beautiful.
Jessica: We have a grander sense of self now. We've embraced all parts of our femininity and our androgynous side, and our rock 'n' roll side, and our feminine beauty. So we really like to use it all. Whereas before we were younger and we were gung-ho, as you are in that mindset, and we really exercised one part of ourselves. And as you get older, you accept, accept, accept, you progress, progress, progress, evolve, evolve, evolve, and you just become a grander version of yourself. So we love to wear couture. I wore J'Aton, and you [to Lisa] had a different designer on. [Lisa checks phone; she wore Daniela-Stephanie.] Energetically, you have to be able to pull that stuff off though. You have to be in a position where you're happy to wear that stuff, because if you're put in that stuff and you're in a place where you're not stoked, you can tell.
We have style inspirations. Like Jack White is a huge style inspiration. Power suits.
Lisa: Or sometimes we just feel like we want to put on our ripped jeans and a man's extra large Merlin the wizard t-shirt. We're such creatures of comfort in such a big way, we'll never put on anything we're not comfortable with. The older you get, the more you just don't want to compromise anything. I wanna wear what I wanna wear, I wanna do what I wanna do, I wanna eat what I wanna eat.
PS: How old are you now?
Jessica: We're 29! We're really proud to have grown up. We love it. People get freaked out.
Lisa: And I'm really proud — neither one of us went to rehab, or to jail. Like, we've just been doing our thing. You become older, wiser, and you don't give a sh*t about what anybody else thinks. It's actually a beautiful place to be.
PS: Do you still get annoyed if people can't tell you apart?
Lisa: No. Had it our whole lives. It is what it is.
Jessica: Well we're very different. You know what I get annoyed about? I get annoyed about putting my name against Lisa's quotes, and Lisa's name against my quotes in papers. And they do it constantly. That's annoying. People confusing us in person is totally understandable.
PS: Do you have a dream collaboration?
Lisa: Yes, I have a few. I would love to write with Pink or Taylor Swift.
Jessica: Taylor Swift is badarse. Taylor's all about the sisterhood. I like that.
PS: You grew up together, you make music together, you work together — what's the longest you've been away from each other?
Lisa: It's probably two or three weeks, just through our travels, and doing our own thing for a while. It's healthy for us to have some time apart.
Jessica: We talk every day though, even when we're apart.
PS: What do you miss most about home?
Lisa: We miss our family.
Jessica: And the people. The laidback attitude is awesome.
PS: Career highlight?
Lisa: Collaborating with Daniel Johns from Silverchair would be a career highlight. Honestly, to me it just feels like the journey's just beginning. I can't wait to keep going, and every day feels like a highlight, especially getting to meet with the fans, and hearing how the music affects them. That's always the highlight.
PS: And social media wasn't really a thing when you were last promoting music. How has it changed your relationship with your fans?
Lisa: Love it. The relationship grows stronger and closer. We consider so many of them as friends.
Jessica: We call it a "friendom" instead of a "fandom." Because you get to know each other so closely that it feels like you're friends.
Lisa: They're so consistent!
Jessica: It is so hard to find consistent people in life, in general, full stop. You can maybe name three for four people who are close to you who are consistent people. We have a fanbase of kids — sorry, not kids, I feel like a mum to them, so I say kids — of people, who are so consistent, and have been consistent on a daily basis for years with us, giving us so much love, support and encouragement. And there's multiples of them! It's hard enough to find one person in your life that's consistent, and we have this whole fanbase of amazingly consistent souls that will tell us "Happy Birthday" before they even say "Merry Christmas" to their own family. [Jessica and Lisa's birthdays are on Dec. 25.] It means so much. It's so beautiful that somehow we've attracted these incredible, consistent, loving people.
Want more? Follow us on Facebook, Twitter, Instagram and Pinterest!