Victoria Beckham October 2009 Elle Magazine Cover 2009-09-02 14:30:00
Victoria's Clutch Shields Elle's Scorching October Sun
Victoria Beckham's clutch cast quite a reflection for the October cover of Elle magazine. The shoot embraced Posh's futuristic side, showing her in an angular stance under the blazing glare. Victoria talked a bit about her sons, and the family just celebrated Romeo's birthday yesterday with a fun dinner out. She also addressed her own body image and the rumors that she is looking to enter a career in acting. Here are a couple quotes: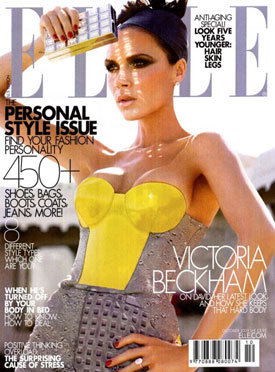 On body image: "I do have my insecurities. Maybe that's why I look a little bit serious. The kind of person who's going to stand on the red carpet and have the big grin — I'm not like that. I want to get in there, do what I've got to do, and get home to my kids."
Denying rumors she wants to act: "I know my boundaries — I know what I am good at and what I'm not good at."
More to come from her sexy spread and interview — so stay tuned!