Video Trailer For Chloe, Starring Amanda Seyfried, Julianne Moore, and Liam Neeson
Movie Preview: Julianne Moore and Amanda Seyfried in Chloe
Warning: NSFW. I repeat, NSFW. The international trailer for the upcoming thriller Chloe is making the rounds, and it is scan-da-lous (what else do you expect when the preview's French?).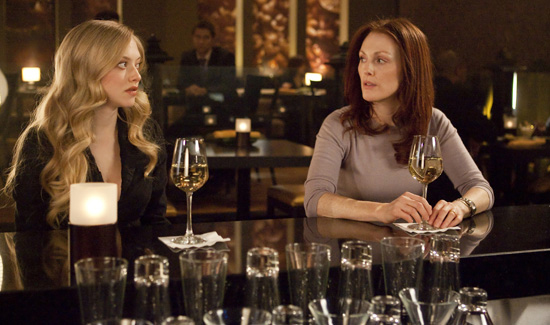 Amanda Seyfried plays Chloe, a prostitute hired to expose a husband's (Liam Neeson) cheating. Things get complicated, however, when Chloe seduces not only her target, but also the woman who employs her services — his wife Catherine (Julianne Moore). And yes, there is a Moore-Seyfried love scene. From there, things seem to take a Fatal Attraction-like turn that just cannot end well.
My jaw was literally open while watching this, because it just seems like such a departure for dear, sweet Seyfried. Obviously, she's trying to leave that good girl persona behind. An Australian release date is yet to be announced, but watch the trailer (and try to keep your eyes from bugging out of your head).