Viral Beyonce Knowles Videos From Her Concerts
Another Tear-Jerking Beyoncé Fan Moment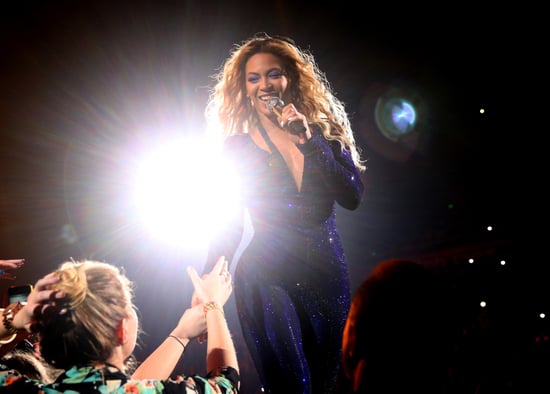 Through the years, Beyoncé has given fans plenty of reasons to love her, thanks to fun surprises, thoughtful meet-and-greets, and memorable concert moments. She's always been great about interacting with her audience, but with her latest fan interaction, Beyoncé takes it to a whole new, emotional level. The Make-a-Wish Foundation teamed up with the singer to make a child's wish come true, and the pair's touching moment brought the little girl to tears. Plus, while touring in Australia, Beyoncé snapped a selfie with a fan, grabbed someone's mobile during a FaceTime session, and started a tear-jerking duet with a young blind girl. Take a look at all the funny, moving and viral Beyoncé moments that have fans adoring her even more.
A Wish Come True
Earlier this month, a young girl named Taylon enjoyed a special moment with the singer at a Las Vegas concert. Taylon, who's terminally ill with cancer, was brought to tears when Beyoncé found her in the audience for a "Survivor" duet.
A Touching Duet
While performing in Perth, Beyoncé melted hearts when she turned to 13-year-old Sophie to sing a duet. First, she dedicated the song "Irreplaceable" to the young girl, who is blind and suffers from hearing and muscle disabilities. "I have a very special young lady here," she said. "Tell everybody your name, beautiful." The crowd cheered after she shared her name, and Beyoncé said, "Sophie, I think I need you to help me sing this song. Do you think you can sing, 'To the left, to the left'?"
A Sweet School Surprise
During the Let's Move! Flash Workout event in NYC in 2011, a group of students was in for one amazing surprise when Beyoncé walked in to join them. The girls were busy dancing to one of the singer's songs when she ran into the gym and started dancing along. Cue the screams!
A Fan-Filled FaceTime Session
Someone out there in the world (aside from Blue Ivy) can say that they FaceTimed with Beyoncé. The singer wowed the crowd once again during her show in Adelaide, grabbing a fan's phone after she saw that he was FaceTiming with a friend. "This is a first," she said before looking into the phone: "Hi . . . Nice to meet you." See more amazing fan moments when you keep reading.
The Epic Selfie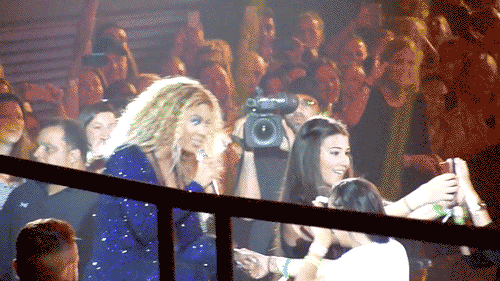 During one of Beyoncé's shows in Melbourne, she spotted a girl with a camera phone, who asked her to pose for a picture. Ever the kind artist, Beyoncé leaned in to photobomb her selfie — although it wasn't technically a "photobomb."
Still, with Beyoncé's perfect head tilt and the girl's casual, unknowing smile, it made for one awesome concert snap. The fan summed it up perfectly on her Tumblr page: "Wowoowow. It was the best moment ever."
A Superfan Meet-and-Greet
For POPSUGAR US's I'm a Huge Fan series, the singer met with one of her biggest fans, Jasmine. After performing the "Run the World (Girls)" video dance in the singer's actual outfit from the video and starring in a photo shoot with Nigel Barker, Jasmine watched Beyoncé take over the Good Morning America stage before meeting with the singer.
Fan Snaps
Not only did Beyoncé brave the rain to perform for fans, but she also shared this cool snapshot from one of her Summer concerts. She often spreads the love for fans on her Instagram.
BEYLOVE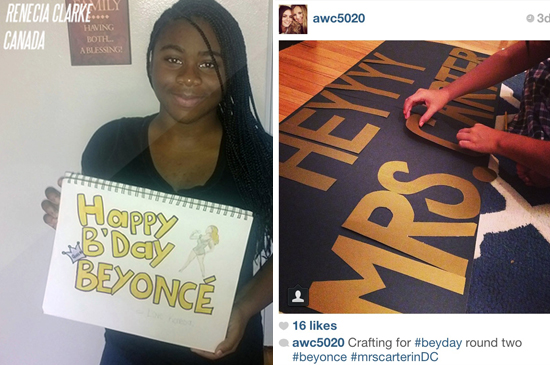 On Beyoncé's website, she has a section called BEYLOVE, which she names as "a place for my fans, a place for the love you give me." Filled with photos, well wishes, and notes, it's a thoughtful nod to her fans with a collection of their sweetest submissions.
Spreading the Love
While touring in Brazil in September, Beyoncé attended a press conference where she posed for pictures and spent time with fans backstage. She was all smiles while hanging out with her young fans, offering hugs all around.