The Voice Australia 2013 Interview With Darren McMullen
Darren McMullen Talks Changing Hairstyles and The Voice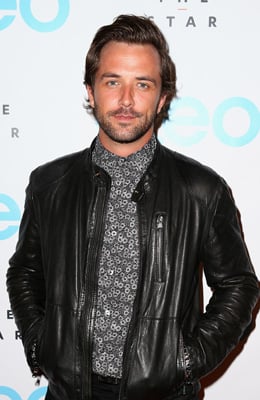 When The Voice premiered for its 2013 season last month, host Darren McMullen probably didn't expect that one of the most-talked about things would be his new hairstyle, especially with a new coach (Ricky Martin) and lots of talent on the show. In fact Darren's not the only Voice star with a dramatic hair change — Delta Goodrem, the show's sole female coach, recently cut most of her length off and now has a chic lob, which made its TV debut on The Voice's first Showdown episode last night. I recently caught up with Darren to get his thoughts on the many changes this season.
People have made a big deal about your changing hair this season.
I don't really put too much thought into my hair — I certainly don't put as much thought into my hair as the people of Australia have. I simply have always changed my hair, every few months, it's something I've always done. I just grew my hair longer. Next year I'll be different again, probably. Maybe even a different colour — who knows! It wasn't even a conscious decision, it was just, 'This is how I'm wearing my hair now.'
What do you think of Delta's haircut?
I love it! I think it's great. I think it looks fantastic and natural, and I think she looks younger. It's really cute. She's looking fit at the moment.
More from Darren when you keep reading.
When I asked Prinnie how she felt about this year's Save Card, she said she wished it existed last year so Mahalia could have been saved in their battle.
It would've been great, but then part of the reason why that battle was so epic was because Mahalia had to go home. In a lot of ways it probably put Prinnie on the map. Although it is fantastic to have, I think Prinnie probably benefitted from not having a save.
So can you explain the Showdowns to me?
Each team now has eight contestants on them, and we're going to have these things called the Showdowns, and each team is going to be cut in half. For the first time in this season the public's gonna get a vote as well.
Is it something that's been carried over from the US show?
I'm not too sure. I think we're the first to do a Showdown but I'm not too sure on that.
Do you have any favourite contestants?
No, they're all like my baby children — I couldn't possibly have any favourites.
What do you think of the coaches' chemistry this series? I know it's been on TV awhile now.
I think it's great. The whole dynamic between everyone on set is fantastic. Ricky added a whole new element. We all miss Keith a lot, but Ricky's different. They didn't try and replace him [Keith], they got somebody that was completely different, and he adds a very fresh, young, kind of hip and almost jovial dynamic to the set. It's a lot of fun to be there. It's a really good show this year.