The Voice Australia Grand Final 2014 Live Results
The Voice Grand Final 2014: Live Results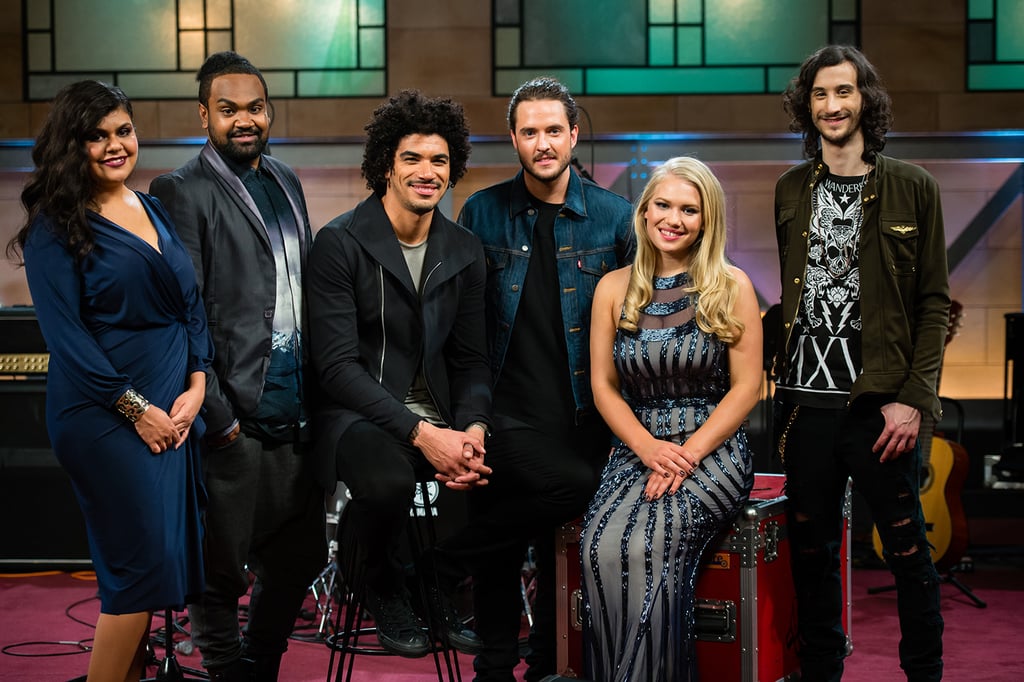 It's the live grand final of The Voice! By the end of the night, either Anja Nissen, Frank Lakoudis, Jackson Thomas, Johnny Rollins or duo ZK will be crowned as the winner of the 2014 series. It's been an entertaining season thanks to coaches Ricky Martin, Kylie Minogue, Joel Madden and will.i.am, and we're celebrating its conclusion by covering the grand final live.
If you're in a state where this is yet to air, stop reading unless you want the result spoiled.
7:32 p.m. Cute. A promo for The Voice Kids Battle Rounds.
7:34 p.m. And the grand final has started! It's kicking off with a performance of "The Real Thing" with the coaches and the top 16. Oh, so many familiar faces from three weeks ago and less. will.i.am is doing a weird jig in his black and white suit.
7:37 p.m. That was an interesting performance. Anyway, now it's time to recap when the grand finalists were just about to step onto the stage for their Blind Auditions. The Blind Auditions feel like they were aaaaaages ago. Almost forgot about those gimmicks. "I don't know about the rest, but I got the best," says will.i.am in a voiceover. Thanks to this show we now all know about his watch/gadget that comes up with words that rhyme.
7:43 p.m. Host Darren McMullen is wearing a blue sparkly suit that screams "Grand Finale." There's still time to vote so we have to recap all the numbers and best performances. Still can't get over how much Jackson looks like Aaron Paul but with long hair.
7:44 p.m. Darren tells us that will.i.am has made Voice history because he has two artists in the grand final, and is also the first coach to have a duo in the top five. will.i.am feels "confused" because he wants both of them to win. Darren then reminds everyone that Kylie is actually responsible for two of the top five, Johnny and Jackson (Jackson was saved by Ricky) — and it turns out Jackson is the first saved contestant to ever make the grand final! So much history being made on tonight's live final. So. Much. History.
7:48 p.m. The grand finalists went to dinner with the coaches at Rockpool in Sydney. Dinner with those guys at Rockpool would give anyone incentive to make it to the final stages. will.i.am dispensed some of his wisdom to the contestants, saying the three things that set stars apart from the others are an "open mind, thick skin, and relentless dedication." Darren frantically tells the audience that there was only 30 seconds left to vote! And then voting lines are . . . closed.
7:55 p.m. The contestants went back to their hometowns to see how much support they have. They have a lot, and Frank has a huge Greek family that loves to cook and smash plates.
7:59 p.m. It's time for the coach-artist duets to kick off. First to sing are Kylie and Johnny, and they're going to sing her smash hit "Can't Get You Out of My Head." Johnny's dressed in a very casual white ensemble, and Kylie's looking her usual minxy self in a dress with a sheer skirt. Does this mean will.i.am will perform twice, or will his performance be a threesome? Also, while we're appreciating how hot Johnny looks during this performance, let's recap the evolution of our crush on him.
8:08 p.m. So it turns out will.i.am will be performing with ZK and Anja at the same time. They're singing "Where Is the Love?" Part of me wishes it was "Pump It" or "My Humps." will.i.am believes they've already won because they're the only team with two freakin' acts in the grand final. Anyway, performance time. The audience has been given red lights to wave around. Ricky is really getting into it. Standard Ricky. That ended on a really strong note. Now will.i.am is telling the story of how "Where Is the Love?" changed the lives of the Black Eyed Peas. Sweet.
8:20 p.m. Brisbane-based band Sheppard has hit the stage to perform their song "Geronimo." They've also given a shout out to top 16 contestant Isaac McGovern, who performed this song during the live finals a couple of weeks back. One of the girls has blue and purple hair — she obviously knows mermaid hair is where it's at.
8:25 p.m. Bromance chat between Ricky and Jackson. Ricky's reminding Jackson of how quickly Kylie turned for him, but all Jackson can think about is how no one else turned for him. They're going to sing "Every Breath You Take," and Ricky says to Jackson, "Let's laugh, let's be silly." For the real performance, Jackson is rocking a high man bun. To end it, Ricky pretty much jumped on Jackson. Someone's excited.
8:35 p.m. It's a top 16 reunion in the green room. Some of these people deserve to be in the grand final. It had to be said. Now it's time for Joel and Frank to have their chummy chat. Joel says, "When you were born, I was 13 already," to which Frank replies, "That's massive." Yep, it is . . . They're singing Imagine Dragons' "Radioactive" together. Interesting how two of the coaches sang their own songs and the other two are singing songs by other artists.
8:39 p.m. Highlight so far: seeing will.i.am get into "Radioactive." Today he tweeted to an article that criticised his expressionless face during people's performances. Is this his way of showing he can be expressive?
8:40 p.m. Joel is plugging his tour with his brother Benji in November. How many tours have been plugged on this episode? It feels like a lot.
8:46 p.m. #FOMO because pretty much everyone watching this didn't get to see will.i.am's secret DJ set.
8:47 p.m. The thing I will most about The Voice when it's over is seeing will.i.am talk into his watch. OMG so many will.i.ams everywhere . . . This is trippy! On the stage, at the drums, in the audience. Even Kylie doesn't really know where to look. It seems like will.i.am can also clone at his magic factory. Oh and that single was called "It's My Birthday."
8:53 p.m. Time for the coaches to get sentimental about their time on the 2014 series of The Voice. will.i.am says doing the show has made him think he could live here. Kylie has loved being back. Their highlights include 'Story Time With Will,' Joel falling off his chair, will.i.am randomly having a megaphone in his backpack, and Ricky's smooth dance moves.
8:55 p.m. OK it's finally time to get down to some business. All the finalists have returned to the stage so two of them can be booted off. Right now. The first artist safe is . . . Jackson Thomas! Who looked like he was praying or something. The second safe artist is . . . Johnny Rollins! YAY! Big cheers. And the third person who still has a chance of winning is . . . Anja Nissen! So that means it's goodbye to ZK and Frank Lakoudis, but they won't go home empty-handed as they'll get a share of $70,000, or something like that. Australia, I think you've made the right decision with this top three.
9:01 p.m. Darren is pressuring Frank to propose to his girlfriend onstage. On the live finale of a TV show. Frank seems to have a good attitude about coming fourth (or fifth).
9:06 p.m. So these ads for The Block: Glasshouse, which have revealed the contestants will be judging each others' work — this is totally going the way of House Rules, isn't it? Kind of?
9:11 p.m. The top three finalists are now going to perform encore songs chosen by the audience. Jackson will sing "Resolution," the first song he sang as a member of Team Ricky. The hair's out. Something like this really showcases the voice: limited gimmicks and special effects, just Jackson doing his thing and doing it very well. Bet he can't wait to shake off that "meat and two veg electrician" label.
9:16 p.m.These artist journeys prove this year has been a long series.
9:17 p.m. Darren asks the coaches for their final thoughts on Jackson, but will.i.am can't think or talk about anything other than how he's just lost ZK from the competition. And how he just met Kristal's grandmother Benita Mabo. I know will.i.am is cut about losing one of his artists, but this moment should have been about Jackson.
9:20 p.m. "You might be too busy, but will you come on the road with me next year?" Ricky to Jackson. To which Jackson adorably replies, "I'll see if I can fit you in."
9:26 p.m. Anja set to perform "When Love Takes Over" again. This is a really difficult song to sing; anyone who can ace it is worthy of being a Voice grand finalist (in my books). She started off slow, ballad-style, but now it's picking up speed. It doesn't look like we'll be hearing this as a club track tonight — too many strings. And too much confetti.
9:29 p.m. That moment when you're reminded Anja is only 18.
9:31 p.m. will.i.am believes in Anja's international appeal. "She has something special. She could go everywhere. It's pop. You know what pop is backwards? It's 'pop.'" And cue will.i.am popping a little cracker. What will we do when he's not on TV anymore.
9:38 p.m. We're one performance away from discovering the winner. Johnny is singing "Beneath Your Beautiful" again, the song that turned Kylie's chair at the Blind Auditions — how come people didn't vote to hear him sing "All of Me" one more time?
9:42 p.m. Johnny thanked "my beautiful partner, Coby," first. Heart. Melting.
9:43 p.m. Just one more ad break to go. Just one.
9:49 p.m. "This is it," says Darren. He has a card. The results are in. Darren is going to announce the third place artist first, and it's . . . Johnny Rollins! Nooo! What's going on? It's OK, he'll still go on tour and has a massive profile boost thanks to this show. Now it's down to Jackson and Anja.
9:51 p.m. The winner of The Voice is . . . Anja Nissen! She was the wildcard and won! will.i.am is going crazy! He doesn't seem too upset about ZK being knocked out anymore. Confetti everywhere. will.i.am hugging everyone. Anja is definitely a deserving winner. All Anja can say is, "Thank you Australia! Thank you, thank you, thank you." will.i.am has also said he wants to sign Anja to his label, even though she's going to get a recording contract with Universal Music. Oh well, yay for Anja!
Source: Channel Nine