Watch Scott Pilgrim vs. The World Second Trailer
Watch the Second Trailer For Scott Pilgrim vs. The World!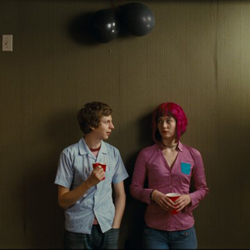 The first trailer for Scott Pilgrim vs. The World got me really excited, what with its introduction of Michael Cera as a young rocker who must battle his new girlfriend's seven evil exes. I mean, seriously excited.
So you can imagine my delight when I caught a glimpse of the second trailer. This latest preview tells more of the story and gives you an extended look at the ensemble of side characters, played by Aubrey Plaza, Alison Pill and Kieran Culkin—and yes, you also see more of the exes, played by the likes of Jason Schwartzman, Chris Evans and Brandon Routh. Awesome.
Keep reading...