What Is Abandawe on Outlander?
Here's What You Need to Remember About Abandawe on Outlander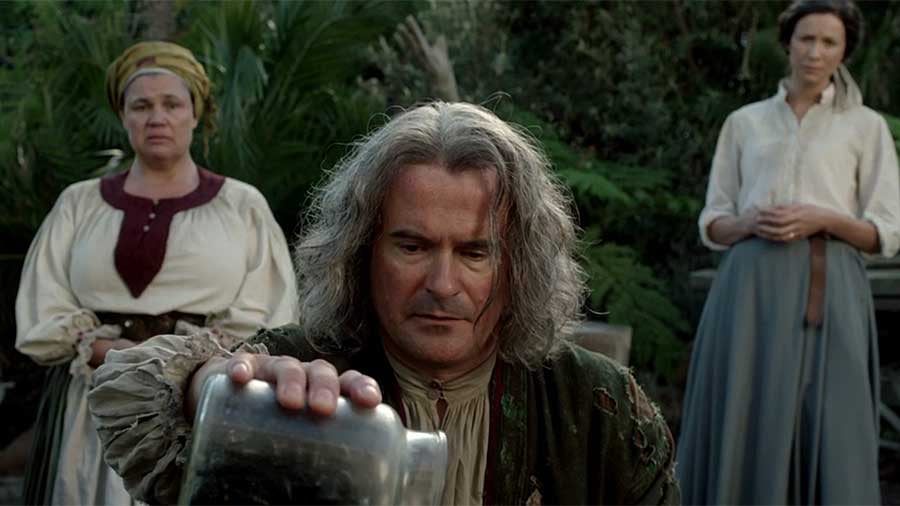 The latest Outlander episode, "Uncharted," features an important callback to something earlier in the season. The show does a good job reminding viewers about the reference, but if you're looking for a more detailed explanation, you've come to the right place.
When Claire is being nursed back to health by Father Fogden and his mother-in-law, Mamacita, one of his beloved goats, Arabella, is mistakenly eaten by Mr. Willoughby and the Artemis sailors. Mamacita recovers Arabella's skull and Fogden sets a jar of beetles on it to clean it so he may hang it with the skulls of other goats he has lost.
As the beetles go to work, he tells Claire, "Voracious little fellows. From a sacred cave called 'Abandawe,'" which causes Claire to remember Margaret Campbell, the soft-in-the-head woman who supposedly has visions, according to her brother, Reverend Campbell.
If you'll recall, back in episode seven, Claire goes to see the Campbells and prescribes a couple of different herbal teas to help Margaret when she has her "fits." While Claire is examining her, Margaret warns Claire, "Do you hear 'em? Do you hear the tree toads' lullaby? And the moon! The moon be chalky with blood. Better be careful — Abandawe will devour ye! Abandawe! Abandawe!"
This "Abandawe," as Father Fogden says, is a cave on the island of Jamaica, "hallowed" to its natives.
"A place of great power," says Fogden. "It is said that folk disappear there."
This is about to come into play in a big way, but be warned of spoilers ahead from the book.
In Voyager, Geillis Duncan is performing sacrifice rituals to try to travel through the stones that are in this Abandawe cave. It has to do with a prophecy made about the last of the Frasers of Lovat's line going on to rule Scotland. Geillis, as seen in season two when Brianna met her in 1968, is a huge proponent of Scottish independence and the prophecy says that "a new ruler of Scotland will spring from Lovat's lineage." Once Geillis finds out that Jamie has a daughter, she threatens to find Brianna and bring her back in time to be the ruler of Scotland (at least, that's what is implied).
So when Claire finds Geillis in the Abandawe cave, she kills her to prevent the woman from finding Brianna.
That's about the last we hear of the prophecy until the most recent book; by this time, Jamie's son William knows about his parentage, so there might be something there about the prophecy. Author Diana Gabaldon hasn't brought that part of the story to a close just yet.