What Is Piscatella's Backstory on Orange Is the New Black?
Orange Is the New Black Reveals Piscatella's Shocking Backstory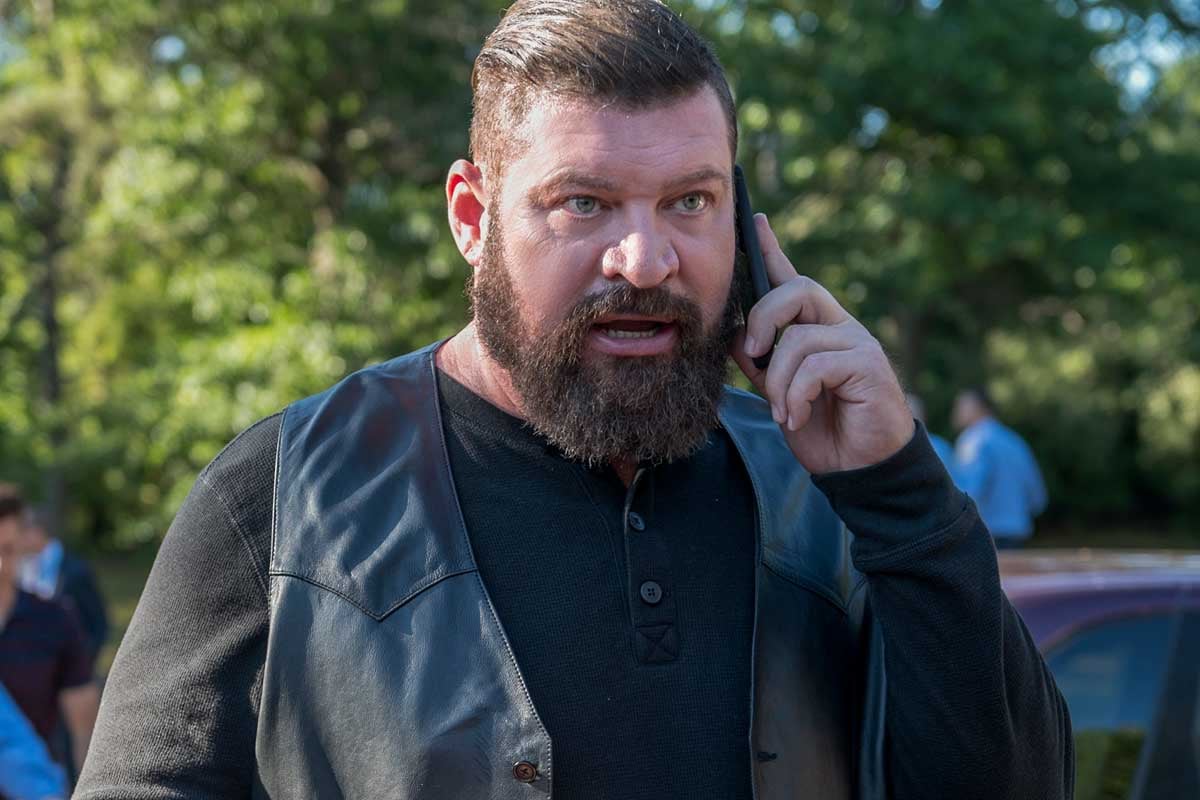 In Orange Is the New Black season five, episode 10, titled "The Reverse Midas Touch," we finally solve the mystery of Piscatella (Brad William Henke), Wes Driscoll (Charlie Barnett), and the inmate Piscatella had killed while working in a maximum security prison — and it's not exactly what we were picturing.
Warning: spoilers ahead if you haven't gotten that far in the season yet.
Early on in season five, when Red (Kate Mulgrew) and Flores (Laura Gomez) find Driscoll's ID badge and read the report on Piscatella from max, it sounds like Driscoll is the person he had killed, but there is more to it. It turns out Driscoll was a maximum security inmate with whom Piscatella was romantically involved. They bonded over their love of crossword puzzles, and a relationship formed. Before long, they were sneaking forbidden kisses in the prison kitchen.
But some fellow kitchen workers suspected something was up and they brutally assaulted Driscoll in the prison barbershop. It isn't clear specifically what was done to him, but it looks like he was cut up with a homemade knife and also sexually assaulted. Piscatella came upon the scene and made quick work of the perpetrators, calling for backup and trying to assure Driscoll that he was going to be OK while still trying to maintain his cover as simply a guard (and not Driscoll's lover).
We don't find out what happened to Driscoll — his injuries didn't look life-threatening, but then why does Piscatella have his ID badge? Whether or not he died remains a mystery, but the same cannot be said for the leader of the little gang. Piscatella tied him up in the prison shower and turned the hot water on full blast as the man screamed and screamed. Remember that Red found out the inmate Piscatella killed was found unresponsive in the shower with burns over 80 percent of his body, so that explains that.
It's nice to have that particular plot thread resolved with a few answers, but it does also feel a bit like too little, too late if the purpose of Piscatella's backstory is to elicit some kind of sympathy for him. What happened to Driscoll is horrific and tragic, but we don't think it gives Piscatella the right or an excuse to behave the way he's been behaving.