What Is the Wheel That Aegon Built on Game of Thrones?
How Is Daenerys Going to "Break the Wheel" Aegon Built?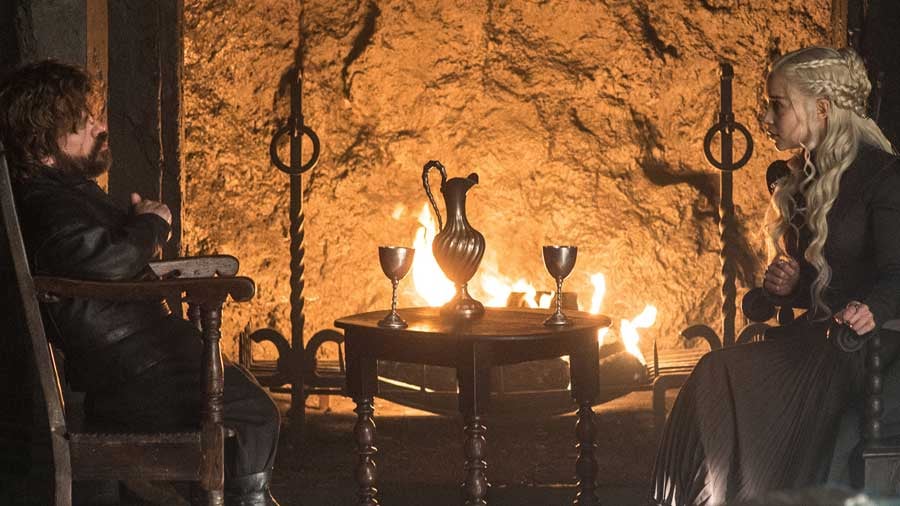 The following contains spoilers for Game of Thrones season seven.
On Monday's Game of Thrones episode, Tyrion and Daenerys have an important conversation about her promise to "break the wheel" that her ancestor Aegon Targaryen built. But what exactly does that mean? The aforementioned wheel is the wheel of power, as in the passing of the throne from Targaryen to Targaryen, with the houses in Westeros helping to push the wheel along, crushing those in its path who are too poor to be part of the wheel of power. Daenerys first mentions it in "Hardhome," the eighth episode in season five.
"Lannister, Baratheon, Stark, Tyrell . . . they're all just spokes on a wheel. This one's on top and that one's on top and on and on it spins, crushing those on the ground . . . We're not going to stop the wheel. I'm going to break the wheel," Daenerys promises Tyrion.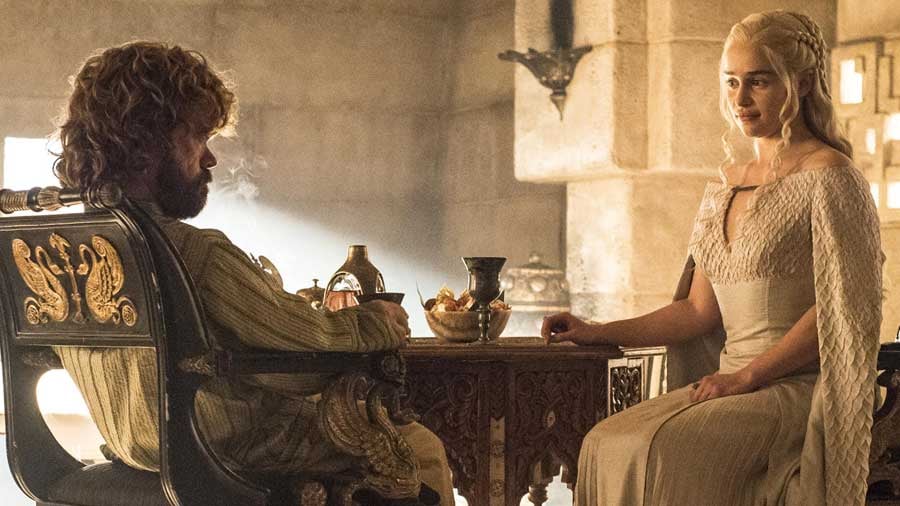 The wheel she speaks of was put into place by Aegon the Conquerer, Dany's ancestor who came to Westeros with a large army and three dragons (plus his sister-wives, Visenya and Rhaenys). He invaded and conquered six of the Seven Kingdoms, with only Dorne able to withstand his conquest. Targaryen descendants ruled Westeros for 300 years after that, only stopping when Robert Baratheon successfully led a rebellion against Daenerys's father, the Mad King Aerys.
Dany wants to take the Iron Throne and break this wheel, though her exact plan is kind of vague at this point. Even Tyrion points out that she has no plan in place for the line of succession. She can't have children, so who takes the throne after Daenerys dies? How does the wheel stay broken? Tyrion acknowledges that Daenerys will have to be "ruthless" in order to win the throne, but she has to campaign on other virtues as well — and when she rules, she has to actually be different from those who ruled previously.
"Fear is all Cersei has. It's what my father had, and Joffrey. It makes their power brittle, because everyone beneath them longs to see them dead," says Tyrion, to which Dany responds that Aegon the Conquerer "got quite a long way on fear."
"He did," says Tyrion. "But you once spoke to me about breaking the wheel. Aegon built the wheel. If that's the kind of queen you want to be, how are you different from all the other tyrants who came before you?"
Daenerys talks a good game about being a benevolent ruler, and in the past she has put her money where her mouth is by freeing slaves and giving her followers a choice. But she has also shown some incredibly ruthless tactics, so can the Breaker of Chains really be the breaker of the wheel that she aspires to be?