Who Is Colonel Tom Parker?
Meet the Man Who Gave Us Elvis: Colonel Tom Parker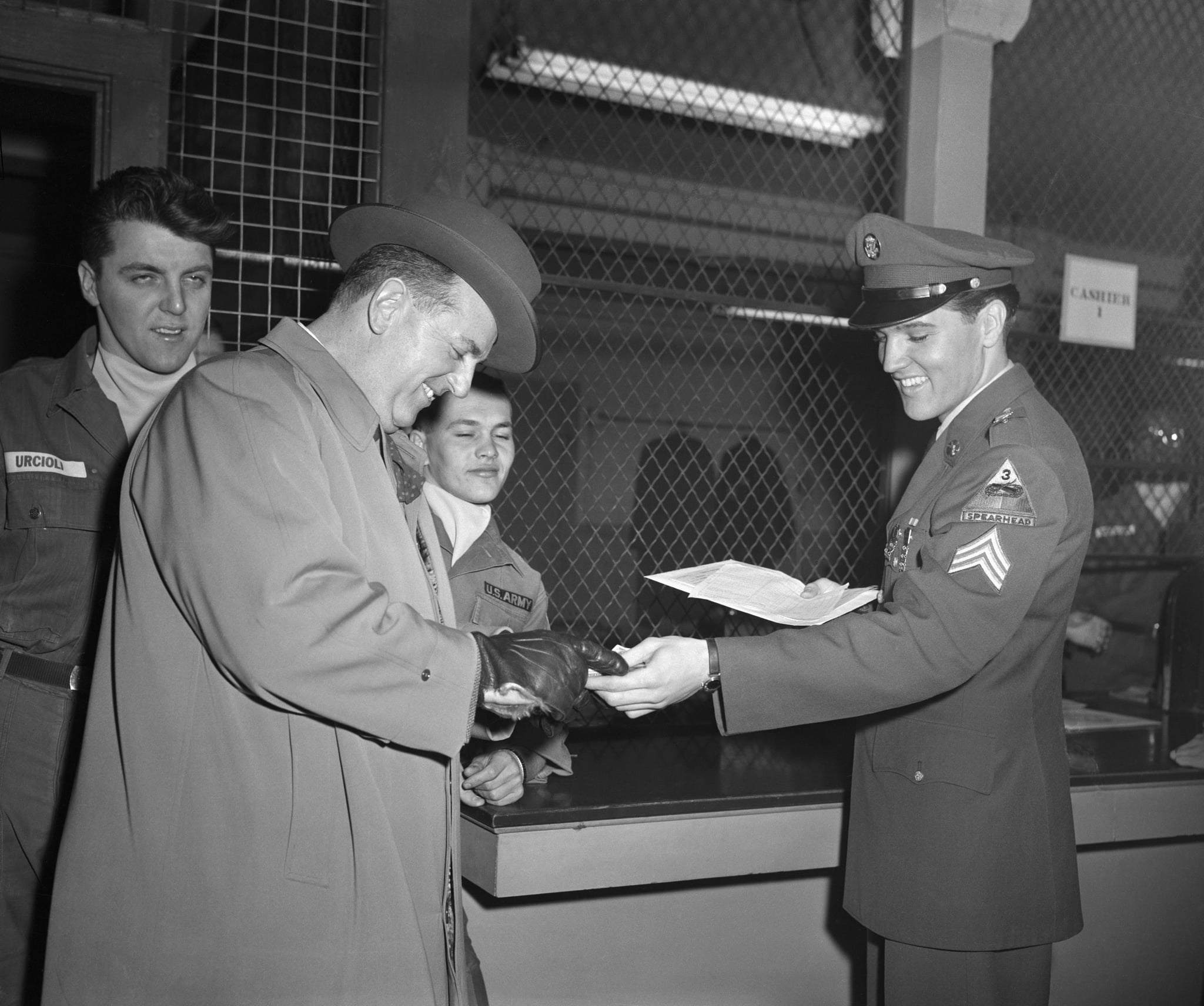 Music legend Elvis Presley is getting the biopic treatment, with an upcoming movie starring Austin Butler and directed by Baz Luhrmann (yes, that's the guy who made Moulin Rouge!). The still-untitled movie will costar Tom Hanks as Tom Parker, Elvis's longtime manager. Many casual fans might not know of Parker, but he was one of the most influential people in Elvis's life and career.
Born in the Netherlands, Tom moved to the US as a young man in the 1920s, joining the Army and using the fake name "Tom Parker" to hide the fact that he was an immigrant named Andreas Cornelis van Kuijk who had arrived in the country illegally by jumping off a ship. He served honourably once, then, after reenlisting, was charged with desertion and imprisoned. After his release, he worked odd jobs at carnivals and first entered the music industry as a promoter in 1938.
In the 1940s, Tom's roster grew, as he promoted country stars in Tennessee, including Eddy Arnold, Tommy Sands, and Hank Snow. In 1955, he first became aware of a young, relatively unknown singer — Elvis. Tom promoted Elvis's music, although he wasn't yet his official manager, and managed to get Sun Records to let Elvis go and signed him to RCA, a bigger label. It was around this time, in 1956, that Tom became Elvis's official (and only) manager. He helped shepherd Elvis into the public eye, emphasising his unique new sound and securing him high fees for appearing on major TV shows. It was Tom, too, who suggested that Elvis join the Army as a regular soldier, not in any sort of special arrangement, in 1958; he sensed, accurately, that it would be good for Elvis's image to deliberately avoid any special treatment.
Tom transitioned Elvis into Hollywood, resulting in an era where Elvis was both a music star and a movie star. He persuaded Elvis to marry the much-younger Priscilla Beaulieu, with whom the singer had been infatuated since meeting her as a teenager, in hopes that marriage would soften his image and his career. In the early 1970s, Tom oversaw a new wave of success for Elvis, with new music and a tour, but their professional relationship deteriorated as Elvis's drug dependence grew. After Elvis's death in 1977, Tom continued to run some of Elvis's estate and profit from it, but ultimately, he was embroiled in a series of legal disputes over the late singer's music, image, and income. He died in 1997 after suffering a stroke, but his legacy lives on as the man who presented Elvis to the world.