Who Will Be the Winner of MasterChef 2012: Andy Allen, Audra Morrice or Julia Taylor?
Who Will Win MasterChef 2012?
And then there were three! For the first time ever, MasterChef has three contestants cooking in the grand finale, and this year they are Audra Morrice, Julia Taylor and Andy Allen. Last night's shock elimination of early favourite Mindy Woods has created a pretty even playing field for the finale tonight. Audra has been consistently strong from the start and has impressed with her flavour combinations; Julia's desserts have been winners and she's surprised the judges with what she can do with savoury, and Andy has peaked at just the right time, presenting the best dishes in the last three challenges.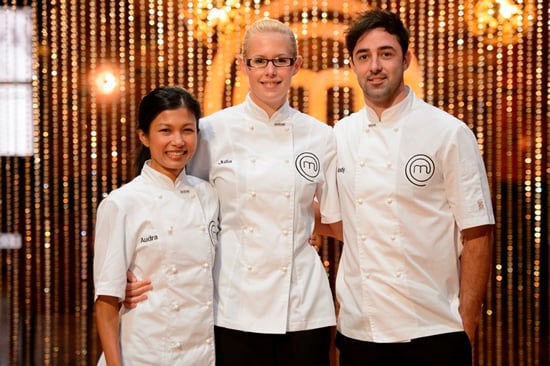 If the past few days are anything to go by, Andy, a 24-year-old electrician from NSW, could have it in the bag, especially as he seems to remain the calmest in the stressful kitchen situations. Account manager Audra has struggled in recent challenges, while Julia, a legal secretary, has been in the bottom two several times. But that's just what I think — who do you think will win MasterChef 2012?
MasterChef Grand Finale airs tonight at 7 p.m. on Network Ten.