Who Is the Woman Jamie Sleeps With on Outlander?
Outlander: Why You Shouldn't Dwell on Jamie's Latest Love Scene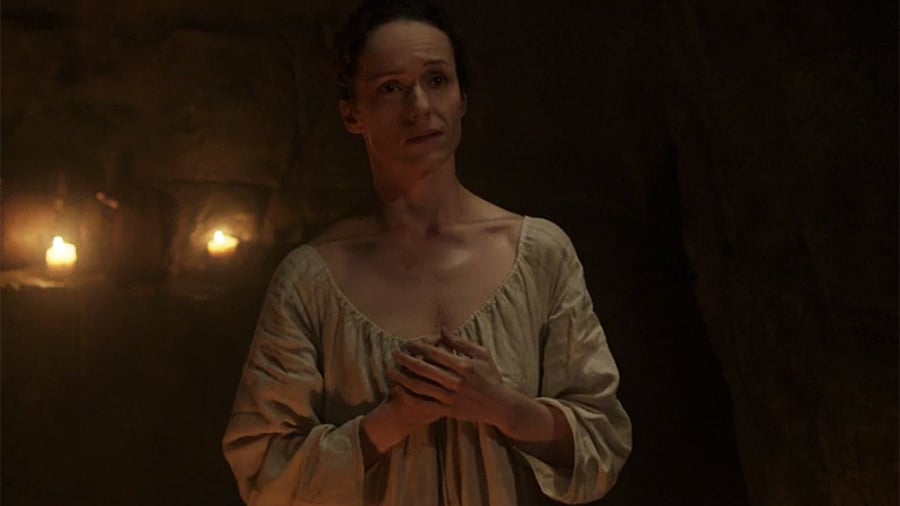 The hardcore Jamie-Claire shippers were in for a bit of a shock on Monday's Outlander when both members of the heart-stopping couple hooked up with someone else. Claire's situation is easy to understand; she thinks Jamie dies at the Battle of Culloden and she's just trying to put some semblance of a life back together for herself and her baby, Brianna. Frank is her first husband, after all, so it's no surprise she'd try to reconnect with him.
What may have been a surprise for non-book readers, however, is Jamie being intimate with a woman in the cave where he is hiding outside Lallybroch. But never fear, Jamie-Claire fans! Jamie's dalliance is straight out of the books, and it doesn't mean anything to him romantically.
The woman who comes to Jamie in the cave is Mary McNab, played here by Doctor Who alum Emma Campbell-Jones. In the books, Mary is married to Ronald MacNab, an abusive, violent drunk who beats her and their son, Rabbie. Ronald's mother knows what her son is and asks Jamie to take in Rabbie, her grandson, as a stableboy at Lallybroch, to get him away from his abusive father.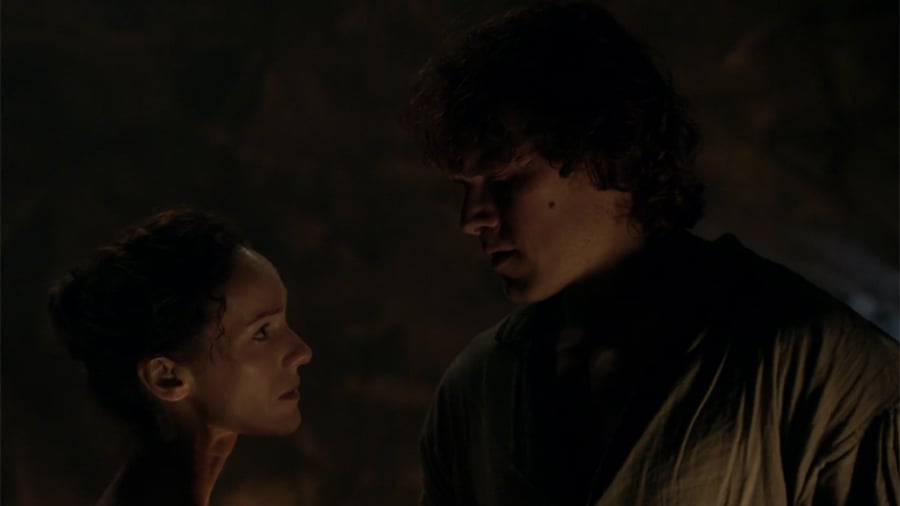 When Ronald refuses, Jamie beats him up until he agrees to let Rabbie come to Lallybroch. It is then later revealed that Ronald becomes so mad at Jamie that he betrays him to the Watch, which is why Jamie is taken to Wentworth Prison. Murtagh later implies that Ronald is killed in a fire as retaliation for betraying Jamie, though he doesn't admit it outright.
Either way, once Ronald is gone, Mary and Rabbie become permanent residents at Lallybroch, including living there during the time when Jamie hides in the cave. The night before he is going to turn himself in to the English, Mary comes to him (just like on the show) and offers her body to him as a way to keep himself whole.
The TV series handles it much the same way as Voyager. Jamie does not want to lie with another woman, even though Claire has been gone now for seven years. But Mary tells him, "I saw your lady and how it was between the two of you. It's not in my mind to make you feel you betrayed that. What I want is to share something different, something less mayhap, but something we both need. Something to keep us whole as we move forward in this life."
It's really a sweet gesture on her part, not one meant to besmirch the memory of Claire, which is why Jamie takes Mary up on her offer before being carted off to prison. Don't worry — Mary isn't about to become a love interest for Jamie. It's just about two people needing a little human connection.