Why Adam Goodes Was The 2014 Australian Of The Year
Let's Remember Why Adam Goodes Was Named Australian of the Year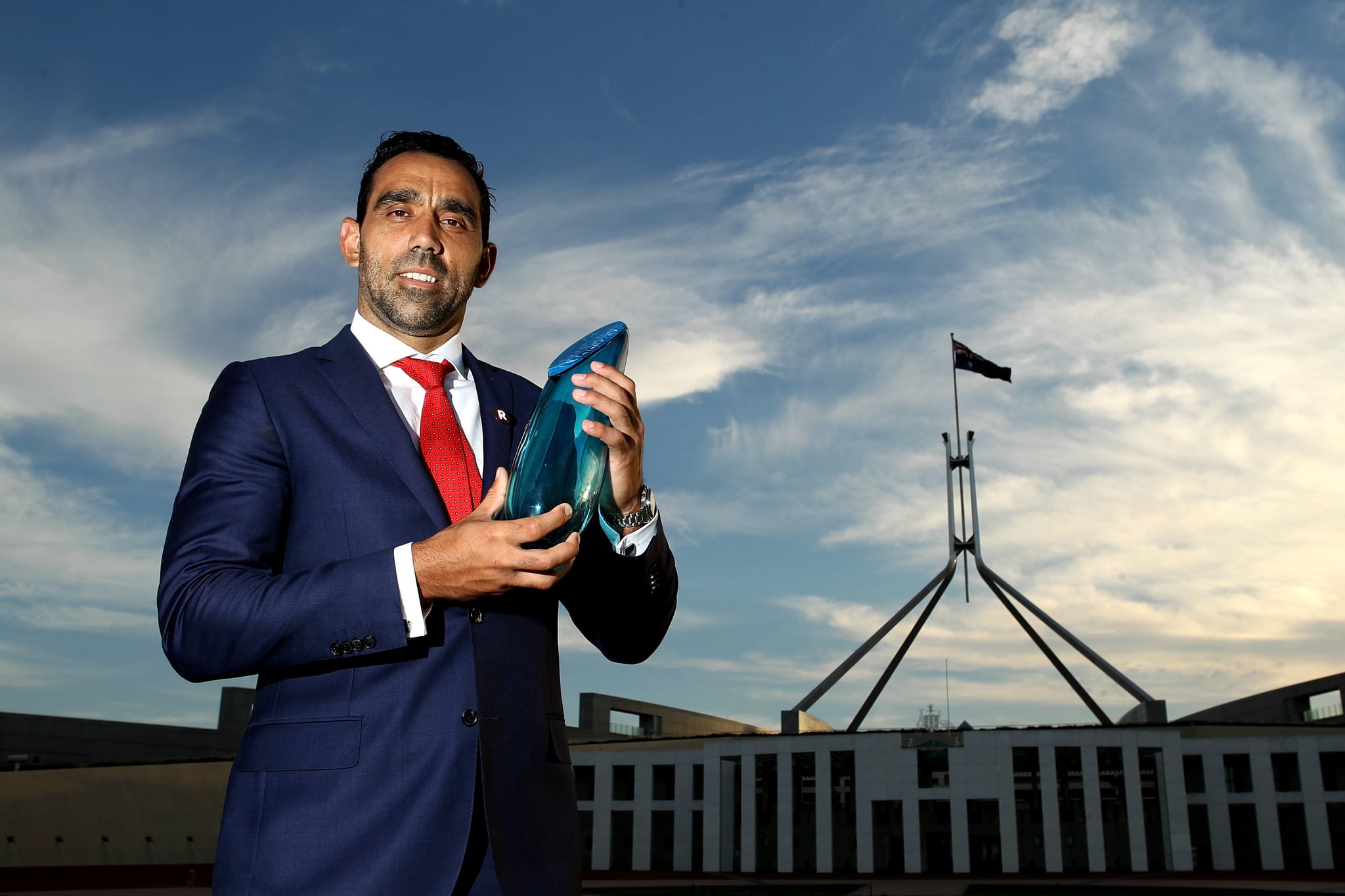 He may have come to our attention as a superstar sports player, but in 2014 Sydney Swans star Adam Goodes was being celebrated for much more than on-field prowess. Named the Australian of the Year at the Australia Day ceremony in Canberra, Goodes' leadership, compassion and courage in the fight against racism made him a standout in the race to nab Australia's top honour. The 35-year-old was and still is a worthy winner, and someone we can all take inspiration from — in the wake of the recent booing saga, we thought it was worth a reminder of what made him the 2014 Australian of the Year.
He's a loud voice in the fight against racism
When a 13-year-old girl called him an ape during a match against Collingwood in May 2013, Goodes didn't let it slide. He called the girl out in front of a crowd of thousands, and watched as she was removed from the game — but what followed was the real surprise: he showed compassion. After being overwhelmed with support, he told news outlets, "I just hope that people give the 13 year old girl the same sort of support because she needs it, her family needs it, and the people around them need it. We've just got to help educate society better so it doesn't happen again."
He's all about building a better future
Addressing the crowd in Canberra last year, and with the current booing scandal unfolding, it's clear that pushing racism out is still at the top of Goodes' mind. "My hope is that we as a nation can break down the silos between races, break down those stereotypes of minority populations," he said. "The ultimate reward is when all Australians see each other as equals, and treat each other as equals." This is no idle talk, either. Goodes has founded the GO Foundation with his cousin Michael O'Loughlin, which is aimed at supporting new generations of Indigenous people. He works regularly in youth detention centres and with troubled youths, is heavily involved in Indigenous sporting programs and small communities, and he plans on using his Australian of the Year platform to promote harmony on the sporting field and off.
He's one of our most successful sports stars of all time
Let's not forget how we came to know him: Goodes' is a high-achieving AFL player who's been playing for the Sydney Swans since 1999 (!). Over the past 14 years, he's won multiple awards, including two Brownlow Medals, two AFL premiereships with his team, the Ron Evans Medal and was named in the Indigenous Team of the Century. Despite all this, he remains humble and expressed shock over his new Australian of the Year title. "The quality of the finalists today and such great people they are in their communities, it's quite overwhelming and I'll do everything in my power to do them proud."