Why Did Cersei Let Jaime See Tyrion on Game of Thrones?
Game of Thrones: The Twisted Reason Cersei Let Jaime See Tyrion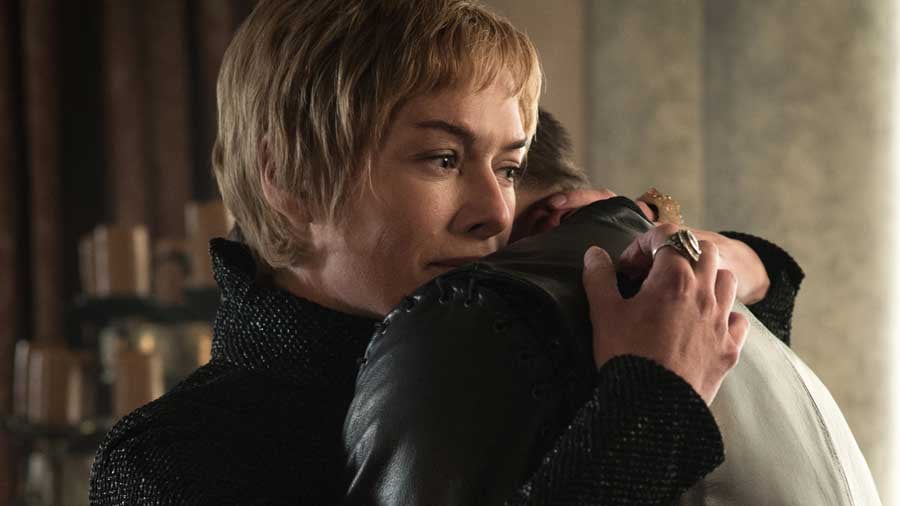 On Game of Thrones, Qyburn is the new Master of Whispers in King's Landing and he has certainly proven himself up to the task of feeding Queen Cersei information. As she tells Jaime after his supposedly secret meeting with their younger brother, Tyrion, "Do you think anything of importance happens in this city without me knowing?"
The only question is, if Cersei knew Jaime was going to meet with Tyrion, whom she hates with every fibre of her being for (in her mind) killing her mother, her son, and then her father, why would Cersei let Jaime be hoodwinked by Bronn into seeing their younger brother?
The answer is something the late Tywin Lannister would be proud of — Cersei has realised that she needs to meet with Daenerys Targaryen . . . not to align together in the face of an even graver threat as the Night's King and his army of the dead march into Westeros, but in order to win a war she cannot win on the battlefield.
After Dany's massacre of the Lannister men at Highgarden, Jaime comes home and tells Cersei that not only are the Dothraki incredible fighters, but he saw a dragon burn hundreds of men and supplies with his own eyes — and that was just one dragon.
"Her dragon burned 1,000 wagons," relays Jaime. "Qyburn's scorpion fired bolts bigger than you, they couldn't stop it — and she has three of them. This isn't a war we can win."
At first Cersei thinks they can just keep hiring mercenaries with their newly acquired fortune, but at some point she realises that to take out Daenerys, Cersei needs home-field advantage to defeat the Dragon Queen.
"If we want to beat her, we have to be clever. We have to fight her like Father would have. Dead men, dragons, and dragon queens — whatever stands in our way, we will defeat it," Cersei vows, revealing that she and Jaime have another reason to fight so hard. She's pregnant, and this time, she's going to be honest and unabashed about who the baby's father is.
It really says something about Nikolaj Coster-Waldau's acting chops that a character who has done some pretty awful things finds out he's having another baby with his sister and it's actually a beautiful moment. It's touching to see the emotions play over Jaime's face as he realises he'll get to be a true father to this baby, which he was not able to be with his other three children, all of whom are now deceased. So, kudos to Nikolaj for making us care about such a totally bonkers and gross situation.
But now Dany, Tyrion, Jon Snow, and Ser Davos will be walking into the lion's mouth when they travel south to King's Landing with a White Walker, if Jon and his raiding party can manage to capture one and bring it home. Will they all make it out of Cersei's throne room alive? Or will she take a page out of Mad King Aerys's book and kill them all in horrible ways? She has already shown a penchant for Aerys's tactics.
It seems likely that at least one of the four won't survive meeting with Cersei, and Dany and Jon are too important to be killed off at this point, so things probably aren't looking too good for Tyrion and Ser Davos. We predict Ser Davos will meet his end at Cersei's hand and then Jaime will have to sacrifice Cersei to save his brother.