The Winners of My Kitchen Rules 2012 Are Leigh Sexton and Jennifer Evans From South Australia
Leigh and Jennifer Are the Winners of My Kitchen Rules 2012!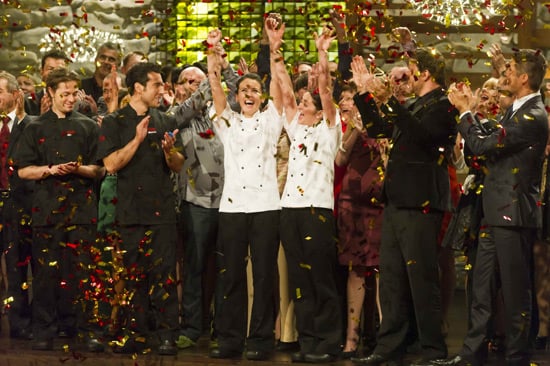 Leigh Sexton and Jennifer Evans have won the 2012 series of My Kitchen Rules! The friends, known as the florist and "Princess," defeated fellow South Australians Nic Mazzone and Rocco La Bella in the nail-biting grand final that saw both teams cooking impressive five-course menus. Each team had to serve up 100 plates to a full restaurant that included hosts Pete Evans and Manu Feildel, the guest judges, past contestants, and their family and friends. Leigh and Jennifer's five-course menu consisted of crab congee, scallops in XO sauce, quail with barbery and quinoa, wagyu beef ribs, and chocolate hazelnut cake.
More about the MKR grand final when you keep reading.
The night was anything but stress-free for the girls, who almost suffered from burnt XO sauce and had problems tempering white chocolate for their dessert. But in the end the judges awarded them a massive 58 out of 60 points for their menu, compared to Nic and Rocco's 52 points. Added emotional support came from the contestants' mothers — Leigh paid tribute to her mum, while Jennifer's mother flew in from Thailand to see her daughter for the first time in a year. Nic says the girls deserved the win, but the boys should also be commended for their delicious menu, which saw them plating up seared Moroccan tuna, bug tails, spatchcock two ways, poached pork belly, and chocolate raspberry pop delight.
The girls have taken home $250,000 as the winners of My Kitchen Rules 2012.
Photo courtesy of Channel Seven