Woman Met Beyonce and JAY-Z During Grammy Weekend
This Woman Explains What It's Like to Get a Hug From Beyoncé — and Now We Need One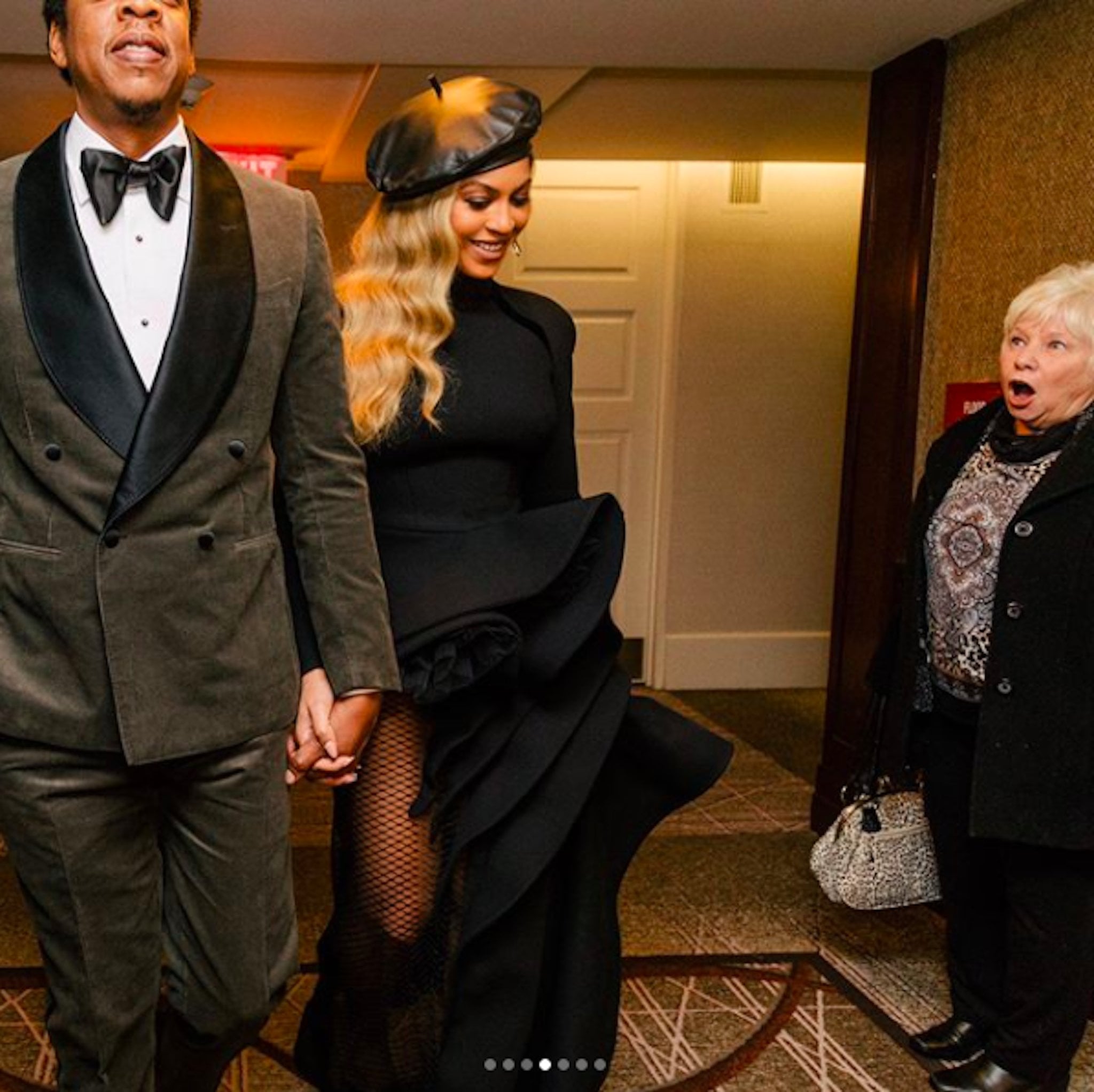 If you've ever wondered what it's like to meet Beyoncé in the flesh, for one woman, that dream came true when she bumped into Queen Bey and JAY-Z at the Sheraton New York Times Square hotel this past weekend. Susan Monaghan recently spoke to The Boston Globe about her chance encounter, and judging by her shocked reaction in the photo, which Beyoncé later uploaded on her Instagram, it was a good one. "I think it's hysterical," she told the newspaper. "Strange things happen to me."
According to Susan, who was visiting for her granddaughter's gymnastics competition and celebrating her daughter's birthday, it was never her intention to run into pop music royalty. She was simply returning from dinner on Saturday when she noticed a "tall" and "really good-looking" man approaching her. He (JAY-Z) asked her if he knew her. "I'm thinking in my mind, 'Who is this?'" she recalled. But it didn't hit her who she was in the presence of until she saw Beyoncé standing to the right of her.
"I was like 'Oh, my God!'" Susan shared. "I looked at her and all I could think was, 'No one is going to believe me. No one is going to believe me.'" Susan was caught up in the rapture, y'all. She even started chanting out loud. Beyoncé had to calm her down. "Don't worry, it's going to be OK," the mum of three told her. The trio chatted for a while and Susan also got a hug from the Lemonade singer.
"I swear, I felt like I was hugged by an angel," she confessed. Although initially her daughter and granddaughter didn't believe her until they saw her photo going viral the next day, Susan is still over the moon about her meeting with the Carters. "I think [Beyoncé] posted it for me," she said. "So people would believe me." Of course she did. Because that's exactly what an angel would do.