The X Factor 2012 Elimination Interview With Bella Ferraro
The X Factor's Bella Ferraro on Her First Audition, Working With Nat and Friendship With Sammy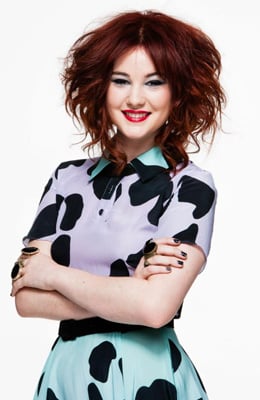 Bella Ferraro just missed out on a place in The X Factor grand final when she was eliminated last night. Samantha Jade and Jason Owen were the first two to go through, with The Collective taking the third spot after a deadlock decider. Of all the finalists, 17-year-old Bella has probably had the most highs and lows — her spectacular first audition set the bar for the show, as well as the standard the judges expected of her each week. With mentor Natalie Bassingthwaighte as her number one supporter, Bella got through tough criticism and even online bullying to make it to the top four. We spoke to Bella about the show's biggest challenges, her friendship with Samantha, and how she really felt about the judges constantly going back to the "magic" of her audition.
Is it easier or harder to perform the sing for your life compared to the Monday live show?
It just depends what mindset you're on. For some people it can be hard to sing the sing for your life because they could be really shocked and upset that they're in the bottom two. This is what I tend to think: 'I'm in the bottom two. That's OK. I've just got to smash this performance. I've got to make Nat proud of me.' I hope I did that last night. I still haven't watched the performance back so I can't comment. I sometimes think it's easier because when I'm in the bottom two I use that — it's not really shock, because I kind of expected it — I use the feeling of being in the bottom two to better my performance.
You probably had one of the hardest times on the show for a few reasons — what was the most challenging part?
I think the most challenging part for me was that the longer I was there, the more I had to learn. Vocally I became very exhausted because I'd never sung for three months every day before. Physically I'm drained and I'm just exhausted. I think it got hard to perform well when you're so tired.
More from Bella when you keep reading.
You received so much mixed feedback from the judges. What are the main things you've taken away from their comments?
With the judges, they're always going to be really fickle because they have a very musical ear and can pick out all the little things. They're also going to have their own opinion. What happened in a lot of my performances was that I never found that they collectively agreed on whether it was good or bad. Usually one would loathe it and another would love it, another would be undecided, and of course Nat would really like it. It's hard because you're like, if Mel thinks it's shocking but Guy thinks it's the best I've ever done, is it shocking, or is it the best I've ever done? You don't really know. I just listened to whatever Nat said. I think that was always the most important thing. Whatever Nat said I thought was the best opinion.
Why were you so determined to get out of your comfort zone i.e. do something more dance-based?
I didn't want to leave the show and look back and think, 'That might have been the only opportunity for me to dance on stage with dancers.' I never wanted to regret not doing it. I'm not the best dancer and I really wanted a dance break — I didn't want to dance and sing at the same time because that obviously means your vocals are breathy. But when you get a dance break you can recover. I'm still happy that I gave dancing a go. At least I can say I gave it a go.
How did you feel about the judges constantly referring back to your first audition?
I was very flattered that they liked it, but I did get a bit frustrated because I do think I've done better than that. That was the first time that anyone had heard me sing so obviously it's going to make people sit up a little straighter. It's a song that you wouldn't expect for a first audition. The whole thing was a bit new and I think that's why it took so many people aback. But I do think I've had instances where I've performed a little better than that before. It's not annoying — I get why they're saying that — but I got a bit bored of hearing it all the time.
And also the way the show was promoted, they said we couldn't miss the first three minutes of the show and it was you.
Definitely. I think a lot of it was the fact that it was just hyped. If they'd only shown me singing for a minute, I don't think anyone would have cared as they do now. It's definitely because it was hyped up so much. I feel like it was an advantage and a disadvantage because in being the very first audition to be aired, and having all the 'watch the first three minutes,' it means people are going to tune in and see me, and it's great for exposure. But for the longevity of my time on the show I was always being referred to the audition and that got really old very fast.
You've jumped on social media and have been exposed to lots of funs, but also a lot of bullying and online taunts. How have you dealt with them?
I don't really take any notice of it. I used to read it and have a laugh at it. I know it doesn't affect you but it's even better to not read it. So I stopped reading it. The thing is I never went out of my way to look at it — I never searched my name, I didn't go on The X Factor Facebook page, I didn't on the YouTube channel and read the comments on my videos. But what really got to me was when people would tweet me because then I can't even read the nice stuff without reading the mean stuff. It's like, you're giving me no options here.
Do you think they affected your performances or did you just ignore them and move on?
Not at all! People are always going to dislike you — that's just life. You're going to meet people where your personalities don't get on. In this instance I haven't met anyone who gives me hate personally — it's a different — but what being on TV does, I think it dehumanises you a little bit. People who watch forget that you're just a regular person — you go the toilet every day, you put your underpants on one leg at a time — and I think people forget that. They think if they say something, it will hurt us but it won't affect us. I'm lucky that I've got a thick skin because some of the stuff I got was absolutely terrible. If anyone else had gotten it, I don't know how they would've coped. I kept my relationship with Nat open and always talked to her about it.
You have to know who your supporters are. Nat was my number one supporter. She was backing me from the very start. And Sammy as well, she copped a bit of criticism, so she and I always used to talk about that.
What the highlight of working with Nat?
The highlight was that I realised there's more to being mentored than a teacher-student relationship. You really have to get on with your mentor because that allowed me to make some of decisions with Nat, instead of Nat making them all. We were so close and you could see that onscreen. I feel like I'm going to be in contact with Nat for a very long time after the show's finished. I think you're only as good as your relationship with your mentor is. If you don't get on with them, it shows in the performance, it shows when they talk about you. Out of all the contestants who are left, they're the ones who got on best with their mentor. Obviously Sammy and Guy were already friends so that's not surprising at all. Guy got on really great with the other two, but he obviously has that connection with Sammy. Jason and Mel — you'd think they'd known each other for years! I really think it says a lot about who's in the competition.
You seemed to be good friends with everyone — who were you closest to?
I was very close to What About Tonight. The boys were like my brothers and I really loved them. I'm just sad that we didn't get to spend more time together because once they left they went back to their homes in different cities to me. I loved them. I was also really close with Samantha, and Jason as well — Jason and I were quite close. I was good friends with everyone but there's a difference between being a good friend and a close friend.
I think Sammy was my close friend — we talked about literally everything. She was like a cousin because we don't bicker like sisters but we're thicker than friends.
And I know you two performed at Derby Day together as well.
That was a highlight of my year. If I was not on the show and I was watching it, I think I'd be a huge fan of Sammy's. And I am a huge fan of Sammy's now — I'm always telling people to get behind her and support her because she's such a little professional. You should see her backstage; she just treats everyone with so much respect. And she's got a lot of poise and dignity — they're things I really admire in people. And she's so genuine. She's an inspiration to me.
Not only is she lovely with her personality, it would just complete her journey in the industry if she wins. She had the world in her hand at one point and it all came crashing down and was very devastating. She hadn't been singing for a long time — this is the first time she's performed for a few years. That takes tremendous courage and it's so brave of her. If she won, for me it would be the cherry on top of a perfect year, and I'm sure it would be for her. But I don't mind who wins. I think the top three are there because they deserve it and get the most votes. It's anyone's game — I don't know who's going to win.
I want to ask a bit about your style, which was really cute and quirky. Did you have much input with your look?
I didn't really get that much input with my look. I wouldn't go off what I wore for the performances as how I dress because there's a huge difference between how I dress when I go out and when I perform. A lot of the time what I wore on the show was not what I would pick out myself. I really enjoyed dressing up for the performances — I didn't feel like it had to be 'me' all the time. I only ever picked out one outfit for myself, that was for "Bulletproof." I've never disliked anything I've worn.
What's next for you?
I've got the finale next week and I'm very excited for that. Then I have the tour in January and I'm super-crazy excited for that — it's the top six touring Australia and I never thought I'd tour around Australia! And tickets are selling out really fast. I also really want to sing at Carols in the Domain in December because I've sung there so many times as a member of the Australian Girls Choir, and I think it would be a complete 360 if I were to perform as a solo artist. Like, I've sung for Guy before at Carols in the Domain. That's how funny and small the world is.
And didn't you sing for Oprah as well?
Yep, I was on the Oprah show, I sang at World Youth Day for the Pope, I've sung for Obama, I've sung for the queen. But it's very different when you've got 30 to 100 girls with you, to when it's just you. I really loved the atmosphere of being in a choir because no one stood out and we were all there because we loved to sing; it was a very fun vibe. The X Factor is so different because it's a competition — not that we were competitive, but it is the nature of the show that only one person can win. I feel like with a choir, we're like a family and we perform together. And that's why I really liked the group performances — I liked remembering that we were just people having a go.