The X Factor 2012 Winner Interview With Samantha Jade
The X Factor Winner Samantha Jade on Beating Bullies to Achieve Her Music Dream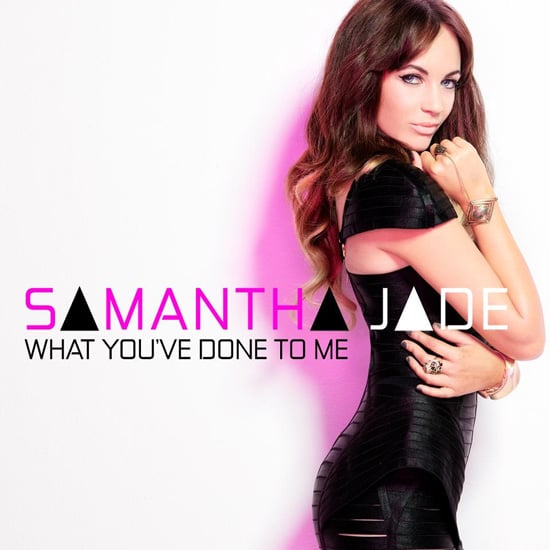 The 2012 series of The X Factor ended on a high last night when 25-year-old Samantha Jade was announced as the winner. The Perth native, who was guided through the competition by her friend, Guy Sebastian, beat Jason Owen and The Collective to a Sony Music recording contract, with her debut single "What You've Done to Me" available on iTunes now. Sammi doesn't just have the amazing voice and looks — she truly is the sweetest girl and still can't believe her winning result, or that she has fans! I caught up with Sammi this morning to talk about the highs and lows of this year's X Factor.
Congratulations!
Thank you so much! I am just so happy. I am beyond happy. I honestly cannot believe it, still!
What did you do to celebrate last night? I know there was an after party.
There was an after party, yep, so I went to that for a little while, and all the contestants were there so it was so nice to party with them — we've all worked so hard so it was really good to let our hair down! And then I went home because my feet felt like they were bleeding, because I was still in the shoes I performed in. I was like, 'Nope, I can't even stand any longer.' And then I hung out with some of my family.
More from Samantha Jade when you keep reading.
Do you know of any goss from the after party?
Not that I know of because I wasn't there for long, but I think it got messy towards the end. [Laughs]
Was there any point during the grand finale that you thought you had won?
Honestly, I didn't think so up until they said my name. I was shocked. When we walked out there as the top three, I walked out with a big smile on my face because I was so happy to be there, and I thought, 'I'm going to come third, and that is awesome. I'm so thrilled if I come third because I didn't even think I'd be in the top three.' And then when they called my name to be in the top two I was like, 'What! I'm in the top two now? Not the bottom two? I'm used to the bottom two.' It was just so weird. And then when they called my name to win, I was blown away — beyond shocked.
What was your relationship like with Guy before the show, and what is it like now?
We've obviously become a lot closer because we knew each other through the industry. Guy has been such an inspiration for me because in Australian music he's just excelled. And he's also come from one of these shows, and 10 years later he's still killing it! He's such an inspiration. Honestly, he and Jules, his wife, are just the loveliest people and they're so supportive of me.
Do you think your music industry experience helped you?
Definitely — I think it prepared me for the bottom two. I know what it feels like to have knockbacks, so I know how hard it is to succeed and I appreciate it that much more.
When I interviewed Angel and Nathaniel, and they were eliminated when you went through, I said, "At least if Sammi goes on to win, you can say you were knocked out against the winner! It's not so bad!"
[Laughs] Oh, I know. Oh my God, that was terrible.
Speaking of the other contestants, when I asked them who they wanted to win, they all said you. They could not say enough good things about you and said we didn't get to see enough of your personality and sense of humour!
Oh! Yeah I think it's hard to show your personality in a two-minute package, because that's all you get before your performance. And once you perform you're not gonna be cracking jokes, you know? [Laughs] You've gotta be the performer, the Sasha Fierce. [Laughs] When we were all around each other — we'd spend every day, hours on end with each other — I'm a real joker, like I'm never really serious. I'm a bit of a goofball, really. I'm also the oldest of the group in the girls, so I'm kind of like the mother hen. I just love everyone like a family. And I've got two younger brothers so I take that older sister role seriously.
What were the biggest challenges of doing the show?
The biggest challenge for me was getting back up there and singing again. I took two years off singing, and in the first year I was still figuring out if I wanted to do it, but then last year I was like, 'Nope, I'm not even entertaining the idea anymore.' I was like, 'It's over. It's not going to happen.' In the industry you get chewed up like used goods, and even if you're 24, like I was last year, they go, "You're too old." It's really hard to pick yourself up when you hear those things. So for me, the hardest thing was getting my confidence back and going, 'OK, I've gotta believe in myself again and give this another shot.' It was my mum and dad [who gave me the push] — I was working with my dad and he said, "I'm gonna fire you because I want you to give your dream another shot! I don't want you to work here anymore."
And now you have so many fans, who I've found are very vocal about supporting you! What has it been like to meet your fans? Have you had any crazy experiences yet?
It's amazing to meet them because they are honestly the sweetest people, and I know I wouldn't be here without them. And I can't even believe that I can say I've got fans! That's crazy. I'm so happy for that. They're just lovely. Honestly, at the beginning it was way more hate than anything — I got a lot of bullying and death threats, all that kind of stuff — and once that passed a little bit, or I don't even know if it passed, the fan base and the good people said so many nice things that that outshone all the bad. Now I don't even care about the bad stuff.
Did you pay attention to what was said and written about you, the good and the bad?
I really did at the beginning and I think that's why I kept that wall up. I was reading such horrible stuff and I thought, 'Oh my God, I don't even have a chance. Everybody hates me.' That's how I felt, especially being in the bottom two the first week. I just felt like it was done for me. I thought, 'Wow, I really should've just given up,' because all I was reading was bad stuff. And then it started being outweighed by the good stuff. Now I don't pay attention to the bad stuff because you're gonna have haters — that's part of this industry.
What was your reaction to hearing your single for the first time?
I was just crying! I was teary-eyed and couldn't believe I was hearing a song I'm singing on the radio! It's amazing. It's such a dream come true. There's been so many dreams coming true for me in the last week, and I'm so lucky.
I also want to talk a bit about your stage outfits — you had some of the coolest but also out-there ones that it meant you got to change for the Tuesday show!
Every night I was so lucky. I couldn't believe the outfits. Last night I had a ridiculous amount of costume changes, and every outfit was amazing! Sheridan [Tyler], who's the stylist, and the girls from Capital L — they are just onto something. They know what they're doing. And they fit [the clothes] to me really well so it looks like I'm curvy!
Did you have a favourite outfit?
I don't know, that's a tough question. The dress I wore for "Heartless" was one of my favourites — that was so classy and really beautiful.
What are your immediate post-X Factor plans now you have some free time?
I'd just love to hang out with my family. And I'd love if all the contestants could get together and have a party where no one has to get up for anything the next morning! I'm going to stay at Angel's house next week. And Fourtunate are the sweetest people ever so we're going to have coffee. I don't feel like I got to share it with them properly last night.