The X Factor 2013 Elimination Interview With JTR
Tom From JTR Saw Being in the X Factor Bottom Two as a Positive Thing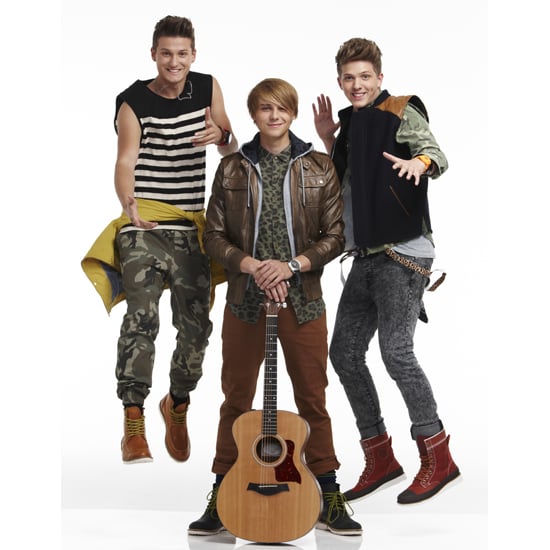 As last year's X Factor winner Samantha Jade proved, landing in the bottom two a few times doesn't hurt your chances of taking out the title. Unfortunately it didn't happen the same way for Swedish brother trio JTR (John, Tom and Robin), who were eliminated last night when they sang against fellow group Third D3GREE. Of the remaining contestants, JTR had been in the bottom two the most times, but when we chatted to middle brother Tom this morning, he didn't see it as a bad thing at all. Keep reading for what he said about how they tried to connect with the audience after the judges' feedback, the best and worst things about doing The X Factor with brothers, and what he missed most from the 'real world.'
What's it like having to talk about yourself so much?
It's a lot of fun! It's a new world for us. We're just enjoying the ride and trying to see everything as a positive, and fun with it.
How did you rate your chances against Third D3GREE after seeing their sing for your life performance?
We've seen their performance before, and we know they're amazing, and that it's something new. That's a really good thing for them, and it's a big part of them making it, I think, with the mixed group.
You guys received lots of feedback on how you needed to connect more with the audience, which seems easier said than done — what did you take away from comments like that?
It's easy to listen but it's hard to take it in and actually do it. You have to pretend that you're someone you're not onstage, to get the confidence. It's an act, really, that's how I see it. You're acting onstage.
More from Tom when you keep reading.
How is your confidence now?
It's really good. The confidence has grown so much. And we've learned so much about everything, like how to move onstage, and smile to the camera, and look at the fans. It's been amazing.
You were in the bottom two a few times. What did that do to your morale?
It pushed us to do better. As I said we're really positive, and we saw it as a good thing, because we got more TV time [laughs]. It's good for us to be in the bottom two.
When the judges love the sing for your life performances over the live shows, what do you think that says about contestant song choice compared to what the judges pick?
I think the songs we get to choose are songs we would do for real, like if we had a concert. That's the important thing, and that's why it's better [to be in the bottom two].
Which themed week pushed you the most out of your comfort zone?
Maybe when we did the Kylie Minogue song. It was really hard to do that one in our style.
What are the best and worst things about doing something like The X Factor with your brothers?
The best thing is that you can rely on somebody. The worst thing is that you don't get much alone time.
Favourite thing about working with Natalie?
She's a beautiful person, and her personality is amazing. She brings happiness to all of us. She's positive and has a really beautiful heart.
Who in the top 12 did you get closest to, and what's something surprising about them the public may not know?
I think it would be Third D3GREE or Omar. Omar is actually like the sweetest guy. He wouldn't hurt a fly, he's so nice.
What did you miss most about the real world?
I missed having free time [laughs]. We've had one day off in eight weeks.
Is there anything you're dying to do once your life goes back to normal?
Go for a jet-ski ride.
What's your living situation going to be like now?
We're moving to Brisbane now, for at least a year.
Who do you want to win? Who do you think will win?
[Sighs] That's a really hard one. The thing is everyone is so different. I think Dami has a big shot of winning, also Taylor and Third D3GREE. Maybe Dami [is who I'm going for].
The X Factor airs on Sundays at 6:30 p.m. and Mondays at 7:30 p.m. on Channel Seven.