The X Factor 2013 Elimination Interview With Jiordan Tolli
Jiordan Tolli Says She Felt Ready to Leave The X Factor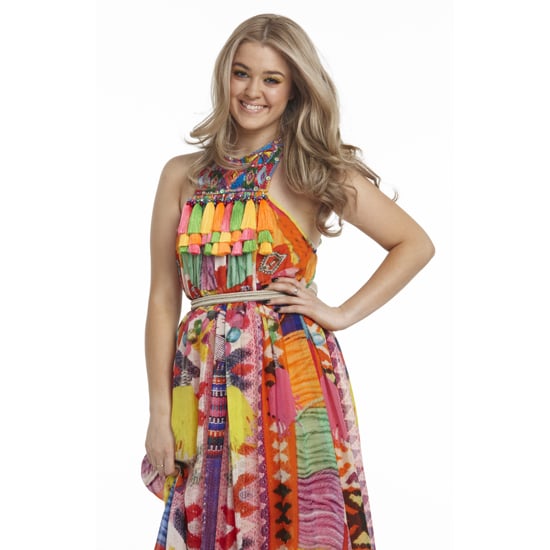 With her sunny personality, strong voice and cute-as-a-button looks, Jiordan Tolli has all the ingredients for being a star. The 19-year-old from Melbourne made it to the top five of The X Factor, but was eliminated from the show last night when the judges' decision went to deadlock; mixed group Third D3GREE were saved by Australia's vote. The past few weeks of landing in the bottom two were starting to take a toll on Jiordan, who told us this morning that she felt it was her time to go. On the positive side, singing more showdowns meant she had more opportunities to show the country the type of artist she wants to be, compared to the songs she performed on Sunday nights. Keep reading for more from Jiordan on her working relationship with Redfoo, her favourite look of the series and what she plans to do once she gets back to Melbourne.
Tell me about those final moments between Ronan sending the decision to deadlock, to Luke making the announcement.
It's so damn long! This week it was 38 seconds, apparently, which is ridiculous! I think. I knew I was going this week. I had a feeling. So I was just remaining positive, thinking about my goodbye speech [laughs].
Did your relationship with Redfoo change once you were the only under-24 girl left?
I think me and Foo's relationship got a lot stronger, because instead of three girls he only had one, so the time he had was invested in just me. Of course we got to spend a lot more time together and talk more, not saying that he didn't absolutely adore the other two girls. But yes our relationship definitely got a lot stronger.
More from Jiordan when you keep reading.
What will you miss most about hanging out with Redfoo so much?
I think just the way he encourages me and supports me. He is just — I can't speak highly enough of him. He is so kind, and he'll always make sure I'm happy and comfortable. He's just great.
What did being in the bottom two a few times do to your morale?
It was a bit hard, especially to pick yourself back up. We'd finish on the Monday night, and then on the Tuesday morning we were workshopping. So it's really hard to go through that whole rollercoaster experience the night before, and then still come out on the other end. By the end of it, when I knew it was my week [to go], I was just praying, 'Please let this be the time where it's done.' Do you know what I mean? Because I was thinking it's going to get to a point where it's too hard to keep going. It gets to a point where you're in the bottom two so many times when you go, 'OK, I'm done now.'
Which performance of yours represented the music direction you want to go in?
Definitely my showdown last night, Lana Del Rey. For sure. And of course, "Royals," my Lorde performance. And "Stay." The ones I've done in the past couple of weeks, that is the exact direction I want to go in.
So did you prefer doing the showdown performances over Sunday nights?
Yes! I loved the showdowns! I think it's because we pick the showdown songs. It's all about us, and we do everything. It's simple, it's stripped back, no big sets — just us, vocals and connection. That's my favourite part about performing and singing, and to be able to do that in the showdowns, I'm lucky because I got to do it three times! [Laughs]
Did you find the massive productions helped or distracted your performance? You had a lot of crazy things happening on stage for some of them.
I tried to completely ignore what was going on around me, just because it's totally out of my control. I have no say in that kind of stuff, and I think it would be a bit silly if I was to worry about it. So I made sure I concentrated on the things I could control: my performance, my vocals, my connection, and everything else I just let it be, because at the end of the day that's just what happens.
Which weekly theme did you find the most challenging, and why?
If it's week-to-week, the one week I wasn't comfortable in was probably the rock week. That was really out of my comfort zone. I'm not one to jump around in little skirts, and that's what I was told to do, but it's OK — I gave it a crack! I probably won't do it again, but I can tick it off the list of things I've tried. That was the most challenging week. But also, Saturdays were always hard because that's the day that we get the backing track, hear our vocals with it for the first time, the first time we're on stage . . . Saturdays are hard.
You had heaps of cool looks — which was your favourite?
One of my favourites, if I was going for a cool look, was probably "Royals." I loved that look. It was funny, because when we were trying on all the options, they were like, "How about this skirt?" and I already owned half the clothes they had there. So that was totally me onstage. And I got to wear my own hat and everything.
Are you going to see Lorde perform this week?
Well I'm going back to Melbourne! But I'm only back home for about six days before I'm back here. Which is insane.
What are you planning to do in those six days?
Chill out, sleep and party [laughs]. I need to go out, for sure.
Which guest star were you most excited about meeting?
Bon Jovi at the start. That is a once-in-a-lifetime opportunity, to be able to sing to Bon Jovi. But the fact that I could be meeting Katy Perry and One Direction — oh my goodness! That is just so exciting. I think [the grand final] will be ridiculous.
You were on Neighbours for seven years and appeared again earlier this month, and you've got a few other acting things — do you want to do more acting?
I'd love to perform in every way. I'd love to do an acting gig, I'd love to do a singing gig. I love them both equally, and to be able to do them together, in a musical theatre gig, that would be good, too! So I'm just taking whatever comes to me, just seeing how it goes.
Who do you want to win? Who do you think will win?
I really want Third D3GREE to win because I absolutely love them. But you don't know who will win because you don't know who people will vote for. Next week Taylor [Henderson] and Dami [Im] could be in the bottom two against each other. You have no idea. But I'd really love Third D3GREE to win. They're family now. They're such beautiful friends of mine who I'll have forever, and to go up against them in the bottom two, it was really hard but it was great because we both know we'd love each other no matter what. It's just a game. It's all good.