The X Factor 2013 Elimination Interview With Joelle
Joelle Defends Her X Factor Mentor Redfoo Against Criticism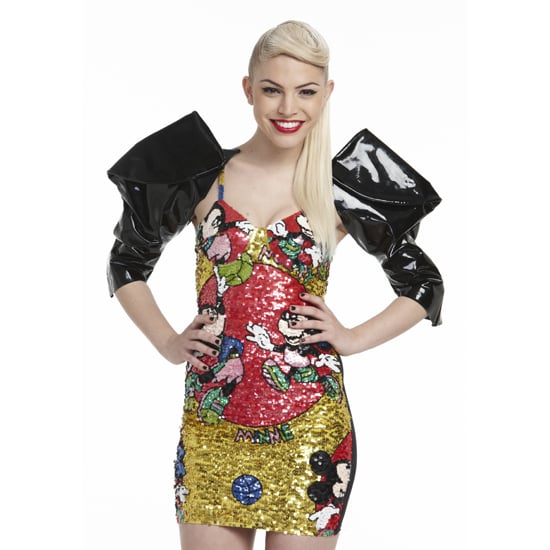 Redfoo's under-24 female fighter, Joelle, was eliminated from The X Factor last night after being put against Redfoo's other charge, Jiordan Tolli. Despite her great performance on Sunday night's rock-themed show, judges Ronan Keating, Natalie Bassingthwaighte and Dannii Minogue all voted to send Joelle home, which spared Redfoo from having to choose between his girls. Joelle divided the judges most weeks, with Ronan questioning how much communication was happening between the 22-year-old and her mentor. When we spoke to Joelle today, she was quick to defend Redfoo, saying she is fully responsible for her performances and subsequent elimination. She also shared a funny anecdote of working with Foo, and which contestant she wants to win because he has a "heart of gold."
How's your night and morning been?
It's been chaotic. But I was prepared for it, though. Some people are in denial in this stage and have difficulty absorbing it, but I was totally prepared for it. So I'm OK.
So why were you totally prepared for it?
I don't know! Being female is a little bit difficult because if you're a boy . . . If you're a boy you have a tiny advantage with the chickybabes [laughs]. But, I felt because I did a good performance, I wouldn't have that support, like when people were like, 'Aw, poor thing, I wanna give her a boost.' I felt there was a risk that people would think I didn't need the support.
I've said it all along. People were like, "Shut up, Jo! You're charting the highest out of all of us." And I was like, "Watch," because I'm always doubting myself.
Does that mean you can never really enjoy or celebrate when you've done a good performance?
Yeah. Unless you're Dami [laughs]. I don't think Dami even stresses when the verdict is happening. It means you know you're never really safe and can prepare, so you have to be open to everything at all times.
More from Joelle when you keep reading.
What was the turning point for your relationship with Redfoo?
I have no idea! But he claims it was the fact that I took on his advice — he gave me his input and told me what he thought about me. I took it onboard. And it was my attitude and my fight. But I don't really know how you can go from saying someone doesn't have the X factor, to having them in your top two.
What's your most fun or funny memory of working with Foo? Any anecdotes you can share?
The analogies he comes up with. He comes up with analogies that are hilarious. So to help you with your performance, he'll be like, "You know, it's like when you're doing a sh*t . . ." And he'll give the most random analogies, but they make complete sense. And you're laughing because you think, 'How does your mind go there?' He's hilarious.
How did you process all the mixed feedback you got from the judges some weeks?
My skin is that thick. People don't know how I do it. You take it constructively, because if you take it to heart you'll be depressed. I try to make it a positive thing, and learn from it rather than letting it break me down. You can't please everyone. You can never please everyone, and you've got to keep that in mind.
Do you ever think about how different it would have been if you'd made top 12 last year as part of a duo?
At times, but then I just remind myself that we didn't get there, and that it happened for a reason. We didn't really work out and weren't too compatible. So it worked out for the best.
There were a few weeks when you seemed hesitant about Foo's song choice for you. How much did you collaborate on your performances?
We collaborated a lot. He's very understanding. He looked at what I was, and we tried new things and experimented, because what I was doing before the show obviously wasn't working. That's why I auditioned, because I hadn't gotten anywhere with my music. It came down to me not performing 100 percent. It wasn't Foo's fault. It was just me not backing up my performance, because, you know, I agreed to wear things, I agreed to sing things, or would just doubt myself. It was my fault.
Kind of like what Dannii said about taking ownership?
Well I didn't agree with that. I feel like she was implying that I was blaming Foo, but I wasn't. I was just doubting . . . I was trying new things and going, 'Cool, this is different, this is funky,' but then when you're in the bottom two you get to choose those songs. But then I'd be thinking, 'This wouldn't match that song.' So then it would occur to me, 'Hang on, maybe this isn't me, because if it was me, I would be comfortable wearing it in my bottom two [performance]. I'm open to things, I'm open to experimenting, I'm open to trying new things and pushing boundaries, but then I'd be like, 'Hang on a sec,' once I'd rehearsed. That's not me blaming Foo. That was just me experimenting, analysing, and going back and forth, and I take full responsibility for the fact that I get nervous and doubt myself. I lack confidence, and I take responsibility for that. I never blamed Foo. So I didn't appreciate that.
So has your confidence increased?
Yeah, my confidence has increased, but I'm still shy when I get onstage. It's scary with people in front of you, and cameras. But it's definitely increased because I started off a couple of years ago not even being able to sing in front of one person.
With these productions, how do you focus on entertaining the crowd in front of you but also appealing to the viewers at home with the camerawork?
With that, I would practise and practise, but then whatever came out came out. My bottom two song, for example, I looked into the camera, but I had never done that in rehearsal. For the weekly performances, they set up the cameras so they could get the best shot for TV at home, because the two million viewers at home are more significant than the 200 in-house. But it's difficult because it's a transition between live audience and live judges to seven or eight cameras running around you. It's pretty tough. And then you've got to not forget your lyrics.
You had very eclectic performances — which live show represented the kind of artist you want to be?
It wouldn't be one specifically — I really enjoyed my bottom two songs because I chose them, but they're really chilled out versions. Like I wouldn't sing that my whole concert, if I was lucky enough to have my own concert. So my first performance was fun, because it was upbeat, but that's not what I would usually do. But the thing is that's where I would kind of go, because I want to entertain and not just make people sad. So it's a mixture of the first one and my bottom two, and I really got into the "Joey" performance.
With so many emotional ups and downs, how did you unwind when you got the chance?
I don't think I have. Honestly, we worked seven days a week, and you don't really get to switch off, which I think is best — it would be way more emotionally draining if you were snapping out of it, then coming back into it. So I was focusing 200 percent of the time just making sure I didn't lose focus, rather than on-off, on-off. But it was very, very draining, because you have highs and lows. Now it's going to be a trip-out, because I'm like, 'What am I going to do today? I've got spare time — what's that like? I've forgotten.'
Do you have any immediate plans?
Well, I definitely want to get into a studio and record my own music, because I've got some out now, and I'm really excited because one of my songs has just gotten 100,000 views on YouTube, so I'm all excited about that! If my cover on Rock Week can go to number three in Australia, then I'm hopeful that I can get a really good original out, and get that on the charts. That would mean the world to me. And I'd definitely like to get some sleep, and exercise! I haven't exercised and I've put on so much weight!
Who do you want to win? Who do you think will win?
I think Third D3GREE will win. They're different, they're edgy, they're a combination of incredible talent, swag, they're commercial, they're current, they're hot. Who do I want to win? I want Omar to win. He is a sweetheart. I knew him on Facebook just as music person in the circle, and you see him in a different way. It's like me, though, I come across in a certain way. Omar, I don't know how the public is seeing him, but he is such a beautiful and genuine person. He's just so positive and so supportive, and he's texting me right now asking me if I'm OK. He's got a heart of gold.
The X Factor airs Sunday at 6:30 p.m. and Monday at 7:30 p.m. on Channel Seven.