The X Factor 2013 Elimination Interview With Third D3GREE
Jacinta From Third D3GREE on Why It's Hard For Groups to Win The X Factor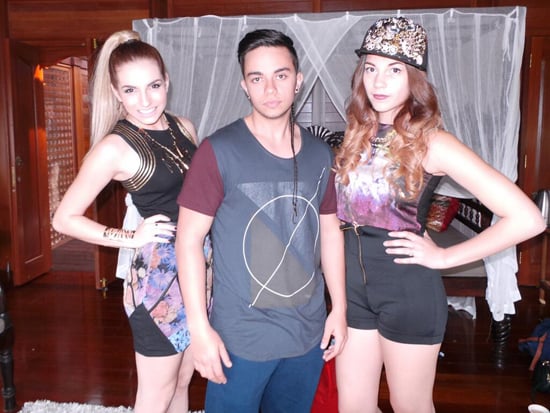 It's been an interesting ride for Third D3GREE on The X Factor. Members Jacinta, Jordan and Kelebek auditioned for the show as soloists but only advanced through the competition when they were formed as a group by judges Ronan Keating, Dannii Minogue and Redfoo — the first mixed group in the show's history. After getting past the initial hurdles, the trio went on to deliver some of the most energetic and engaging performances on the live shows that perfectly showcased Jacinta and Jordan's vocals, and Kelebek's rapping skills. Their run on The X Factor came to an end last night when they were eliminated by the public vote, which sent Taylor Henderson into this weekend's grand final. We spoke to Jacinta this morning to discuss why it's so hard for groups to win The X Factor, how she bonded with Jordan and Kelebek, and why she wasn't initially keen to settle on the name Third D3GREE.
POPSUGAR Australia: Do the sing for your life performances get easier the more you do them?
Jacinta: They did. The first time we were up against JTR, and that was really hard because they were our closest friends in the competition. And we were really close with Jiordan. And Taylor! Every bottom two we've been up against a close friend. It does get easier because you know how to go into it, you know the mindset to go in with. And you don't get as beaten down as you do the first time.
PS: How did you come up with the name Third D3GREE, and how easy or hard was it to settle on a group name?
Jacinta: It was so hard to settle on a group name, because we were thinking really far into the future. We were thinking, 'This name needs to stick, it needs to be really good.' We were thinking about everything — how can we write it cool on Twitter? Trying to think of every possible thing. We knew we wanted two words — One Direction, Little Mix, a lot of bands with two words do really well. Kelebek came up with Third D3GREE, and at first me and Jordan were like, 'Oh, I don't know. The first thing I think of is third degree burns. Nope.' [Laughs] But then she did this hype-up rap thing, where she was like, "Pump up the volume, pump up the volume, Third D3GREE." That's why I'm not the rapper in the group, by the way [laughs]. But she did something really cool! And then we thought it sounded really good, so we settled on Third D3GREE.
More from Jacinta when you keep reading.
PS: Do you think you had the most challenging road on The X Factor — getting formed, having more complicated productions, learning choreography etc?
Jacinta: Yep, I would definitely be the first to say that it's harder for a group than it is a soloist. Especially a group that's just been formed. Groups who have been formed for a long time, they know how to blend, they've been rehearsing for so long, but we've known each other for at max, four months. And it's really hard to blend perfectly together, which is what we were worried about. We were worried about doing choreography, we did have really complicated sets . . . I think we did have it really hard, but I'm really proud of how we went.
PS: Why do you think it's so hard for groups to win The X Factor?
Jacinta: I don't know why more groups haven't won The X Factor! I think with us, from the start of the show we hadn't formed, so we didn't generate a fan base for Third D3GREE from the start of the show. I think the others had a head start on us. So that was a bit challenging as well, but we did end up gaining so many supportive fans. We can't believe how great everyone has been.
PS: How did you guys quickly bond after being put together?
Jacinta: At first we were like, 'Nope, not gonna work, not happening. It's just weird.' And then when we did our first performance, it really clicked, and we were like, 'This is going to be awesome.' After that, bang! We just really clicked. We trusted everything the other person was saying. At first they were strangers, and we didn't know each other. After our performance went well, we thought, 'Wow! We should just trust each other and go with it.' We started calling each other — because we live in different states — Skyping, and then we travelled together for the home visits. We've just been bonding so much throughout this whole experience.
PS: At any stage at the beginning, did any of you think, 'I didn't sign up for this, I don't want to do it?'
Jacinta: I think all three of us. But we would never compromise our position in the competition. Why would we knock back an opportunity? And we would have been silly if we did. I'm so happy that we didn't!
PS: You started off so strong in the live shows, and went through a bit of a rough patch in the middle. What happened? Was it the themes of those weeks?
Jacinta: Yeah, it's so hard. When I look back at our performances, I think our only weak one was "Smooth Criminal," and I think that's just because we took on a Michael Jackson song. It's so hard. So I would say that was our weakest. But the others ones, we're really proud of how we did.
PS: Which was your favourite live show performance?
Jacinta: There were so many! I loved "Pound the Alarm" because we came from the ceiling. I loved "Pump It" because we got such a good reaction. But we all really loved rock week, funnily enough — we just weren't expecting it to go good. We were like, 'Holy crap, it's not going to be good. Rock is so not us.' We had a live band, fire and dancers, and it was just the best thing. It felt like we were doing a concert, so we loved that performance.
PS: What's an interesting fact about The X Factor that would surprise viewers?
Jacinta: You don't see on TV that everyone is working non-stop around the clock. It's not just Sundays and Mondays, and that's it. It's every single day, and if we're not in for a couple of hours, people are still working. There is so much work that goes into the show to make it what it is. It's a non-stop, well-oiled machine, as the producers say.
PS: What do the top three have going for them? Let's start with Dami.
Jacinta: So Dami is an incredible vocalist, and she's such an awesome woman. Kelebek and I have been rooming with her. She's so much fun, she's hilarious, her awkwardness makes her even more amazing. We love her. She's so good and she doesn't realise how good she is, which makes her even better.
PS: Jai?
Jacinta: Jai is probably one of the most talented 14-year-olds I've ever seen. He's so strong. On Sunday, when he came back from not doing so well in his first performance, he just bounced back so well, and I don't know which 14-year-old could do that. I would be a mess. He's so strong.
PS: And Taylor?
Jacinta: Taylor is just such a down-to-earth, country guy. I just know Australia loves that type of guy. And to top that, he's got an awesome voice and such a nice tone.
PS: Who do you want to win? Who do you think will win?
Jacinta: Ah! Oh man, we really don't know because you never know what's going to happen. But what we've been saying all day is if Taylor's going to kick us out, he better win [laughs].
The X Factor Grand Final airs on Sunday at 6:30 p.m. on Channel Seven. The Grand Final results show airs on Monday at 7:30 p.m.