The X Factor Australia 2014 Elimination Interview With Trill
This Is How You Emotionally Handle The X Factor When You're Very Young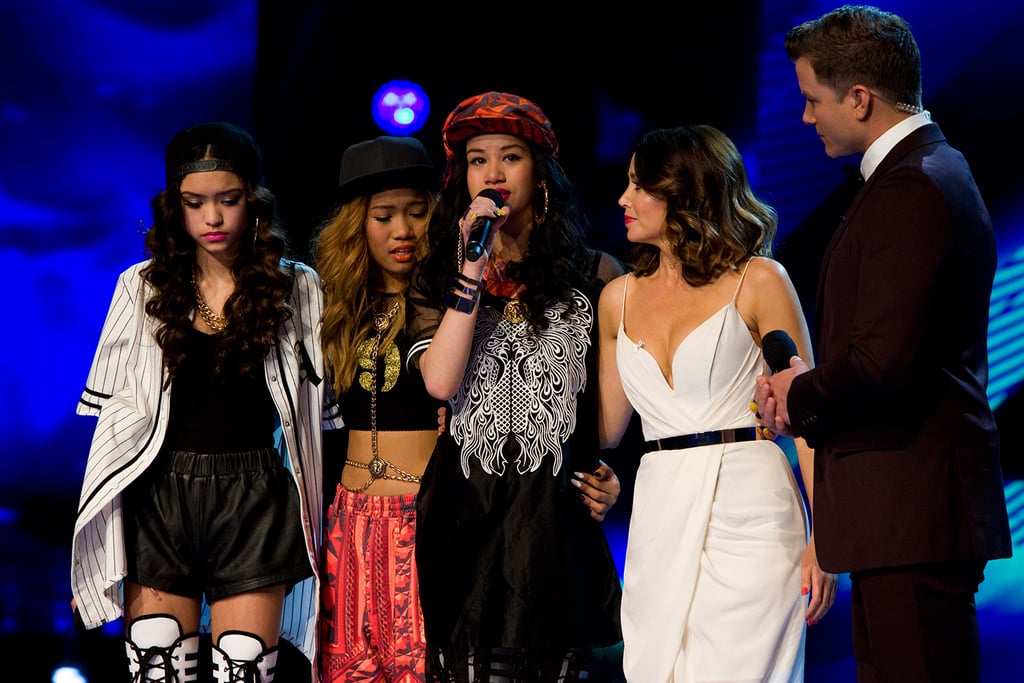 The dream of winning The X Factor came to an end for girl group Trill on Monday night's episode. The three-piece from NSW and Victoria, comprised of Jessica Jade, Angel Tairua and Sheralyn Hill, got mixed feedback from the judges on their version of Rita Ora's "I Will Never Let You Down" on Sunday night, with Redfoo even likening their performance to something out of a Miley Cyrus dream, but they still had lots of fun doing their thing in the first live show. Plus, they're all super young (they're only 14 and 15) so the future is bright for these friends. We caught up with Sheralyn this morning to find out what she took away from the X Factor experience.
POPSUGAR Australia: How are guys feeling this morning?
Sheralyn: We're feeling a bit down, and sad, but we're still feeling really positive and happy that we made it this far into the competition.
PS: What happened after the show? What did Dannii say to you?
Sheralyn: Dannii just said to us, "Well done girls, you've made it this far into the competition. You're young, you still have a bright future ahead of you, you just have to thank your parents." And we gave her a jersey that said 'Trill' on it. It was really funny. It was so cool.
PS: Were you happy with your performance on Sunday night?
Sheralyn: Yeah, we were really happy with our performance. We were a bit down about the judges' comments, but we were really happy that we went on that stage and we rocked it.
PS: What did you think of Redfoo's comment that it looked like something out of a Miley Cyrus dream?
Sheralyn: Yeah, well, a Miley Cyrus dream . . . Well, we had fun onstage! The teddy bears and stuff like that, we thought it was awesome having a party onstage. [Creative duo] Squared Division set that whole thing up, so we had no talk over it — we had to do what they told us to do — but we liked it, that's the thing. We enjoyed it.
PS: I know with this show stage productions can be very elaborate. Were you comfortable with everything that was happening?
Sheralyn: We were really happy with Squared Division giving us the props, the clothes — our outfits were really awesome and we loved them, they were so cool. The stage, everything, we loved it. There were no negatives about that.
PS: Everyone looked really stressed as Luke was reading out the names of who was safe. What was going through your mind at the time?
Sheralyn: When Luke was talking about the verdict, we were just praying in our minds, like, 'Please, we can't go out now. It's not our time, we have so much more to offer to the world. We have so much more to offer to Dannii, the audiences, the judges, everyone.' It was just such a shock to us.
PS: What were you thinking as you saw Adrien's performance since you went first? Were you worried?
Sheralyn: We're really close with Adrien as friends. When we were backstage watching his performance, we were just thinking, 'Oh my gosh, he's really good, he's amazing, how are the judges going to choose out of us and Adrien?' We had no clue of who was going to go out.
PS: How did you balance your studies with the show?
Sheralyn: Our school sent us work over email, and every Wednesday we had school with Marlisa and us. X Factor tutoring, that's what it's called. That goes for six hours on Wednesdays. So that was pretty cool, keeping up with school and also balancing that with The X Factor.
PS: The show makes a big deal of Marlisa being young, but you guys are the same age as her—
Sheralyn: Actually Angel's younger than Marlisa! Everyone's saying Marlisa's the youngest, but Angel's like, "No I'm the youngest!" [Laughs]
PS: Exactly! So do you think you were emotionally ready to handle everything it threw at you?
Sheralyn: Yeah, we really prepared ourselves for The X Factor. We said to ourselves, "Whatever happens, happens for a reason. We came this far into the competition, so we should be proud of each other." We were so proud of each other, but also really sad at the same time.
PS: What did you think of decision to introduce a wildcard this year?
Sheralyn: Oh, we were so, so proud of Brothers 3, that they got the wildcard. We're really, really close to them. We're so happy they came back into the competition.
PS: On that, who are your best friends on the show? You've mentioned Adrien, Brothers 3 . . .
Sheralyn: We're really close with Marlisa, Dean, Tee, Younger Than Yesterday, and Sydnee. We're really close to Sydnee.
PS: Sounds like all the young ones are banding together! What's the most important thing you took away from this experience?
Sheralyn: I think it's just the whole experience of performing in front of millions of people, worldwide, Australia, anyone! Having that chance to go onstage and show Australia what we've got as a group has been such an amazing experience overall. We're so proud.
PS: What would you like to do now? What's the plan?
Sheralyn: The future holds so much for Trill. This won't be the last time you see Trill, seriously. We have so much ahead of us. We're so young, we're 14, 15-year-old girls, and we don't want this to be the end of us.
PS: Who do you think will win? Who do you want to win?
Sheralyn: Trill thought that Reigan, there's something about her. She's such an amazing person, she's so humble, down-to-earth, and her voice is actually spectacular. She's so amazing. I think she'll go really far into the competition. We also want Brothers 3 to go far, and Marlisa.
Want more? Follow us on Facebook, Twitter, Instagram and Pinterest!
The X Factor airs Sunday nights at 6:30 p.m. and Monday nights at 7:30 p.m. on Channel Seven.
Source: Channel Seven