The X Factor Australia 2014 Elimination Interview With XOX
Why Is It So Hard For a Group to Win The X Factor?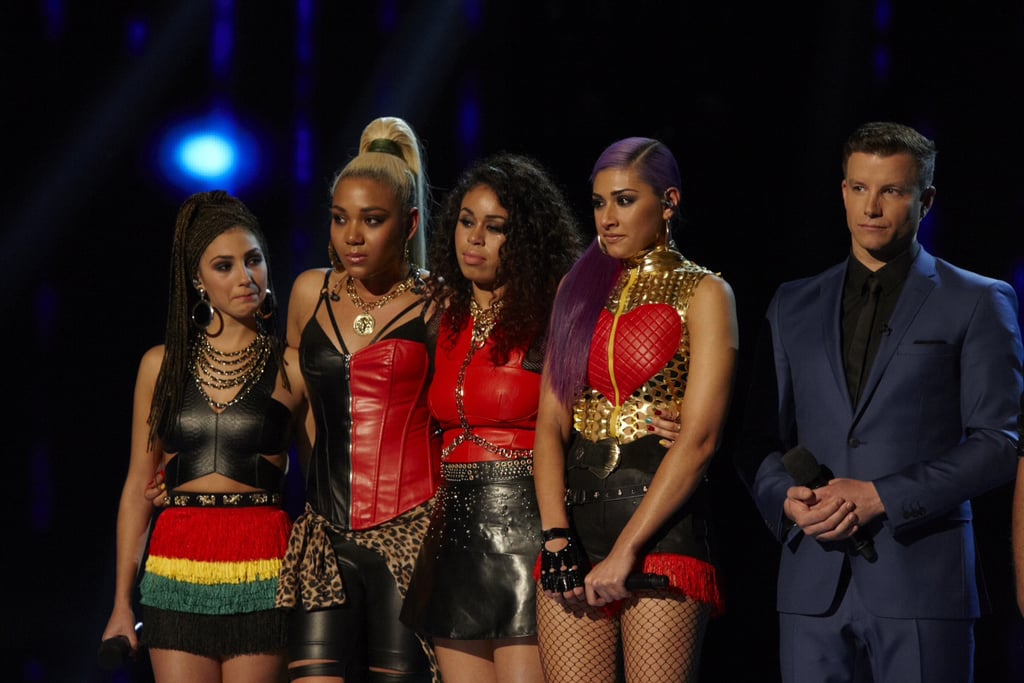 There have only been four eliminations on The X Factor this year, and so far three of those have seen groups leave the competition — that's that category Dannii Minogue is mentoring. Monday night saw the girl group the judges put together on the show, XOX (made up of Serenity, Nada-Leigh Nasser, Tahnie Cristini and Chaska Halliday, eliminated against 24-year-old Tee in Natalie Bassingthwaighte's group. XOX's run on the show was filled with ups and downs — it's not easy auditioning for a show as a solo artist, only to be told you'll progress through the competition as part of a newly-formed group — and they had some great performances, but it wasn't enough for them to stay as the judges chose to send them home.
Yesterday afternoon we caught up with Nada-Leigh (she's the one with the purple hair and amazing vocals) to talk about how they tracked their popularity, how they felt about their drastic makeovers, and why it's so hard for a girl group to win The X Factor.
POPSUGAR Australia: How are you girls feeling?
Nada-Leigh: We feel pretty good actually, considering.
PS: I noticed you were all quite emotional during Tee's performance. What were you feeling at that point?
Nada-Leigh: Well, it's Tee. He's super-talented, very well-liked, an amazing person. In part we did know we were going home as soon as we were put against him, as soon as we were in the bottom two. And he's one of our best, best friends in the competition. He is.
PS: With the sing for your life, do you think it's easier to go first or second? Or do you think it doesn't matter?
Nada-Leigh: I don't think it matters. A performance is a performance.
PS: How's Dannii going? Losing three groups at this stage can't be easy.
Nada-Leigh: Oh, I don't know! I haven't spoken to her today. I suppose it must hit her pretty hard, because she does work quite hard. She's very focused. But I know she's strong, so I think she'll be OK.
PS: The results of this show are so unpredictable. If you received good feedback on a Sunday night, were you able to celebrate, or was there always this looming fear that it wouldn't translate to votes anyway?
Nada-Leigh: It doesn't matter how well you did. We always practised on Sunday night our showdown song. You just never know. We know we had low votes the whole way through, because we were looking at Facebook likes, and that's usually pretty indicative as to how the general public is feeling.
PS: Why did you choose "Suit & Tie" for your sing for your life?
Nada-Leigh: Actually we chose it a long, long time ago, before we'd had a real think as to what our style was going to be. I think we chose it because it was vocal, and not very movement-orientated. We wanted to show we can sing, and that we don't have to have all the smoke and mirrors. We can just sing.
PS: Is it hard for you to decide on which song will best represent you, and your strengths?
Nada-Leigh: No, not really. We get along quite well, so we have pretty good, easy conversations.
PS: You had the most drastic makeovers of the top 12. How did you feel about your new looks and the direction they wanted to take you guys?
Nada-Leigh: Oh, we loved the new look. As soon as they told us they were thinking about a K-Pop thing, we were so excited. It's such a big genre and it hasn't been covered in Australia yet, so we were really excited to get ahead on that.
PS: Do you think you'll keep your purple hair?
Nada-Leigh: If I can afford it, I will keep the purple hair, yeah.
PS: I was also wondering about Tahnie getting the braids. What was that like for her? She had short hair and whenever I see her all I can think is how heavy it must be.
Nada-Leigh: Yeah, it was quite painful for her at first. It was like the day before the photo shoot that we had them done. When you first get braids they're really tight, like your scalp can't move, and then they pulled her hair up into a high ponytail, and she just burst into tears. It was very painful for her.
PS: What do you wish viewers could have seen more of from you? How do you think you could have connected better?
Nada-Leigh: I don't know, I guess I wish the Australian public let a girl group survive, because it doesn't tend to happen; girl groups just don't survive here. It's a shame because we don't have one, and I would've liked to have been on that roller coaster; first girl group.
PS: Especially because it seems like there's this big girl group resurgence happening, with Little Mix, Neon Jungle, G.R.L. and Fifth Harmony. Were there any girl bands you looked up to for inspiration?
Nada-Leigh: Oh, definitely Destiny's Child. And Little Mix. We saw ourselves in between there. And obviously Neon Jungle because we did one of their songs.
PS: Hopefully their success gives you some hope?
Nada-Leigh: It's just Australians don't like to see Australians succeed, unfortunately.
PS: How did you choose the name XOX?
Nada-Leigh: Dannii chose it for us.
PS: And who came up with the hand symbol?
Nada-Leigh: Tahnie came up with that one! Clever girl.
PS: You were sort of chosen to be the spokesperson of the group, like Luke [Jacobz] would always come to you for a chat. Was that a position you naturally assumed?
Nada-Leigh: Yeah, I think it was just a naturally-assumed role. We didn't really organise, nor do we have an official leader, but I think I just tend to talk best on the microphone. That's why I was always asked the questions.
PS: I also wanted to ask about your vocals, which the judges raved about every week. Even being able to sing Ariana Grande's part in "Problem" is massive! How long have you been singing for?
Nada-Leigh: I've been singing for 10 years?
PS: What kind of things do you do to train your voice?
Nada-Leigh: I'm very strict with my voice. I only eat certain things, like I stay away from dairy. I don't scream, ever. I don't talk first thing in the morning. Lots of tea, lots of lemon. And vocal exercises, obviously. Pretty standard! And obviously no smoking or drinking. Well, occasional drinking. I don't ruin my voice. It's like a muscle; you have to work it in the right way.
PS: What's the plan now? Will you continue singing as XOX?
Nada-Leigh: We will. We will continue singing as XOX. We are really keen to keep going hard with the girl group. We still want to break through into the industry, and we still want to be Australia's first girl group. We're gonna keep going, we'll just wait until the show's done, because contractual reasons restrict us from releasing anything straight away, but we're definitely already talking about our next steps.
PS: And you'd be encouraged by seeing guest singers like Ella Henderson, people who didn't win but still found success down the track.
Nada-Leigh: I really do think talent is important, but it isn't everything, and I think hard work is the most important aspect of this industry. We are dedicated, and we do want to work hard, so hopefully that will pay off in a couple of years.
PS: Who do you think has what it takes to win? Who do you want to win?
Nada-Leigh: I think everyone has what it takes to win. I see some people being more marketable than others, like obviously the younger ones, I think, have more room to grow than the older ones. Having said that, Reigan is amazing. Reigan is so professional. Reigan, Jason and Rochelle are very strong, in all three aspect: very professional and hard-working, and I respect that. But our favourite and our favourite to win is Tee, 100 percent.
PS: Was there any group divide between the different categories?
Nada-Leigh: Each category's different. Some people within the categories might not get along, but then get along with other categories. In the overs, I know they all get along with each other and they stick together. And then there's some people like Dean, who don't really talk to anyone. He tries to have the bad boy façade as much as he can, but I think we all know he's a big softie on the inside.
Want more? Follow us on Facebook, Twitter, Instagram and Pinterest!
The X Factor airs Sunday nights at 6:30 p.m. and Monday nights at 7:30 p.m. on Channel Seven.
Source: Channel Seven