The X Factor Australia 2014 Grand Final Live Winner Results
The X Factor 2014 Grand Final: Live Results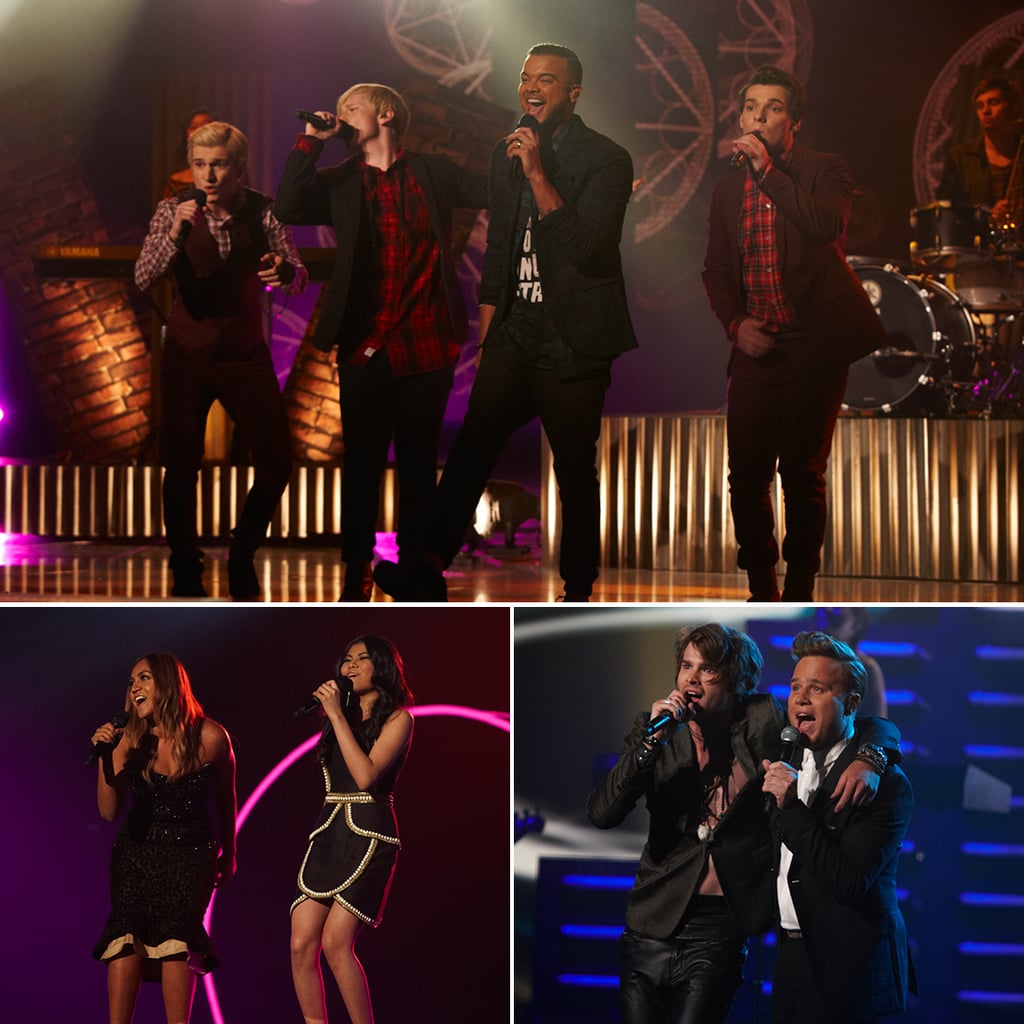 The grand final of The X Factor 2014 takes place tonight, and by the end of the decider episode, Australia will know whether Dean Ray, Brothers 3 or Marlisa Punzalan has scored a recording contract with Sony Music Australia as the winner of the series. We'll be going through the jam-packed episode as it happens — seriously, it's going to have so many performances from the likes of the top 13, Guy Sebastian, Olly Murs, Jessica Mauboy and Taylor Swift — so check back at 7:30 p.m. AEDT to watch it with us!
7:21 p.m. Waiting for the Blake Garvey and Louise Pillidge interview to air on The Project. What are the odds it will overlap with the start of the X Factor grand final? Very high, methinks.
7:30 p.m. Ooh, so Carrie Bickmore got to fly to Thailand to interview Blake and Louise. The audience is laughing through this interview. They only reunited two Saturdays ago in Koh Samui. Louise watched the finale of The Bachelor fully aware of Blake's feelings for her. Surprised at how hard Carrie is going on Blake — and impressed! Kind of awkward how Blake raised the "laugh track" that played during his last interview with Carrie, and she shut him down by saying that was the audience's natural reaction to what he was saying.
7:34 p.m. Louise says, despite what people have said about Blake, and what he's said, she's made the decision to move forward with him based on the way he's treated her. She also says she's moving to Perth.
7:38 p.m. OHMYGOD THERE'S MORE TOMORROW. Sam Frost and Lisa Hyde watched this interview package and will share their side of the story, including Lisa's revelation that Blake phoned her to ask if she still had feelings for him. DRAMA DRAMA DRAMA! The Project is really milking this, but we can't get enough.
7:39 p.m. OK, time to switch to The X Factor, which is what this live coverage is meant to be about . . .
7:40 p.m. As the only impartial judge tonight, Luke Jacobz has asked Redfoo for who he's cheering for. Redfoo admits that when he lost Reigan Derry, his vote was with Dean, but after last night's grand final performance show he's backing Marlisa, mainly because in his opinion she's the only one who performed her audition song better than the first time.
7:43 p.m. Performance show recap time. If you watched the show last night, this is your opportunity to quickly have dinner/take a quick shower/scroll through your Instagram feed/do something else, because we've seen all this.
7:47 p.m. Top 13 group performance time. They're singing Katy Perry's "Dark Horse." Interesting that Dean kicked it off considering they usually save the grand finalists for the end. Oh wow, remember that group Younger Than Yesterday? And Trill? This feels like such a blast from the past and yet it was only a couple of month ago. Also, very impressive dancers in boxes. It's like the X Factor circus has come to town. Shout out to The Squared Division for their amazing productions this series!
7:50 p.m. OK, one performance down, a million more to go.
7:55 p.m. Flashing back to the auditions, which feel like yeeeeaaars ago. According to Redfoo, "This was the year of the selfie. Autograph, that's old school." Dannii Minogue says the number one accessory at auditions was an acoustic guitar. It certainly seems that way with this fittingly-edited package. Oh, and what's better than a standing ovation? "A desk-ovation," says Redfoo.
7:58 p.m. Luke gives Dannii a birthday shout out — we marked her big day with a look at some beauty tips you can pick up from her Instagram account.
7:59 p.m. Olly Murs is the first of the special guests to sing, performing a song from his fourth studio album. Good to have someone like Olly encouraging the contestants since he's proof you don't have to win The X Factor to be successful. (He was the runner-up on The X Factor UK in 2009.) Cute, Olly says he's still a bit nervous standing in front of Dannii, who was a judge on his series. "Just enjoy it," Olly advises the contestants. Let's take a moment to remember other big acts who came from The X Factor UK but didn't win: One Direction, Ella Henderson . . . OK that's all I can think of right now. Successful winners from that show include Little Mix and James Arthur.
8:10 p.m. It's time for Jessica Mauboy to shine on stage, singing her new single "Can I Get a Moment?". She obviously got the fringing style memo from the package that played just before she was introduced. Love those little moves she's busting out. The lighting in the background looks like she's in a giant beehive when it makes those honeycomb patterns. Suddenly I'm craving Crunchie chocolate.
8:13 p.m. Trying to work out if I'll be able to catch Lawson and Cat's controversial kiss on Big Brother tonight. Anyway, Jess is chatting to Luke now and she said "Can I Get a Moment?" was a magical moment. Now she's talking about when she performed at Eurovision earlier this year — "A dream come true." Alright, business time! Luke says one of the top three will be eliminated after the break, and then we'll have a top two. This means there are only a couple of minutes left to vote in our poll! Before one of the acts becomes redundant.
8:20 p.m. "Tonight, is the night, when three become two . . ." (Sung to the tune of the Spice Girls.) This is serious now, one of the acts will no longer be in the running to win The X Factor. "This is it, it's time for the first of your X Factor results," says Luke. The first act that's one step closer to winning the title is (in no particular order) . . . MARLISA! She's losing it. She could win this! Now it's between Brothers 3 and Dean. The final and second act in the top two is . . . DEAN RAY! That means Brothers 3 is out of the running. I'm actually quite shocked because I thought Brothers 3 had heaps of support, demonstrated by how they were voted into the live shows in the wildcard, and they've never been in the bottom two. Well, perhaps three is their lucky number — there are three of them, the number is in their group name, and they've come third. Not bad for three brothers from the country. (Side note: based on The Bachelor this year, you could come "third" on a show and still end up the "winner.")
8:26 p.m. According to our poll, Marlisa is going to win. We'll find out by 9:50, according to the TV guide.
8:28 p.m. "It's been an amazing ride for these guys," says Brothers 3's mentor, Dannii. Redfoo says, "You put smile [sic] on people's faces . . . Use this as experience, and go for your dreams."
8:31 p.m. Who watched The Big Adventure last night? It's going to replace The X Factor's timeslot.
8:36 p.m. Ronan Keating says Dannii spoke the most on the panel this year in a rewind package about the judges' antics. Anyway, time for another performance! This time it's former judge/mentor Guy Sebastian giving the show a "world exclusive" of his new single. I wish the voice over guy would name the singles, I don't think Shazam will work for this. This song, which is a collaboration with 2 Chainz, is quite different from Guy's previous single "Come Home With Me." The show suggests we should hash tag #WhatAGuy. Glimpse of the back-up singers, including Carmen who was on The Voice 2012. The other guy is Gary Pinto. I think this is the extent of my back-up singer knowledge. Oh yes, and the winner of this show will get to be Guy's support act on his first arena tour next year. That's pretty massive! The single is called "Mama Ain't Proud" — thanks Luke. Would love to know who Guy would prefer as his support act.
8:46 p.m. According to the TV guide, we still have over one hour of this grand final. How! We've already gotten through so many of the performances! Chocolate/peppermint tea time. (Marvellous Creations in Jelly Crunchie Bits.)
8:50 p.m. Aw, sweet messages from Dean and Marlisa's friends and family. Now they're singing a duet together, which is the first time this has happened. They're performing "Beneath Your Beautiful" accompanied by heaps of dry ice and gospel back-up singers. Dean ends it by saying, "You're pretty," to Marlisa, which seemed a bit random.
8:58 p.m. Aaaand it's time for another recap! This time it's of the guest stars on the show, and yes, there have been some massive names on the show, from Hilary Duff to Ariana Grande and former X Factor contestants. Hey, weren't 5 Seconds of Summer meant to perform on this show? Anyway, this seems like the perfect intro for special guest Taylor Swift. Get ready to "Shake It Off"! Assuming she sings this.
9:00 p.m. So many colours for Taylor's performance. She also got the fringing memo, but she's got blue, sparkly fringe action going on. And some skin as she's in a crop top. Lucky people in the mosh pit audience got to touch her hand! OK, totally going to do this lasso-style dance move next time I'm out dancing and this song comes on. Might have to learn this whole dance, actually. Taylor is taller than everyone in her band. And she gets confetti! And firecrackers! And a standing ovation. Taylor says, "I'm so excited to be back in Australia. You guys are the greatest." Luke asks where the inspiration for her songs comes from, and she says as everything's based on her life she feels like her fans have been reading her diary since she was 16. Her advice? "Treat everyone well."
9:11 p.m. A little cross-promotion as Luke plugs Dancing With the Stars and references Mark Holden's weird behaviour last week.
9:12 p.m. WHAT is Marlisa wearing.
9:13 p.m. The top two are performing one more time, a song their mentors have picked as their highlight. Oops, Ronan just got cut off as he was introducing Marlisa's performance of "Titanium." Awks!
9:14 p.m. Rewind through Marlisa's journey on the show. Gosh, I totally forgot that she "stuffed up" in front of John Legend.
9:17 p.m. Blink and you would have missed Marlisa's cute shimmies. So that's why she's wearing those frills and ruffles. And I have to mention the ear cuff. That is one epic ear cuff. Comments time, and Redfoo tells her to keep her "fierce attitude." Dannii says her edge is her "vulnerability mixed with your strength. Don't change a thing." Natalie Bassingthwaighte says she's so happy the show finds people at the beginning of their careers, like Marlisa. As for Ronan, "Mar, we did it. We made it to the grand final. I'm really proud of you. Of every contestant I've worked with, you've been incredible, and inspirational. You've got what it takes." That was Marlisa's final performance, not that it affects the outcome anyway.
9:27 p.m. Now it's Dean's turn to perform his show highlight. Nat has chosen Dean's performance of "Budapest" as his last on the show; she believes it's the one that made Australia fall in love with him. Dean's comment about drinking water from puddles on the side of the road — classic LOL. Even Nat poked fun at it on last night's episode. Dean having a joke about some of the stuff he's worn on the show is great. It's also cute how he calls Nat "Natty." OK, performance time. It's refreshing that Nat didn't choose a standard rock song for Dean.
9:34 p.m. Ronan says Dean would be a "worthy winner" of The X Factor and that he and Nat have worked so well together. Redfoo says, "Whether you win, whether you don't win, you are one of my favourite artists right now, period." LOL at Dean trying to imitate Ronan's Irish accent! That needs to be a Vine.
9:37 p.m. Apparently the winner announcement is after the break!
9:41 p.m. DECISION TIME!!! Luke says this is the toughest competition we've seen. "Australia, you have spoken. It's down to Marlisa and Dean." Luke says the vote is so close there's only 0.01 percent between them. And the winner is . . . MARLISA!!! Dean is spinning Marlisa around. Marlisa has lost her mind. Ronan is obviously thrilled, especially since he mentioned last night that he might not be returning to the show. Looks like our winner poll was correct! Ronan says, "She's been wonderful, what a superstar. It's only taken me five years [to win]!" As for Marlisa, "I can't believe it, I feel like I'm floating on a cloud right now!" Dean is jumping on Luke's back. Everyone is going crazy! Now Marlisa gets to perform her winner single, "Stand by You."
9:46 p.m. Marlisa has composed herself so well to perform this. She looks great as well. Love Nat and Ronan breaking it down in the background. Marlisa is totally owning that stage. And guess what: the show has finished before the TV guide said it would!