The X Factor Australia Elimination Interview Rochelle Pitt
These Are the Challenges of Being an Older Contestants on The X Factor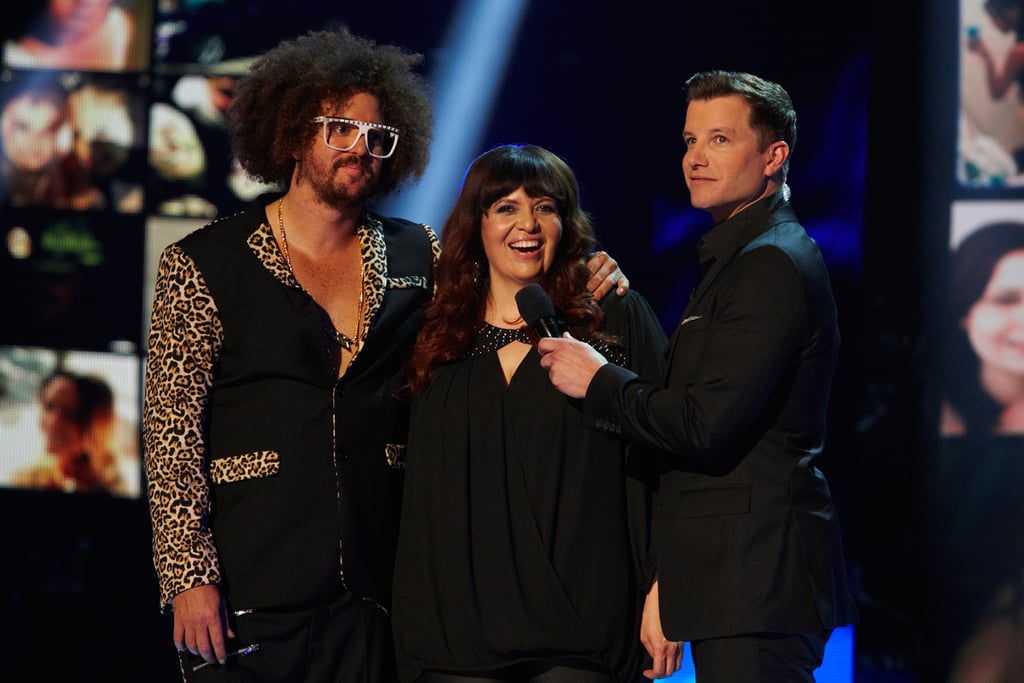 At 41, Rochelle Pitt was the eldest contestant to make it through to the live shows on The X Factor 2014, but that didn't stop her from turning in some memorable performances that almost made us forget she was a single mum of four. The registered nurse from Cairns was given a glamorous makeover by the Squared Division creative team before performing hits like "History Repeating," "Gimme Shelter" and "Proud Mary" live in front of the nation, and while she had a pretty good run in general, she did hit a few stumbling blocks, like when she forgot the words to Adele's "Rolling in the Deep" a couple of weeks ago.
Rochelle found herself in the bottom two for the first time on Monday night against country singing Caitlyn Shadbolt, and the decision went to the deadlock because Natalie Bassingthwaighte was away and Redfoo, Dannii Minogue and Ronan Keating couldn't come to a unanimous decision — it was never going to be possible because Ronan and Redfoo would never send one of their acts home. Rochelle received the lowest amount of votes for the week and Caitlyn survived to sing another day.
We caught up with Rochelle on Tuesday to talk about missing her kids, whether she'll stick with her makeover, and how she felt about being a mother figure to the rest of the contestants.
POPSUGAR Australia: Hi Rochelle, how are you?
Rochelle Pitt: I'm good thanks, just a little bit surprised, I guess, to get out this early, but that's OK.
PS: How are you feeling compared to last night?
Rochelle: I suppose it came quite quickly. I guess I took it all in its stride, and I thought, 'Oh, OK, it's happening. Oh, OK, I'm going home. Bye everyone!' On stage, I felt a bit of relief because I thought, 'At least I get to see my kids now,' and I was thinking about them. I got a bit more teary when I was off-stage and saying goodbye to everyone out the back.
PS: It is very hard to predict — I think we've had a different bottom two almost every week.
Rochelle: Well it has been actually, since you say that, through the whole lot. And I was surprised I didn't go out in the first two weeks or so, because I thought I might. But no, I was getting the votes to stay in! I think when one lot goes, those votes swing to someone else as well.
PS: How far did you think you'd make it in the competition?
Rochelle: I thought the top six, or even the top three, I could get there. I suppose it all depends on the songs you get and how much you can do with them. But you don't get any rest as well, so you start getting very tired. And your vocals, you can't hold them up as much as you would usually. I was happy to even be in the top 12, so the top eight is good for me.
PS: How did you feel about the past two weeks of performances? You had some issues with the Adele song.
Rochelle: That was a bit of a stumble there.
PS: And then the judges were split on your performance for Rock Week. How did you feel about them?
Rochelle: I really wanted to just come out and nail the rock performance because the previous week was a bit of a stumble song, and I made mistakes there, and forgot the lyrics. My confidence was down, and I just wanted to have a positive performance in the rock week. And it was rock week, so I was trying to do rock; I wasn't trying to do anything different. I just wanted to belt out a bit of a rock song, and be screechy, and dress in a rock sort of way, which can be out there.
PS: How did you feel about the wig?
Rochelle: I was a bit iffy with the wig, and then I thought, 'Nah, give it a go!' It's the boys from Squared Division — they suggested it so I thought I'd go for it.
PS: With your makeover before the live shows, were you open to anything they wanted to do to you?
Rochelle: Yeah! Well, they asked me what I'd liked, and I thought an Adele sort of look, with the eyelashes and the hair. So they put that across for me. And it did work well, I think. I kept with that. I'll keep the extra hair pieces in, too!
PS: And your fringe?
Rochelle: Yeah, I think I will for a while. I don't know if I'll be able to maintain it. I bought one of them styling wand things to try.
PS: You tackled everything Redfoo threw at you — was there anything you were uncomfortable about doing?
Rochelle: No, actually, I knew I could all of it. Even the Adele song, I think I sang pretty well, and even in the rehearsals as well. I just failed a bit onstage [laughs].
PS: How do you think your age and background affected your experience on the show?
Rochelle: Probably my age a bit more. You're an older contestant, so you probably need a bit more rest than the younger ones; the younger ones can keep going a bit more. I could handle it to a point, but I think I needed sleep-ins a bit more, even if I had the mornings. Because we didn't have any days off. And I've had kids and everything too, so you're still a bit tired from your kids; you've got other things you're worried with, not just the show.
PS: How did you cope with being away from your kids? How often did you get to see them?
Rochelle: I went back every two weeks to see them; that was great. They were proud of me that I did so much — not a lot of people can say they've done what I've done. I reckon I could have been good for a couple of more weeks, but I'm just accepting what's happened and going from there. And I'm just happy for the experience.
PS: In packages we saw you were like a mother figure to lots of the contestants. As a mother and from your perspective, do you think 14 is too young for an experience like this?
Rochelle: It's OK if you've got your support there. As long as your parent you're with is a good supervisor, and looking after you well. I think with Marlisa, she was right there, because her mum is such a great support that she didn't have to worry about anything else except for just singing and eating [laughs], and getting dressed. Like her mum looks after her clothes — everything. She's a very respectful young girl too, Marlisa. And quite mature for her ages.
PS: Did you mind being seen as a mother figure to the other contestants?
Rochelle: No, I didn't mind that at all, that was fine, because I am a mum. And I'm a bit of a nurturer too. You do worry about the others and how they're doing. I should have probably worried a bit more about me. You can get caught up in other people's things as well, and I had to pull myself up a bit and say, "No, I've got to concentrate on me, and worry about me."
PS: What was working with Redfoo like? How familiar were you with him before auditioning for the show?
Rochelle: I knew of Redfoo, of course, because I liked his group when they were together. I loved his performance there. He is a business in himself; I know he is a very busy man. We worked together pretty well and got on really well. I embraced everything he said and tried to do as much as I could, but I didn't want to lose who I was as well, in the whole competition, so I made sure I maintained as much as I could.
PS: What has it been like meeting viewers of the show?
Rochelle: It was great. I've enjoyed all of that. Loved giving autographs and photos, things like that. It freaked me out that [the show] can bring you that much fame so quickly.
PS: You're now on Twitter and Instagram — is social media something that was on your radar before doing the show?
Rochelle: Not really — only Facebook, really. Facebook was it for my generation. Instagram I really like now, and the Twitter thing, I link it all up so I don't always have to look at it. Twitter can be quite vicious, actually, so I don't get on there that much. Instagram is good for putting pictures up and you get good, positive stuff from that. It's more on Twitter where . . . I don't know! They can hide behind their phone or computer or whatever. Facebook is tried and true, so I always stick with Facebook. It is still important to have, but you just don't . . . I use it more as putting stuff out there than actually reading people's comments, you know what I mean? I get other people to read comments! I like doing that. Like I get the mum of Brothers 3 to look for me, because she'd do that for the boys. "Can you look for me too?" She was great. She was like my mum, too. Her and Marlisa's mum were like my mums as well.
PS: What's next for you?
Rochelle: Well I'm going to go home and see the family, but I'm going to just start writing. Start getting some stuff happening. I'm going to see what area I'm going to go into.
PS: Who do you think will win? Who do you want to win?
Rochelle: I think Brothers 3 will probably win. And who do I want to win? Probably Brothers 3 or Marlisa. I think also Brothers 3 because they've got the experience behind them, and they've got CDs they've done before. They had a little following there, so probably them.
Want more? Follow us on Facebook, Twitter, Instagram and Pinterest!
The X Factor airs Sunday nights at 6:30 p.m. and Monday nights at 7:30 p.m. on Channel Seven.