The X Factor Australia Elimination Interview: Tee Toleafoa
Tee Shares a Funny Story About the Time He Met Hilary Duff on The X Factor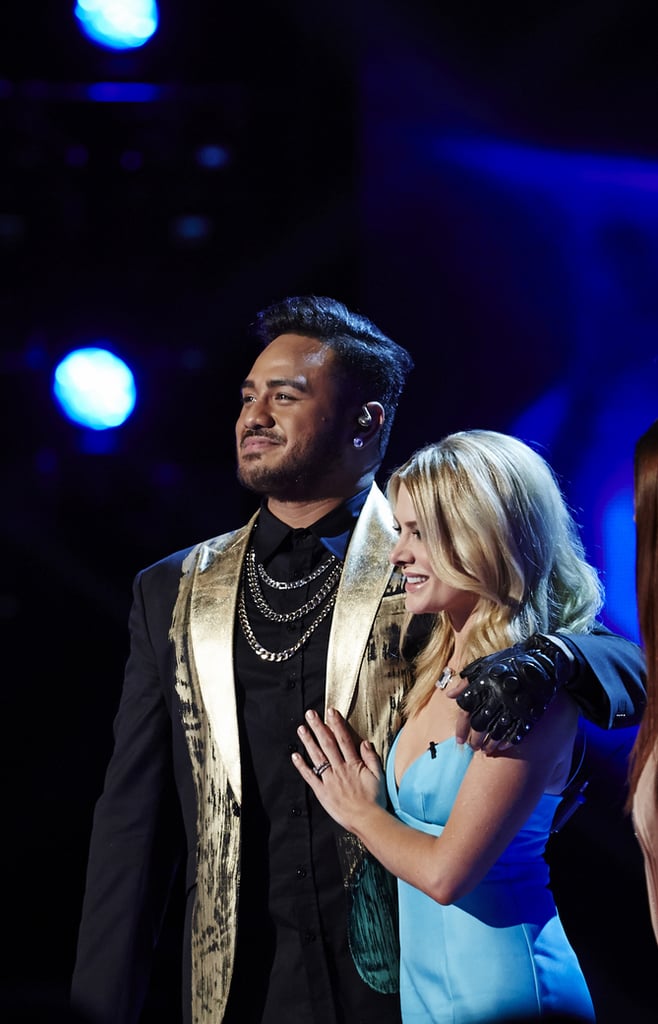 For Tee Toleafoa, simply making it to the live shows of The X Factor was a dream. The 24-year-old famously got to the Home Visits round in 2013, but was turned away from the live shows by then-mentor Ronan Keating. This year, Natalie Bassingthwaighte took him through and handed him song choices that made for memorable performances, like his version of Lloyd's "Dedication to my Ex" — so good even Lloyd said Tee sang it better than him! — and The Beatles' "Hey Jude."
On the Sunday night that just passed, the judges were able to choose songs for the other judges' contestants, and Ronan handed Tee Prince's "When Doves Cry," which was met with mixed feedback. The elimination was held on Tuesday night (due to the Brownlow Medal on Monday), and instead of a bottom two the show decided to mix things up with a bottom three, which saw Tee, Jason Heerah and Caitlyn Shadbolt sing for their lives. The result went to a deadlock between Tee and Caitlyn, which returned the decision to the public vote, and Tee was sent home, just missing out on a spot in the top six.
Instead of being upset, Tee has continued to count his blessings with the whole experience, which came through when we spoke to him this morning. Keep reading for our chat with Tee, where we discussed the direction he wants to take as an artist, why Caitlyn has his full support, and what it was like meeting his childhood crush, Hilary Duff.
POPSUGAR Australia: How did you feel about your Prince performance on Sunday night?
Tee: My Prince performance — I honestly loved it. Obviously the verdict was still out on that one. Dannii, vocally, she loved it, but she said I could have opened my eyes a little bit more, and I totally agree with her. I honestly loved the song choice; I think it's a hard song choice for anyone to do, so I think I did it justice. I really enjoyed myself. I think I went out on a good note.
PS: And it must be good to know that even though Ronan was worried about your rehearsal, he said you pulled it off for the real show.
Tee: Yeah. They were all worried about it, and they were just happy things worked out in the end.
PS: Is being in the bottom three any easier than being in the bottom two?
Tee: [Laughs] You know what, I was actually quite prepared for the bottom three. I don't know. I felt like it wouldn't have been any different. It was still nerve-wracking for me, but I was like, 'I'm happy, I'm proud.' I felt like I had a good run, and I loved my showdown song. It was dedicated to everyone who's constantly supported me every single step of the way.
PS: What did you make of Dannii's comment that you're at your best when you're fighting for someone else?
Tee: What I think about that comment is it just shows what kind of heart I have, because I put people before myself. I totally understand when she said, "You need to fight for yourself! It's always good to be the nice bloke, but you need to toughen up." I totally agree with her, but I've always been brought up to put people before myself, and to acknowledge the good in everyone else before seeing any faults. For me, I was fighting for my life, but it's always good to know when you're fighting for everyone else. Everyone knows my journey from last year — I was fighting for not only the gay society, but fighting for people to just be happy, and to have the spirit to be true to themselves.
PS: Having been through the experience now, do you think you would have been able to handle it last year?
Tee: I never got the chance to see if I could, but personally, I think I'm so happy. It was a blessing in disguise that Ronan sent me back last year; I think it needed to happen like that because I would not have been the stronger person that I am this year. I came back on the show fighting. I came back on the show with literally no pants on the stage — I had short shorts [laughs]. I came back with a different kind of fight and a different kind of confidence, but I'm really stoked with my run. I'm stoked with the journey I've had. Like I say to everyone, I counted my blessings every single day that I was part of the show.
PS: Do you think the performances you did were a good representation of the kind of artist you want to be? One of the judges made a comment that they were unsure what your direction as an artist was.
Tee: Yeah, Redfoo said to me that he doesn't know what direction [I was going in]. At the end of the day, this competition is about challenges, and it's not about being in that comfort zone. It's about getting out of that comfort zone to try and figure out who you are as an artist. Dannii always knew that I always sang from my heart, but X Factor wouldn't be as successful if we weren't pushed to do different things and get out there. I think if I had more time to show who I really am, I probably could have done a few more ballads, but hey, the show would be boring. I think I did myself proud [laughs].
PS: What was the best thing about working with Natalie?
Tee:The best thing about working with Natalie was that she was working on-camera, and off-camera. She is a realist. She has a big heart for not only her contestants, but for everyone. If you ask any of the contestants, they would tell you that Nat will always be the one who's out there, loud and proud, greeting everyone, asking how they are, telling people they're amazing. She also has no stress in telling another mentor's contestant that they were better, that they're really good, or that they were the best, because she's a realist, and she stays true to who she is. And I love that about Nat.
PS: What was your relationship like with the other judges?
Tee: It was nice. Dannii, ever since last year, she's always had this heart-to-heart thing with me, and even last night, when I got the boot, she spoke to me for ages. She was just encouraging me, like, "I've been following you for ages." She's been so supportive. Ronan, he came up to me last night and said, "Man, brother, your time came too soon, but I know you're only going to go up from here and I'm so proud of that." Redfoo came up to me and said I did amazing. You know what? There's always conspiracies in every competition, and everything that happens in your life, but the only thing I'm gonna take is what's in black and white, and that is the fact that I did myself proud, I went out on a good note, and The X Factor has made me a stronger person.
PS: What's it like competing against your friends? Does it feel like a competition?
Tee: Everyone saw what happened when I got put up against the XOX girls. They were like my little sisters. I broke down not because I was scared to go home, I broke down because it felt like I was going up against my little sisters, and I was sending them home! For me, I've been brought up in a family where you look after your younger siblings; you cherish your little sisters and you cherish each other. So for me, X Factor has brought not only just great artists around you, but it's also brought new brothers and sisters into your life. For me, it's friendships and relationships that I will forever hold dear to my heart. It's a really ugly feeling that you have to compete against each other, but at the end of the day we know that we're so close, and that's better than anything else.
PS: That's what everyone has said. Everyone has been so happy to see the person who got through progress to the next week. There's no bitterness.
Tee: Yeah! One thing, oh my gosh, that I need to put out there like crazy: Caitlyn has been getting a lot of slack from social media, and all I gotta say is: you know what? Haters gonna hate, but I want Caitlyn to know that she needs to take this opportunity and just really stick to it, and stick it in everyone's faces and go, "You know what? Tee and I are brother and sister, and I know that he'll be supporting me from the crowd." [Laughs] But honestly, I just want her, and everyone, to take every opportunity and live the dream while they can, because I definitely did.
PS: You got to meet some of your favourite stars, like Hilary Duff and Lloyd. Who were you most excited to meet, and did you get really star-struck around them?
Tee: I honestly got star-struck with both of them pretty equally! Obviously Hilary Duff was my little girl crush back in my straight days [laughs]. It was kind of weird because I had nothing around me to squeeze, so I literally punched the wall before she came up to me, and I grazed my knuckles and then just laughed. When I was young, I used to watch her like crazy — she's just amazing. I was star-struck. With Lloyd — man. I sang his song, and for him to say I sang it better, that was the biggest praise I've ever gotten from anyone, and I am forever going to hold that to my heart. He even gave me a gift. I'm just happy.
PS: When I was talking to Sydnee, she said no one got to meet Hilary, but you did!
Tee: [Laughs] I think she was expecting a little 12-year-old girl, but she got a massive, 6-foot, black Pacific Islander!

Source: Instagram user teetoleafoa
PS: What were some surprising things about the live shows you didn't expect?
Tee: I didn't know it was so full-on. There was so much stuff happening. People think that we literally get a song and just practise it and get onstage. We're not only practising our songs, we've got promo shoots, we've got interviews, left, right and centre coming at you like crazy. You literally have no time to yourself. But you know what? For me, I took it on board and thought, 'You have one opportunity to live this dream, so you better live it to the fullest.' So everything was really surprising for me. I'm a kid from a retail store, I am not used to this, all the lights and the action. It's been a crazy, crazy dream.
PS: I guess it's just a crash course in what you'd experience if you keep making it in this industry.
Tee: That's the truth, man. If The X Factor is that crazy, just imagine what Beyoncé goes through! [Laughs]
PS: Who do you think will win? Who do you want to win?
Tee: I'm gonna be that typical nice guy, and everyone's probably gonna hate me for this, but I want everyone to win. If I had to choose . . . It's really hard! But I honestly think it's gonna be either my rock brother in crime, Dean Ray, or my soul sister, Reigan Derry. Those two are on the top of the food chain at the moment. Everyone wants that [laughs].
Want more? Follow us on Facebook, Twitter, Instagram and Pinterest!
The X Factor airs Sunday nights at 6:30 p.m. and Monday nights at 7:30 p.m. on Channel Seven.