The X Factor Elimination Interview With Angel Tupai
The X Factor's Angel Tupai on Accepting Her Time to Go and Showing Personality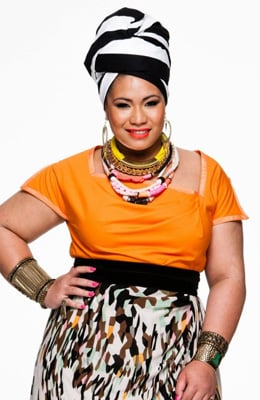 There has been a wealth of talent on The X Factor this year, but 19-year-old Angel Tupai was the first one to really get my attention when she sang Jessie J's "Big White Room" in her audition. Last night Angel was in the bottom two with Samantha Jade, and when the judges' votes when to deadlock the elimination decider went back to the original public vote, which saw Angel leave the competition. I spoke to the lovely Angel this morning about her acceptance that the competition was over for her, whether contestants should have more say in the song choices, and how difficult it was to show more of her personality on TV.
You received great, positive feedback after your performance on Monday. Do you feel more confident about your position in the competition when you get good comments or do you all know it's so unpredictable?
It's really, really unpredictable. Despite your efforts in the competition, you just don't know if you're safe or not. For me, I came to a point where I was feeling nervous, and I was really nervous for last night's verdict, but for some reason I knew it was my time to go, that it was my turn to step out of this competition and go forward with what I want to pursue for my music career. It's completely unpredictable every week. It's always 'expect the unexpected.' I said to myself, I'd rather be nervous and get through than be confident and go home. I left it up to my natural instincts to react to last night's result.
How do you pull yourself together for your sing for your life?
Oh, there's not a way that you can get around it. All you've gotta remember is that you've come into this competition to achieve one thing, and that's to pursue your passion in music. When I went back there I just thought to myself, 'I've come this far and I've achieved this much. I should be proud of myself. No matter what happens, my family and my loved ones are going to love me as much as they did before I even came into this competition.' I thought this was an amazing opportunity to be exposed to the industry. I thought, if I've achieved that, then it is what it is. If I was going to go home last night, I was going to give a killer performance. At least I went out on a high note, and accepted and came to terms with the fact that it was my time to go. I smiled about it because I was thinking about the future.
More from Angel when you keep reading.
Do you think contestants should have more input with the song choices since they seem to do better when they pick their own songs?
Part of having a mentor is the mentor having to look at you and see the avenue that you would take as an artist. They mentor you to sing the songs they feel would appeal. These [the judges] are all artists who have broken into the industry in Australia and they've really succeeded. We, as the students, per se, we listen to the teachers and we listen to what they offer. We trust their opinion, and it's a great thing to have a mentor. But each of us [contestants] also has a sense of who we are as performers and artists, so it would be nice to have more of a say in the song choices. It's also good to be challenged, like with a song that you've never known. You never know what would sprout from the song.
You were criticised for not showing enough personality — how did you and Natalie Bassingthwaighte work on that? What do you think you could've done to show more of yourself?
Every week I felt like I gave an honest performance and that I was honest to the crowd. It's really hard to communicate your personality over camera unless you're in the person's presence. That in itself is a whole new level. You can't help what goes on TV — I've been honest and I've been myself the whole time. [Sighs] I don't know — what can you do?
And we don't get to see much of you off-stage, which would show more of your personality.
Absolutely. It's hard to know what's happening if you have a 30-second package before a two-minute song. It's up to the public — they need to go on the website and watch the video diaries.
The production value on the show is really high — do you find all the props, backup dancers, lights etc to be helpful or distracting?
Sometimes it's incredible and adds to the excitement and amazing joy of being onstage. But sometimes all you need is a piano and a vocal. It's a competition and people love to see big sets and amazing props on the stage. It's all-in-one. It's a concert in two minutes.
Which is your favourite performance that you did?
Ooh . . . No, I don't think I could choose one! I enjoyed everyone single performance I had. Even last night's "Family Portrait" performance for the sing-off . . . I just try to be happy and positive about every single performance that I do. That's all you can do — you have to enjoy yourself.
Something we did see of your personality was that you seemed to be a mother figure on the show, even though you're so young. Is that what you're like with your family?
[Laughs] I was the eldest and I had to grow up really fast to support my family and look after my brothers and sisters. It's definitely been in my nature to be the mamma. That's basically what I was in the house [laughs], you know, like cleaning up Bella's dishes and putting her washing on. All my Twitter Angels call me things like 'Mamma Angel.' It's always been in my nature to be the old fart, I guess.
What's next for you?
I can't predict the future but I'm definitely envisioning big things. Hopefully I'll get a single out as soon as I can, and just go from there. Like be a supporting act for whoever's touring here in Australia, or holding my own shows even at venues as small as a basement. It's a case of onwards and upwards.
Who do you think will win? Who do you want to win?
[Laughs] Honestly, I couldn't say. Everyone is so talented and everyone is so gifted. It's really hard to say — there's no prediction whatsoever. But I'm really hoping to see Sammy and Fourtunate in the final, so keep supporting them, guys!
The X Factor airs Mondays and Tuesdays at 7:30 p.m. on Channel Seven.