The X Factor Elimination Interview With Carmelo Munzone
The X Factor's Carmelo Munzone Says Samantha Jade Is Hilarious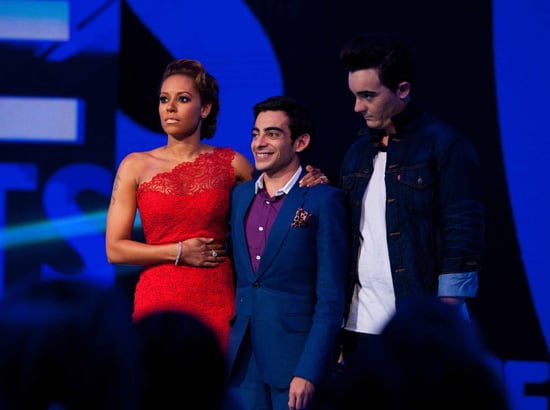 Carmelo Munzone received a second chance at The X Factor success a few weeks ago when he was called back to replace disqualified contestant Josh Brookes in Mel B's under-25 males category, but his run on the show was short-lived after he was eliminated last night. The judges had to choose between Carmelo and Fourtunate, and despite giving a great performance of Michael Bublé's "Feeling Good," it was only his mentor who voted to save him. We spoke to Carmelo this morning to talk about his nerves, working with Mel B, and how Samantha Jade is hilarious — viewers just haven't seen yet!
You sang "Feeling Good" in your sing for your life — how did you really feel?
I don't know. It was the strangest performance, really. I didn't even think about going home or not. I just told myself, "I'm going to sing this like it's the last song I'm ever going to sing in my life. Imagine as if I'm going to die the next day." It came out totally different. It was incredible.
How do you think you went?
I think I did well.
Do you think the judges made a fair decision considering your performance was better than Fourtunate's last night?
I'm not sure. I didn't really think of it that way. I already had a feeling, I don't know why. I was sitting there, trying to talk to Mel, I'm like, "It's alright, it's alright." [Laughs] I don't really care what the judges thought. It felt different. It [the performance] was very me.
More from Carmelo when you keep reading.
Mel was really annoyed that you were in the bottom two, and now you're out. Did she say anything to you after the show?
Yeah, we had a really nice chat afterwards. We didn't really talk about it, but she kept telling me to get up and get out there, and do everything that I can. She was being really supportive.
How easy or hard was it for you to wrap your head around being in the competition again?
It was very difficult to get a hold of it. It was very strange. It was almost like you got little bits and pieces at different times. It was very difficult to pull everything together. I actually don't think I got back into that zone literally until the bottom two performance.
Before you were asked to come back, what were you doing?
I was just at home making a coffee, and then they called and said, "Do you want to come in for a chat?" And I'm like, "Oh, OK." They didn't tell me what was going on but I eventually went there. I had no idea what was going on. They put me in a little room and then all of a sudden Mel B walked through the stage door. She was sitting there and did like a whole verdict thing. It was really cool — I had no clue until I walked into that room.
Was it hard to break into friendship groups or cliques that may have formed?
Not at all! I was already close to them throughout the competition. Do you remember the ensemble performance? Most of the final 12 were in my ensemble! So we were already really close friends. When I actually walked in there, they [the people in my room] said, "We always felt someone was missing from the group. It was you."
You seemed to struggle a bit with timing and pace in some of your songs, like you were racing ahead. Did you get any advice on how to control that?
Yeah, that was a bit of a problem. But it tended to only pop up whenever I was nervous. By the end of it, when they realised what the problem was, they kept telling me to keep calm. That started to help me. I actually didn't screw up the timing in rehearsals once in that song. It wasn't until I was on stage.
What was it like working with Mel B?
It was a bit rocky at first — I think we had a bit of a personality clash. But by the end of it, the last week or two, we actually became really close. It was less like a mentor-student situation and it became more like a friendship, which was good.
How much input did you have with your performances?
It's difficult to say because I didn't find out until I started to get used to it. If I had input I'd have to think of it quite early. There would be an early time and place for input as the performance would go on. It's a bit difficult to explain. I eventually realised that I had more input than I knew because you essentially have to time it right.
What was it like to perform with people like Jessica Mauboy, The Veronicas and Rita Ora?
It was great. For them to have gone so far, they don't just have to be talented, they've got to be really good to work with, and that's exactly what they were. They were all really nice people and we got along very quickly.
What was your highlight?
I don't know. To be honest I loved the whole thing. But I'd have to say last night's song.
People always seem to do their best when they're about to go. Maybe it's that extra pressure?
I don't know, it wasn't a pressure thing. I actually didn't feel pressure when I walked out there, for the first time. It was very different. It's difficult to describe but it was amazing at the same time.
Who do you want to win and who do you think will win?
I'm not sure because every time I try to think about it, I'm like, "Well, they've got this, they'll get far," but then you go, "This person has this, and this person has this." You keep going. It's really difficult to say at this point.
Do you have a favourite through? A close friend you want to win?
I would like to say my closest friends. I was close to everyone but I got really close to Fourtunate, Angel, Jason and Samantha Jade, so I'd love to see at least one of them in the grand final.
A lot of people have said Samantha. She seems to be really popular with the contestants.
Yeah! Samantha's hilarious. I don't know why she doesn't talk the same way on-camera as she does off-camera, but off-camera she is the funniest person ever. The funny thing is her sense of humour is one of those strange sense of humours where you act like you take everything way too seriously. You can tell when she's joking off-camera but because they've got to divide the show up between so many contestants it's a bit far and few. It looks sometimes like she is a bit too serious when really she's so funny.
The X Factor airs on Monday and Tuesday nights at 7:30 p.m. on Channel Seven.