The X Factor Elimination Interview With Fourtunate
Fourtunate's Jakiel Says They're "Confused" About Their X Factor Elimination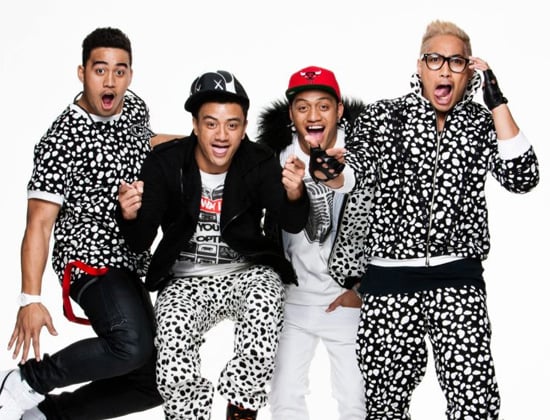 Sydney group Fourtunate were the sixth act to be eliminated from The X Factor. They were joined in the bottom two by 17-year-old Bella Ferraro, who judges Natalie Bassingthwaighte, Guy Sebastian and Mel B voted to keep with the hope of seeing the "magic" from her first audition again. The judges did praise Fourtunate's talent and said the boys — Joseph and brothers Jakiel, Izaia and Jaye — seemed ready to take their act to the next stage. Still, it didn't appease fans who believe Fourtunate still deserve a place in the competition. I caught up with Jakiel this morning to get his take on their elimination, what else they wanted to offer, and how the show has trained them for the future.
How do you feel about the reason why the judges chose to keep Bella and send you home?
It's just mixed emotions. We're confused but we understand, in a way. They say that they want the best, and they want the better act, but then they say, "You guys are ready, you guys are polished and ready to go, so we're letting you go." It's mixed and very confusing.
There are fans who think the show is rigged, but they often come to that conclusion when their favourites leave. Have you heard those comments and what do you think of that?
People have their opinions and I'm not going to say if it's rigged or not. I don't know.
What more do you think you could have offered if you'd stayed in the competition?
Oh, we have so much to offer. We didn't really get to fully sit down and just sing, like with a guitar, or fully sing our hearts out. But we did get challenged a lot. The song choices were very different but we really liked them because we put our own spin on everything we got. It was an awesome experience.
More from Jakiel when you keep reading.
I was just watching some of your more stripped-back performances on YouTube, and it's something Guy Sebastian brought up often as something he wanted to see you do. I know contestants don't get much input with the song choice but did you tell Ronan you wanted to do that?
Yeah, we definitely expressed that we wanted to do something like that, but I guess the show knows what it wants, and they know what kind of show they want to produce. In the end they wanted us to amp up the stage, be that entertaining group. It was good because it challenged us and pushed us to our limits.
You did a lot in your performances in terms of singing, dancing, learning choreography, and Ronan often mentioned how hard you work. What did you work on the most during rehearsals?
Mostly it was getting used to singing and dancing at the same time. Most of the contestants didn't have to worry about hard [choreography] and dancing. We had to put in more time and rehearsals to get used to singing and dancing, and getting those moves slick. That's exactly what we want to be. We want to be international artists who get challenged and are able to deliver dancing and singing numbers flawlessly. It's good we got to train ourselves to be that.
What's the best advice Ronan gave you?
Just to make sure that we always keep it natural, and that when we sing and we perform that it comes from within. That's probably the best advice he's given us.
What do you think are the advantages and disadvantages of being a group in a competition like this?
The advantages definitely outweigh the disadvantages. When we're feeling down we have each other to draw from. With ideas for song choices and ideas for harmonies and dance moves, we have four minds as opposed to having one where you have to think for yourself. There's more variety. With us, we can all be individual artists as well as be a group. That's a big advantage for us because we can all sing a lead vocal and all harmonise. Not to talk ourselves up or anything, but in that way it's good to have a group.
How hard is it to take criticism from the judges for decisions that aren't yours?
It's hard in a way but you've gotta think of the big picture. X Factor isn't our life — it hasn't ended our dream. It's just the beginning and just a stepping stone for us. We just thought about the long run. This was only for a short period of time, just three months. We've still got a long time in this industry. Even if you win the show you've got to work your arse off. We just get a head start. We get to work straight away on getting our single, EP, album or whatever out.
Do you have a favourite performance of yours?
Our performance this week ["You Make Me Feel" by Cobra Starship], that was probably my favourite, because it was what's out now and showed we can be a current group, and that we can be international artists. It showed off our vocals as well as our dancing.
How did you feel about the big production numbers?
We loved it so much. Props to Squared Division — their production is amazing. It's good because it preps us for what we want to do. When we tour and make our own music, that's exactly what we want to do. We want to have big productions to make our shows the best. We're going to try and work our butts off to deliver a massive show like what we've done week to week.
What's the next step for you guys?
The next step is to make our single or an EP, and get ourselves out there and work really hard. We're gonna put a show together with everything — band, dancers, everything. We're just going to go forward from this. X Factor was something little for us. It was a good experience and a good stepping stone. But from now on we get to direct our music career. We were in a bubble with X Factor — we had to play by the rules. It was awesome but now we get to do our own thing.
What was your highlight?
Definitely being in London. That was probably the highlight because we got off the plane and were like, "We're actually in London!" That was a massive turning point. We knew from then on that our lives were changed. In our mind we knew we had to work so much harder for what we want. Singing there and getting the opportunity to perform there was a massive highlight.
What did you guys do to unwind?
We'd have debriefs every night after the show. We'd go have dinner together, stuff like that. Our family would come out to see us. It was really good because it put us under pressure, and that's exactly what we wanted it to do. If you want to be an international artist you're going to be stressed out and working hard every day, harder than we worked on The X Factor. It's like training us up for the future.
You guys spoke about your mum a lot — did you get to see her much during the show?
We saw Mum like three times a week. It was awesome. We didn't really depart from her for such a long time.
Who do you think will win? Who do you want to win?
I think . . . that's hard. I don't know. I definitely want Sammy Jade, The Collective and Nathaniel in the top three, definitely.