The X Factor Elimination Interview With Justin Standley
The X Factor's Justin Standley Says the Judges Were Right in Keeping Angel Tupai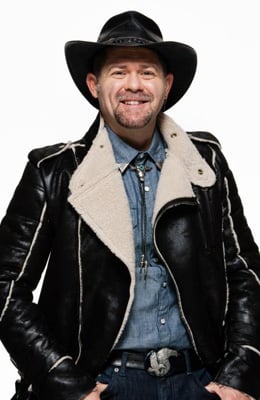 Last night Justin Standley exited The X Factor after the judges were asked to choose between the 41-year-old country singer and Angel Tupai. The judges all praised how far Justin had come after months on the show, though Mel B copped some flak for trying to sway Ronan Keating's vote. Despite the outcome, Justin is over the moon with what he achieved on the show, and when we spoke to him this morning he said Angel deserved her place in the competition. We also discussed his relationship with his kids (he auditioned just to get in touch with them) and what he made of the judges' advice each week.
How's your morning been so far?
Oh, pretty hectic! Radio started at 6:30 and the interviews have been going non-stop.
What's it like to talk about yourself constantly on these press days?
It's really weird because I never talk about myself normally, but I've been on the show long enough now that I'm starting to get used to it. [Laughs]
What happens the night of the elimination after the show? Do you go out as a group for drinks or anything like that?
There are still things you need to do for the show immediately after an elimination. The show and the producers are incredibly supportive, so the first thing they do is make sure you're OK. They have a lovely lady who has a talk to all the contestants as they're leaving to make sure they're alright, that all the supports are in place for them as they're leaving. And then after that you have all these follow-up interviews. Last night was a huge night because after all that finished it was Jayden's [from The Collective] 18th birthday so we all stayed up until 3 o'clock in the morning, singing and playing guitars.
More from Justin when you keep reading.
Last night it came down to you and Angel, so what did you think of Mel B trying to sway Ronan's casting vote?
I know Mel's copped a lot of criticism online for what she did, but I understand why she did it, and I tell you what: they made the right decision. Angel should stay in the competition. I was so shocked she was in the bottom two. I have so much faith in her — she's a huge-hearted, lovely person, and what a God-given talent she has. To be totally frank, I'd already made up my mind that if Ronan hadn't made that decision, it was too great a loss for the competition for Angel to leave, so I would've asked to forgo my position, because I love her to bits and she really deserves to stay. Australia hasn't seen what she's capable of yet. They've only just got the tip of the iceberg. And she's got such a huge personality that hasn't come across on television yet. She's delightful.
Do you think being older helped you come to terms with leaving the competition at an earlier stage?
Look, I think that's a factor, but as far as I'm concerned I didn't leave at an early stage. I fully didn't expect to get past the first audition! Every step of the way I've expected to leave, so I'm just gobsmacked that I managed to get that far! I'm ecstatic about it. And once I'd made connection with my children, which was my reason for going on the show, from that point on I felt like a winner. So everything else was a bonus.
As that was your intention for going on the show, what was your driving force once you progressed? Did you ever feel competitive?
No. I never did. In fact the only time I started to try to feel competitive was after the first live performance and I didn't get voted out. I thought, 'Oh, I've really got support out there!' And I thought maybe I should try and compete. Not once have I thought about being competitive. I was just doing the best I could do. And then I came unstuck because that put on a whole lot of pressures on me in my second week, which was when I sang "Bohemian Rhapsody." It was one of my worst performances I thought — I mean I still enjoyed it — I thought, I'm not a competitive person. I just have to push that out of my mind.
What's your relationship with your children like now?
It's incredible, it's wonderful, it's joyful. We're in contact every day. I want to move to Perth so I can be with them all the time. It's just an absolute dream come true. I cannot get the smile off my face.
When you were performing, what did you focus on: the judges, the audience or the camera? How do you perform when there's so much to think about?
[Sighs] There is an incredible amount to think about. It's probably a similar story for most contestants, but once you step out on that stage you do what you love to do: you sing and you perform. I perform for everyone. I'm not singing for the judges, I'm not singing for any individual. As I'm about to step on stage I'll have in the back of my mind certain people that I'm personally dedicating a performance to, and that sort of brings me to a calmer state so I can get up and not get overwhelmed by the whole experience.
How do you filter out the pieces of advice you're going to take on board from the judges?
That is a great question because you do get so much advice and it's hard to keep it all in your head. Basically you process as much as you can before the performance, but when it comes to the performance, you've just got to perform. You don't totally forget everything, but what you've taken on board is there to deliver . . . It's hard to explain. But if you try to think of all the advice that was given to you when you step on that stage, you just can't do it all. And that's part of the reason why, with "Bohemian Rhapsody," I was trying to remember so many of the things that they'd told me! But with the Fun song, "Some Nights," I just got up there and performed.
How was Guy Sebastian as a mentor?
Guy was lovely. He's generous, he's a genius. That was a wonderful experience. He's one of the most genuine people that I've ever met.
What's next for you? Do you want a career as a musician?
You know what? I'd never really thought about it going into the competition. I love to sing, I love to perform, I am a songwriter, so obviously doors have opened up. Once I catch my breath after the show I'll weigh up all the different options and see what I do next.
Who do you think will win? Who do you want to win?
The Collective will win, and I would love either Samantha or Jason to win. They're my two favourites. But I love Angel, I love Fourtunate . . . that's a hard question. I want them all to win.
Photo courtesy of Channel Seven