The X Factor Elimination Interview With Nathaniel Willemse
The X Factor's Nathaniel Willemse on Why He Gave Reality Shows Another Go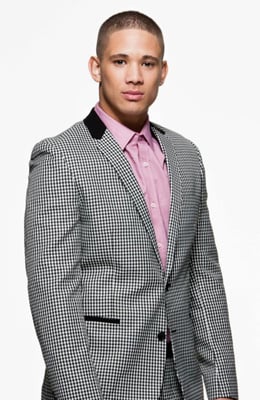 Last night's elimination on The X Factor was deemed the toughest of the series so far. Both of Guy Sebastian's over-25 contestants, Samantha Jade and Nathaniel Willemse, were in the bottom two despite performances that had been praised by the judges on Monday night. They took to the stage again for the sing-off, with Nathaniel working the crowd to Marvin Gaye's "Sexual Healing," and Mel B commented that she was annoyed he'd interacted with the audience too much. The judges came to a deadlock and in the end it was the public vote that decided the outcome, with Nathaniel leaving the show. I caught up with Nathaniel this morning to talk about working with Guy, the kind of artist he wants to be, and why he gave a reality show another shot after his brush with Australian Idol six years ago.
How do you feel about Mel's comments about your sing-off? What was going through your mind during that performance?
It was so tough to come off from a low to a high, and that's how I was feeling. I was so down and nervous and under pressure in the bottom two standing there, and then I had to go to this happy face and give a joyous performance with the song I was singing, and have a good time with it. That song ["Sexual Healing"] needed a lot of interaction with the audience instead of me standing in the middle of the stage trying to be sexy, which would've been so awkward.
Have you had that song planned for the past few weeks or do you have to change your sing-off song every week?
No, we've had that locked in.
You said personal/relationship issues affected your Monday night performance. How much extra pressure did that add?
Monday's performance, in rehearsals, was so challenging. I was finding it hard to really connect with this song ["Red" by Daniel Merriweather], and I was getting pushed so hard by Guy to hit that centre. I did, and I collapsed in terms of emotion, and I had to walk offstage in my rehearsal, compose myself, and then get back up and do it again to finish off my rehearsal. That's one of the main things I was proud of, to really connect with the song and not break down.
More from Nathaniel when you keep reading.
What was it like to work with Guy? It sometimes seemed like you had a bit of a rocky relationship.
It's been very hot and cold throughout the competition with Guy. He's been so tough and hard on me, but all for good reason. To have a positive outcome, you need people there to push you and open those doors you can't, and that's what he did. I'm so grateful to have had him as my mentor.
He seemed pretty devastated when your name was announced. Did he say anything to you after the show?
Yeah, he was pretty devo after I left. It was more on a friendship level, just saying, "Let's hang out more. Come over to my place and we'll write songs and get in the studio." He wants to try and help me as much as he can.
You showed quite a bit of range and versatility — is there anything else you would have liked people to see you do?
You know what? I want to make sure I walked away from the competition having no regrets. In all my live performances I played so many characters, it's not even funny, from a dancer, to being at a normal gig playing a guitar, to sitting at the piano and really delivering on the song, to being so emotional with a song . . . I've really pushed the boundaries and opened doors I wasn't capable of before. I'm pretty content with how it all panned out for me.
Do you think you managed to get across the kind of artist you want to be during your time on the show considering you did so many different things?
I hope so! Fingers crossed. I love my soul, R&B and pop music, so I definitely want to follow in that field, just like Daniel Merriweather. I'd love to have singles like that out there.
In that sense, can you pick one performance from the live shows that you think best sums up the direction you'd want your career to take?
I'm just trying to think . . . Gee whiz. I did so many things I loved. "Try a Little Tenderness," musically I'd love to follow that type of sound. "Love on Top." "Red," that real raw feeling and sound behind the music. Songs that just have that whole soul music and vibe behind it.
I wish you had a chance to sing Frank Ocean.
I know! What's that one? [Sings "Thinkin Bout You."] I would've loved to. It's just a matter of obviously getting the license to sing the song, and also choosing a song that's either current or an old classic that's well known.
What was it about The X Factor that made you give talent shows another go, and why this year?
I was sort of in a similar situation six years ago with Idol. I got to the top 24 in the wildcard. That really knocked me around so much, that whole experience. There were times that I didn't want to do music anymore; I felt it was too hard. With X Factor I had a friend who really twisted my arm — to be honest, it was [X Factor vocal coach] Gary Pinto. I'm good friends with him, even before the show. At first I didn't want to do the competition. It was one day when I wrote a song at home, produced it and sent it to him. He already knew I'd said, "No, I don't want to do it." He called me, basically saying, "Yep, this song is cool. But, give X Factor a go. You've gotta do it." I was on the phone for like two hours and he really twisted my arm and pushed me to go for it again. I had to build up some courage, be brave and swallow my pride at the end of the day, and give this reality TV thing another crack.
Have you gotten used to the fame side of the show?
It's so overwhelming to have so much attention. A lot of the time it's a 'pinch yourself' moment when you just don't expect anything like this. This kind of lifestyle is so full on, it's not funny. It's so personal as well, so you have to be brave in that aspect. I think I'm getting used to it slightly, but it's difficult and hard at times.
Who do you want to win? Who do you think will win?
If I had it my way I would love Samantha Jade to take out the title this year. You know why? Coming from a vocal, artist and performance point of view, she has that whole package. She's an attractive girl so she's so marketable as well. She deserves to take out the title, and she's come such a long way, and it's been so tough for her. She's incredible, she's so good. But as much as I want her to win, I have a feeling it's going to be Bella.
The X Factor airs on Mondays and Tuesdays at 7:30 p.m. on Channel Seven.