The X Factor Interview With Adil Memon on Fighting Nerves, Working With Mel B and Singing With His Sister
The X Factor's Adil Memon on Beating Nerves, Mel B as a Mentor, and Singing With His Sister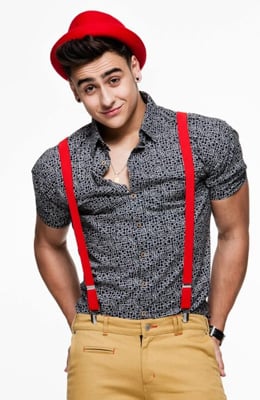 Someone had to be the first to leave The X Factor, and last night it was 18-year-old lifeguard Adil Memon who said goodbye to the competition. It was an emotional night for Adil, who fought back tears after hearing his time on The X Factor had been cut short, but he was comforted by his mentor Mel B, who said his elimination was "devastating." We spoke with Adil this morning to talk about how he coped this morning, how his confidence has grown, and his highlight from the show.
It was a really emotional night for you. How are you feeling this morning?
It really did hit me this morning. I woke up, and going through The X Factor so far I've woken up to really good news and another schedule of performances and practice, so it really hit me this morning when I woke up and thought, 'None of that anymore.' But it's been a great experience while it lasted so I'm very grateful.
What did Mel B say when the show was over?
She was so surprised that I went the first week. She had me banked as one of her boys who could've gone all the way. We both a plan just in case it went that way. We had a set of songs which we planned to do each week if I were to progress. She had so much faith in me, so she was really disappointed and sad I was leaving. She really did comfort me when I came off the stage.
Were you happy with Mel's song choice for you on Monday night?
Initially I was a bit unsure about it because Tracy Chapman's "Fast Car" is a really big song. But as it progressed I really trusted Mel — she knows what she's doing. And I do trust the music producers on the show — they had set me straight this whole competition. Personally I thought the performance went pretty well.
More from Adil when you keep reading.
What was it like to work with Mel? Were you intimidated at all?
At boot camp, before I started working with her one-on-one, I was a bit intimidated. You see this front; she's Scary Spice. And then once you start working with her on a personal level you understand how great she is. She's a sweetheart, seriously. She's like a motherly figure. She looked after me so well and she made sure the competition was amazing for me. I wouldn't have any other mentor.
You were often told to lose the nerves and be more confident, but that's easier said than done. What was the best piece of advice you got for doing that?
Just to enjoy myself. I worked very closely with Gary Pinto, who was the head vocal coach on the show, and he has a lot of faith and he believed in me. He said, "You know, just try to enjoy yourself." On the last live performance, I just went out there and gave it my all, and enjoyed myself. I had a much better time and I felt my performance reflected that.
What's harder: singing in front of a huge live audience, or two people like Mel and Usher?
I've always found it far more difficult singing in front of a couple of people. And when those two people are Mel and Usher, it makes it even harder. I'm in my element when I'm on the stage, and if there's a cheering crowd it fuels me so much. It doesn't matter what nerves I have. I'm definitely going to miss that.
Mel and the other judges often referenced your looks and said girls would love you. Do you think that took anything away from your singing and talent?
Oh, you know, I would've loved there to be more emphasis on my guitar playing and vocal ability as opposed to my image. I didn't just want to be perceived as the lifeguard who has gotten this far due to image instead of talent. But the competition, to do it justice, it really did paint me in a good light. I'm happy about that.
Do you still sing with your sister?
She's in the UK at the moment, so not currently, but whenever she's back we do. We jam all the time.
When I read you were on Australia's Got Talent I remembered seeing your audition, so I wondered if you'd considered doing X Factor as a group if she was here.
If she was here, I reckon we would be, because the connection and chemistry I have with my sister when I sing is unparalleled. We can anticipate each other's next move without even having to communicate. We could do it with blindfolds on and still be able to do it perfectly with each other. I think the genetic mix really helps.
Would you like to do something musically together in the future or are you going to focus on being solo?
I'd just like to see where the next few months take me. I really do enjoy being solo, but it's amazing being able to work with your sister, and having a companion with you at the same time, especially one that you love so dearly. I've been told in the past that after we were on Australia's Got Talent there was a lot of management interest, and it's a shame we didn't go the distance due to personal reasons, but yeah, we'll just see what happens, and perhaps that's an option for the future.
Has Mel given you advice on what next steps you could take to further your career?
She just told me to keep singing and keep putting myself out there, keep recording and do my originals. Although I am very, very sad about this happening, someone had to leave, and I'd rather see everyone else in the competition succeed. I want to be successful, obviously, but I wouldn't wish for anyone to be the first one to leave.
What kind of things did you and the other contestants get up to when you weren't rehearsing?
[Laughs] Far too much mischief! I always call Josh, my roommate, my partner in crime. We didn't get up to anything too bad. Let's just say that by the end of the time I was there, there was a security guard guarding our door 24/7. [Laughs]
What was your highlight?
It probably seems hard to believe but it was singing the first live show. I personally think I went well — I enjoyed it and had an amazing time up there. I didn't think it would be my last performance, to be honest — I thought I did enough. But it's X Factor and you can never predict what's going to be next. No one knew who was going to go. The standard of X Factor is so high this year it's impossible to predict what's going to happen. It makes me happy when people say, although it may not have necessarily been right, things like, "It was a shock you left," it makes me believe I did have a nice following out there, and that I still have supporters. I'm very grateful for that.
I'm always amazed by how people pull themselves together for the sing for your life section. How do you get into the right mindset for that performance?
It's so difficult. I'll tell you what, I was bawling literally one minute before I went on stage. You could probably see it in my eyes. I was extremely sad. As soon as I got off the stage, my boys Jason and Josh came up to me, and I couldn't help but get so emotional. They're like my brothers. And the fact that I could be leaving them in a couple of minutes was really sad for me. I found it hard and I think my performance did reflect that. I was finding it hard to put on the best performance that I could just because I was in such a state. Yesterday was probably one of the most emotional performances of my life, and to have the appreciation from the crowd and fans made it even harder.
Throughout the different stages of the competition I was surprised by how everything affected you emotionally. It was apparent how much you wanted this.
Yeah. I want this dream so bad. It's all I can think of and it's all I've ever wanted. Before X Factor I just didn't know how to achieve it, and then X Factor came along and it gave me this avenue to achieve my dream. Having the avenue closed off so suddenly, it's very emotional. And going through the competition and having the possibility of that happening, especially when I'm out of my comfort zone, caused so much emotion. No one wants to be the one who's eliminated.
Who do you want to win? And who do you think will win?
I've said this so much, but I'd love to see Jason and Josh in the final. Either of them to take it out. They're like my best friends, I love them. Who could win? It's anyone's game right now. We never know how the votes went last night, but everyone put on such amazing performances. You wouldn't think The Collective, who are just recently formed, would come out and smash it. Now they're number four on the iTunes chart. Josh is up there, Bella's up there with over two million views on YouTube. There's so much diverse talent on this show that you can never pick who's going to win.