The X Factor Interview With What About Tonight Member Luke Howell on Shock Elimination
What About Tonight's Luke Howell on Their Shock X Factor Elimination and What's Next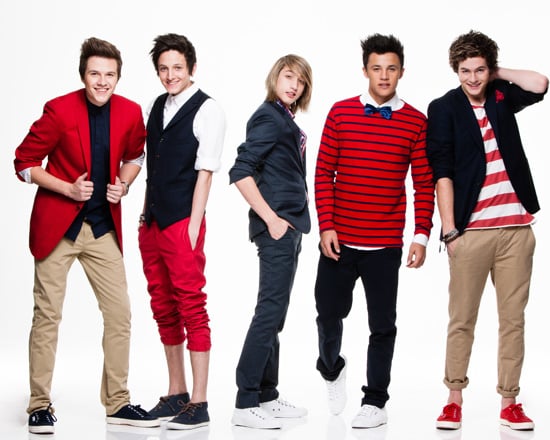 Every talent show season seems to have a shock elimination, and last night was it for The X Factor. Boy band What About Tonight said goodbye to the competition after receiving the lowest amount of votes — Nathaniel Willemse was also in the bottom two but the judges put it to deadlock. What About Tonight's time on the show may have been cut short but their fans are still obsessed with them — when I spoke to Luke Howell (far right) this morning I almost couldn't hear him over screaming girls in the background! Read on for what Luke had to say about What About Tonight's "insane" journey.
Shocking night last night — this happens all the time with talent shows!
Yeah, it was pretty tough. It's alright. Can you hear the screams outside?
Where are you now?
We're just leaving Channel Seven studios.
How crazy has this whole experience been for you?
It's been insane. It's been the most amazing time of our lives and I really don't want it to ever end, but this is incredible. I'm watching these girls run after us in the van. This is insane.
How does it feel to have such an impact on people? You have girls running after you, you had girls crying last night.
It's incredible. I don't have a word to really describe how insane it is. Actually, 'insane' — that is the word! But it's good.
More from Luke when you keep reading.
Mel B said she wanted to see more choreography from you guys. The Collective and Fourtunate have had quite choreographed routines. Whose decision was it to not give you guys more direct choreography?
I think it was Channel Seven's decision but I'm not sure what happened there. We would love to do a lot of choreography but it doesn't always work that way and we've just gotta go with what we've got. We make the best of what we've been given.
Did you guys feel a little more competition from The Collective as you have similar fan bases?
Absolutely. That group is amazing and every performance they do just comes out with a bang. Those boys are gonna go far and I can't wait to see what they come up with in the future.
How much were you guys able to give your input with the performances?
We didn't really get too much. We were given our song and we were told, "This is how we're doing it, let's run it." If we really weren't too happy with it, then we'd be able to change it. But it was difficult. Ronan had a lot of say in what we did, and we trusted in what he said. He's the one who's done this for many years. He's a great mentor and he's done wonders for us. He worked so hard for us.
What's the biggest thing you've learned about yourself?
The biggest thing I've learned about myself is probably to just keep calm in stressful situations.
What surprised you about the show? Was it everything you expected?
I don't know, maybe just the talent! That was the most surprising and exciting thing. Just being able to wake up every day and be able to interact with these people who are incredible, these guys blow me away every time I listen to them. It's such an honour to work with them.
How has the show affected your friendship with the guys in What About Tonight?
Our friendship has just grown immensely in these few weeks. We're literally best friends and everything that we do together is amazing. I'm so proud of these boys and what they've done so far. We have grown so much as a group and the bond we have, you can't even explain it. It's literally just being with your four best friends every day. I appreciate every bit of hard work and dedication that we put into everything.
You're all so young and from different states, so have you talked about what the next step is going to be for you guys?
We have. During the show we weren't really expecting to be kicked out [so soon], but everybody does leave at some point, so we thought well ahead and decided to write a few songs. So we've got something coming soon — maybe it will even be released in the next few weeks.
Are you planning to release it through YouTube or social media?
We're not too sure yet. We're hoping we can get picked up [by management] at some point through all this. We've had a few offers — international and national — and we're just waiting to see what we can do ourselves first. We've got to wait three months with the show because we're held up with interviews and doing a lot of media stuff with X Factor. We're looking forward to the future.
How much did you get to hang out with One Direction?
We were with them a fair bit! Those boys are amazing and we're keeping in contact with them through Twitter and social media. They're very supportive. Actually we were talking last night and they were very supportive of us. They were saying, "Don't worry, this isn't the end." They see a lot of potential in us. We're mates with them and hopefully we'll be hanging out with them when they tour. We might even go over there [overseas] and see them. You never know.
What's the relationship situation with you guys? Who's single?
We're all single!
Would you date a fan?
You never know what could happen. Anything's possible.
Who do you want to win? Who do you think will win?
I want Fourtunate to win. They're amazing — they're like our brothers and were our family in the competition. Those guys are incredible and I'm so proud of how much they've improved as well. Who I think will win? I'm gonna put my money on Samantha. I think Samantha deserves it. She's so incredible and beautiful and just amazing. I'm blown away every time she sings.