Are You Surprised by Tiger's Off-Colour Comments?
Are You Surprised by Tiger's Off-Colour Comments?
Vanity Fair's February cover shows an intense photo of shirtless Tiger Woods. To go along with the previously unseen Annie Leibovitz photos, their story focuses on Tiger's carefully constructed image, which they allege was the creation of Tiger and his close-knit team of managers. The article highlights a few telling remarks he made to GQ in 1997, before the so-called "steel wall of insulation" came down around Tiger and prevented him from revealing much in interviews. VF writes: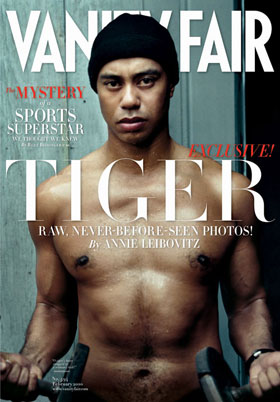 The interview was largely a series of profane quips by Tiger, such as 'What I can't figure out is why so many good-looking women hang around baseball and basketball. Is it because, you know, people always say that, like, black guys have big d*cks?' At another moment, during a photo shoot where four women attended to his every need and flirted with him as he flirted back, he told a joke: He rubbed the tips of his shoes together and then asked the women, 'What's this?' They were stumped. 'It's a black guy taking off his condom.'
Tiger was only 21 at the time and those jokes aren't what one might expect from the private young golf star. But after everything that's happened with Tiger since November, tell us — are you surprised by his off-colour comments?