Abbie Chatfield The Bachelor 2019 Elimination Interview
I Just Don't Think I've Done Anything That Bad"— Abbie Chatfield on Her Bachelor Backlash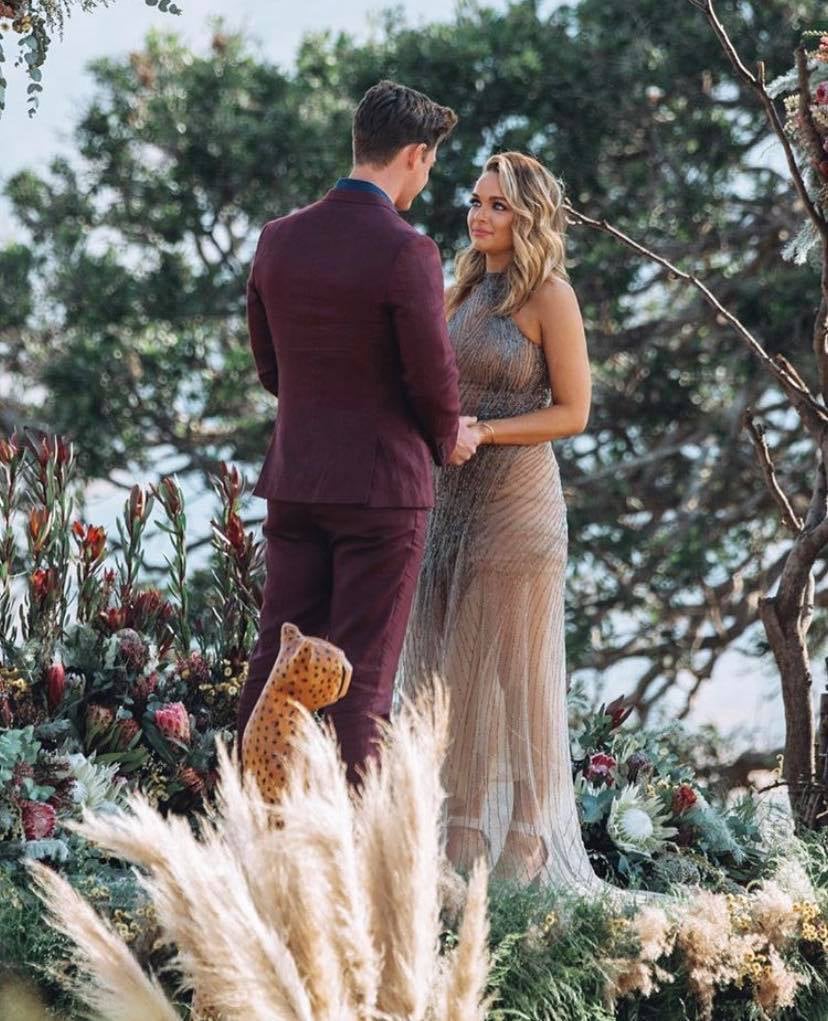 It's safe to say Abbie Chatfield's journey on The Bachelor was quite the rollercoaster. From multiple contestants attempting to convince Matt Agnew to send her home, to even his best friend expressing her concerns, it seemed drama followed Abbie every step of the way. As much as it all made for entertaining viewing, it led to her copping an extreme amount of hate from the general public. The challenges she has faced since the show went to air were only compounded by the fact she was turned down by Matt in last night's intense finale. Below, she chats how she feels about Matt now, as well as her edit and the audience's reaction to it.
POPSUGAR: Hi Abbie, how are you feeling about everything, are you okay?
Abbie: I'm doing okay! Considering the last few months of my life, and especially last night, I'm okay. I had a few tears this morning, and a lot of tears last night, but I'm doing better as time goes on throughout the day.
PS: How was watching it all back last night?
Abbie: It was really rough. Watching my last date with Matt really, really got to me. The whole thing with Kate was fine and that was an accurate depiction. But then when I watched my date with Matt and saw the moment where I realised I may not see him again, I had a lot of tears and a very emotional reaction to that. Watching the show, you don't realise how intense the feelings actually are until you're in that position. Everything is completely real, and it feels like a real breakup.
PS: How did you even begin to process the situation once you said goodbye to Matt?
Abbie: I obviously didn't handle it very well, I was in complete shock and didn't expect it at all. I had just focused on Matt and everything that he was saying to me, and we had such a great date only the day before. I couldn't even think of anything to say, and my producer was crying, and I didn't have any emotions. I think everyone was like, "it is going to happen," and then it did just hit me like a wave.
PS: Oh wow, if the producer was crying, I think that definitely goes to show how raw the moment was. . .
Abbie: Yeah, it was hard! Trying to express your feelings while knowing you're being filmed, and that every word you say will be possibly aired to the nation make it even harder to let yourself go emotionally. I already have delayed reactions to things, so it wasn't until I got back to the hotel room that I lost it.
PS: You said something to him like, "you could have sent me home so much earlier". Looking back now, would you have preferred not to make it as far as you did?
Abbie: Yes, I still wish he had sent me home much earlier. I was going through all that stuff in the house, and I got the furthest you could get without being the one chosen. In addition to that, the public retaliation and the backlash that I received went for the entire eight weeks [of the show airing]. I copped it in its entirety for the entire time.
PS: Your situation reminds me of Alex Nation, who was also a frontrunner that received a lot of backlash, but it was balanced by the fact that she won. . .
Abbie: Yeah, but I think if I had ended up with Matt, I maybe would have copped even more backlash. People think they have the right to commentate on what Matt should have done. People comment on my photos supporting me like, "Matt should have chosen you because of X, Y and Z," and I'm just like, "that's lovely that you feel the need to make me feel better, but him made the decision by himself, and it was the right one because they're still together and they're happy," so I don't think anyone should have an opinion on who someone should or should not choose.
PS: Yeah, well love is an entirely subjective thing right?
Abbie: Yeah, and the public are only seeing a small portion of our dates. They don't know Matt, they don't know us, they don't know anything really. They know a little bit, but the only know as much as they can fit into an episode.
PS: You also said last night that you thought you'd be over the whole situation by the time the show went to air. Are you in fact over it?
Abbie: Well. . . I was very wrong! [Laughs] I'm still trying to get over it. I'm not madly in love with Matt, it's like I'm still pining for him, but it's just hard to get through it when you have to watch it all happen again.
PS: How have you felt about the edit you received this season?
Abbie: I still think that over the entire show, I didn't say anything nasty about anyone or to anyone. I said one thing about Elly that I regret, but other than that I haven't nasty about anyone. But, I've copped everyone saying horrible things about me all season in the media, in interviews and also on the show as well. Yet somehow I'm the villain? I'm the one who's got snake music playing over me while I'm just sipping a glass of wine. I'd love to ask people who say I'm nasty or mean which specific instances they're talking about, and people say, "oh we feel like we can't trust you," and it's like, that's because of music!
It literally comes down to people being strayed by how someone's been presented. I just don't think I've done anything that bad. People can say that I'm cocky, but I know that wasn't the case and that it was played up a lot. People can say that I didn't care about Matt, but I know I do care about Matt and that I was just crying about him. People can say that I was too sexual, but that's just slut-shaming. I would have loved to have seen more of my dates included, there were things that were omitted that kind of upset me. I didn't see a conversation between myself and Matt at all. I would have loved to have seen that just for me, so I could see one of our great conversations. That time when I "cut in" on Elly in that line, Matt and I had a chat about feminism and my struggles with depression and anxiety. That was our conversation. We also actually spoke about marriage and kids then, and about timelines, compromises and the future. But instead they made it look like I'd just taken him aside for a laugh.
PS: What are the most positive things you've gotten out of your time on the show?
Abbie: I've had a few messages from people saying they're more confident in their sexuality now and that I've made them feel more confident in themselves, so I guess just that. I obviously didn't walk away with Matt like I would have liked to, but that is a nice consolation.