Angie Kent The Bachelorette Australia 2019 Interview
The Bachelorette's Angie on How Her Season Is "Very Very Different" From Anything We've Seen Before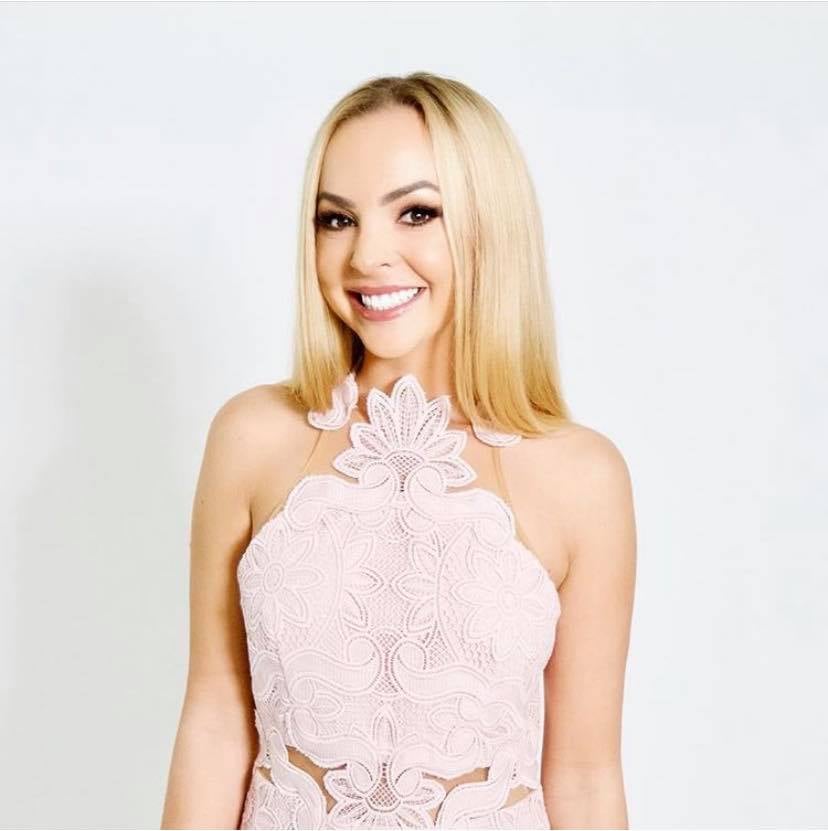 Angie Kent is the relatable and down to earth woman we have all gotten to know on shows like Gogglebox and I'm a Celebrity... Get Me Out of Here! But, as she explained when she caught up with POPSUGAR Australia, we are set to discover the many different sides to her through her starring role in The Bachelorette. Ahead of the season's premiere, Angie chats the transition from watching the show to being on it, the overwhelming nature of the experience and how her season is set to be simply "next level."
POPSUGAR Australia: Hey Angie! What made you decide to do the show?
Angie: I was fresh from the [I'm a Celebrity... Get Me Out of Here!] jungle and feeling like I could take on anything! I was feeling the best I've ever felt and when I was in there I was like, "you know, the one thing I haven't done is been open to love and I'm ready for it." As soon as I came out of the jungle it was almost like the universe heard my prayers and was like, "here's The Bachelorette for you!" and so I was like "why not!"
PS: So was it the experience of having been in the jungle that made you realise now was the right time to dip your toe back into the dating world?
Angie: Yeah, 100 per cent! I had a really big year last year, and I felt like I didn't know who I was and all that. Then I had the jungle, and I found who I was again. So that's when I went, "you know what, I'd really love a partner." As soon as I got out, the opportunity was kind of just there, so I thought I'd be crazy not to take that.
PS: You seem like someone who's very down to earth, did you feel any pressure to live up to 'The Bachelorette' image?
Angie: Of course when I was fresh from the jungle I was thinking, "are you serious, did you not just watch me, I'm little scruffy jungle baby." And I did think that I'm no stunning Sophie Monk or stock standard beautiful Ali. But I think that's what makes me more relatable, that I am like the girl next door. We all have our ups and downs and I'm very open about that. I think it's good for Australia to see just a normal-ish gal looking for love.
PS: What was it like going from watching the show and making jokes about it on Gogglebox, to being on it and obviously taking it seriously?
Angie: When I started Gogglebox I was a 23 year old girl who would sit on my couch smashing wines with my rescue dogs and best friend. I had no idea about the kind of commitment and hard work it takes to be on a show like this, as to be expected when you're young and you're not in it yourself. I guess it was one of those things were you just change as you grow up, which is what led me to go, "yep, I can do this!"
PS: As someone who was knowledgeable about the show from a viewer stand point going in, what surprised you the most about the experience of actually being on it?
Angie: Unless you're the Bachelor or the Bachelorette yourself or someone who works very close with them, you have no idea about the amount of physical, emotional and mental energy that is put into this show. A lot of people say "oh it's so fake, it's so produced" but of course it's produced, it's a show! You put your all into it, and I just had no idea how much I was ready for it, and how much I would end up throwing myself into it. I'm really happy I did that, because it's just what you have to do in order to find another person and meet the right people.
PS: Did your previous experience in TV help you through the process and and to understand more about what producers may want from you?
Angie: I know that everybody has a role, and that everybody has to do that role. But I also knew with a show like this that you have to stay true to yourself no matter what. If there were certain things I didn't want to do, then I knew I didn't have to do them. [The producers] always respected that because at the end of the day they wanted me to make the right decision.
PS: How was your mindset during the show? I imagine it would get overwhelming at times. . .
Angie: It gets very overwhelming, and I'm never going to deny that! I'm such a sensitive person, I take on everyone's energies and I'm such a people pleaser. I've never really put myself first before, so it was quite jarring to have a show that was completely about me finding love and my own state. But I think I handled myself so well, and you will definitely get to see all the different sides of me because I don't hide it. I have no shame about how I handled certain situations, but it was very raw.
PS: We already know that your brother makes a special appearance in the first episode. What was it like having him there?
Angie: It was the best feeling in the entire world! I would have been able to do it without him obviously, but I look back now and wonder how I would have been able to get through that night without having him there. That first night is just so next level, and it's your first taste of what's to come for the rest of the filming process. I was just so stoked he was there, my heart could have exploded.
PS: How did the rest of your family and friends react when they found out you were doing the show?
Angie: My mum and dad have always known that I'm quite the free spirit and have always done whatever I've wanted to do, so they were like "just go girl, do your thing." Having just seen me in the jungle they were so proud of me, and I knew I'd be able to hold my own. But my friends were so shocked. I think a lot of people thought it wouldn't be something that I would do. . . or be offered! [Laughs] Yeah I think a lot of people thought I wouldn't be offered it. But when I explained to them why I wanted to do it, they realised it made so much sense. They've seen me go through ups and downs, and know that I deserve to find the right person.
PS: Is the public going to see a different side to you on the show?
Angie: I think the public has already seen a lot of my jokey side. If they've followed Gogglebox for quite some time then they'd know that I look after people with a disability and love rescue dogs, so they know about that side to me. But I don't think they've seen me be super, super vulnerable. In the jungle I was vulnerable, but it was a lot of happy tears. I think they'll definitely see all the different sides to me on this show, and there are a lot of different sides to Angie Kent.
PS: What is something about you not many people would know?
Angie: Oh god, there's heaps of stuff people don't know! But I am pretty open, if anyone wants to know something then I'll tell them. I've struggled with my mental health and have been very open about that, along with my eating disorder. I mean like I said, people will just see me be very vulnerable, but with a partner this time, not just my own struggle.
PS: What do us viewers have to look forward to about this season?
Angie: I can only go off how I feel, but having watched all the previous seasons myself through Gogglebox, I can say it's very, very different from anything I've ever seen. It's next level, in my experience. I hope the viewers can all join in and just feel all the feels with me, it's quite the adventure. . . let's just put it that way! [Laughs]
PS: What is the one trait you value most in a partner?
Angie: I don't know if this is a trait, but just being able to laugh at yourself and at situations. I've gotten through so many hard times by seeing. . . not the funny side, but that there's more to life and you have got to be happy. That's pretty much my main thing, just being passionate and having a laugh, because life's too short!
PS: Have you found love? If so, how does it feel?
Angie: All I can say to you is that I'm very, very happy and you will just have to wait and see!
Image Source: Insagram user angiekent_