Angie Kent and Carlin Sterritt Interview The Bachelorette
"I Was So Weirded Out That I Was So Attracted to Someone So Attractive": Angie and Carlin on Their Love Story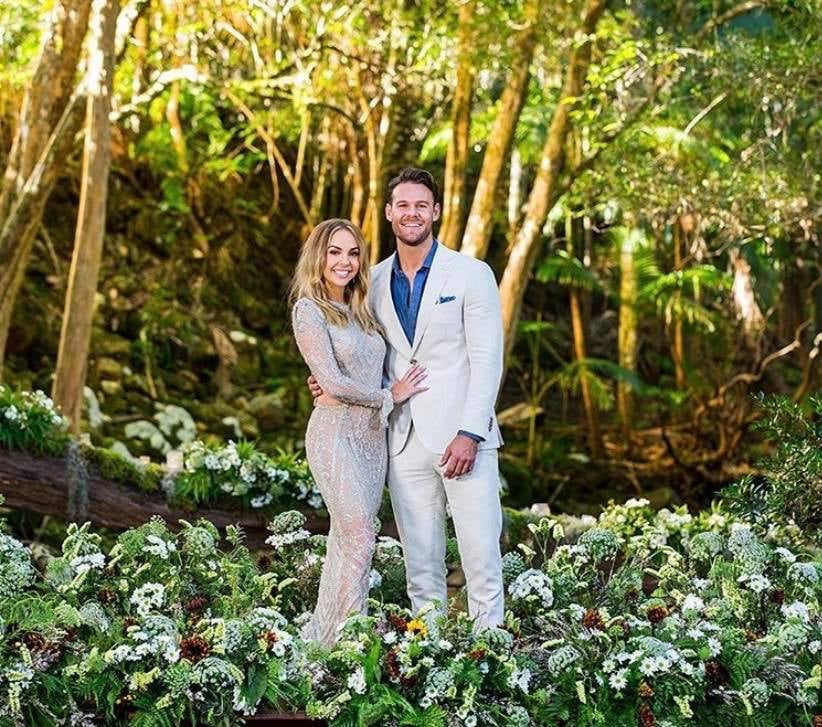 It was clear from the moment they met that Angie Kent and Carlin Sterritt have one special connection. Despite having had their ups and downs throughout their time on the show, the bond they had built ultimately won out as Angie declared her love for Carlin in the touching finale of The Bachelorette. Below, the pair chat the parts of their relationship that we didn't get to see, keeping in touch with Timm and what's next for them
POPSUGAR Australia: Congratulations guys! Did you get to watch the episode together last night?
Angie: We did! We got to watch an episode together for the first time, and now we're out and about together for the first time. . .it's all very surreal!
PS: Angie, throughout your media interviews you have usually referred to yourself as happy rather than in love, which led to people speculating as to whether you were still with the person you picked. What was your reasoning behind not revealing you had found love?
Angie: I did want everyone to know I'm happy, because happiness is the most important thing to me at the end of the day. But it was because I put my whole self into this, as did everyone else, and I wanted everyone to wait and see if I did fall in love. I wasn't just going to reveal the ending straight away just because that was the answer they wanted to hear, I wanted people to see it for themselves. My theory behind it was that doing that makes it more special, because it was such a special moment for me.
PS: We saw last night what a hard time you had deciding between Timm and Carlin. What was it about Carlin that ultimately made you realise he is the one for you?
Angie: It was a very hard decision, I felt like 50 per cent of my heart did belong to Timm in that moment, while 50 per cent belonged to Carlin. Timm brought out the side of me that is the wild, crazy and eccentric Angie, the old Angie who would have loved to keep partying and living on the edge while never really knowing what she was doing. I've been addicted to that lifestyle, I'm 29 and I had it all throughout my twenties. But then there was this other part of me where I'd never before felt this giddy, school girl crush like I had with Carlin in the beginning. Carlin also made me feel so vulnerable, and it was just like this grown up, romantic feeling that I'd never experienced before. It did kind of freak me out at first, I was like, 'oh my god, what is this,' but then I realised I saw my future and I couldn't picture it without him. That was ultimately what made my decision, me saying to myself, 'no, this is exactly what I want and everything I've wanted'.
PS: That's really nice to hear, because I feel like a lot of that explanation wasn't necessarily clear in the episode itself. . .
Angie: Yeah, there's a lot that you guys don't get to see, which is understandable when they've only got a certain amount of time. Obviously Timm is this big, eccentric character, so he's what Australia got to see in terms of entertainment, but in terms of mine and Carlin's connection, maybe it wasn't shown because they didn't want to make it too obvious. We had a lot of time together that wasn't shown, but the main thing is that we know what we have. We know what's good!
PS: Was there in anything in particular from your time on the show together that you were surprised didn't make the air?
Angie: There's quite a lot we probably aren't allowed to say! But I guess it would just be the dorky kind of relationship we had together, Carlin is such a dork and we did laugh a lot. I love the fact that obviously he's this ridiculously good looking dude, but he's got this really dorky personality. I'm not a looks girl, and I was so weirded out that I was so attracted to someone so attractive. Usually I would be like, "meh, boring," but he has so much more to him than that, and I just don't think Australia necessarily got to see it. But I dig it, and I think that's all that matters really!
PS: Angie, I've heard you're still close with Timm, and I don't think that is something any of the previous Bachelors or Bachelorettes have been able to achieve with their runner-ups. How have you guys navigated maintaining that friendship while still respecting your relationship with Carlin?
Angie: I wouldn't say Timm and I are close, like we don't hang out or call each other everyday, that would be very inappropriate! It's not hard to keep a relationship after the show, but it is one of those things that we really have to work on because Carlin and I haven't gotten a lot of time together, it was mainly texting and calling. But yeah, Timm and I have stayed in touch, and so have him and Carlin. He is so supportive of us, and it's never been anything like, 'if it doesn't work out, then you can call me', it's always just very friendly. It hasn't really affected Carlin and I at all, we're very honest about it, I tell Carlin about every time I speak to Timm and vice versa really!
PS: Circling back to a few weeks ago now, Carlin, Jamie was so adamant that you had said you wanted to be the 2020 Bachelor. Why do you think he was so insistent you had said that when you didn't?
Carlin: What I believe happened is that Jamie came in on the back end of a conversation I was having with the boys, where we were discussing how I hadn't really had any time with Angie since my first date. So the boys were saying stuff like, "if you get sent home you'd make the best Bachelor," and "if I had a sister then I'd want you to marry her." Then they asked me whether I'd do the Bachelor if I was asked, and I said, "yeah, probably." Then Jamie came in during that part of the conversation, and he took that part and went to Angie to tell her that I was going around peacocking about it. That would be the last thing that I would ever do, to go around saying that I wasn't there for Angie in front of people who care about her. That's just stupid, I'm not dumb and I wouldn't do that. So it's just unfortunate that I had to go through all that, but I don't have any issue with Jamie, it's all water under the bridge for me!
PS: I feel like most people would say yes to hypothetically being the Bachelor or Bachelorette anyway. . .
Carlin: Yeah, that's how I felt at the time, but after having been through this experience now and having seen what Angie's gone through, I know I am not cut out for it! I wear my heart on my sleeve and I don't want to date 20 girls!
PS: This is a cheesy one, but we if can't be mushy on today of all days, when can we be? What do you guys love the most about each other?
Carlin: I'll go first! Angie is really the whole package for me. From the very beginning she's just been herself and she's so genuine. I think the fact that she can be a dork and not care about it is so special. People are always really self conscious about themselves, and Angie puts everything out there and is unapologetic about it. She's also got a beautiful heart, she's compassionate, she's incredibly kind. . . I could go on all day, I'm not going to lie!
Angie: Imagine if I was like, "yeah, the fact he's hot." [Laughs]
Carlin: That's probably pretty much what people are saying anyway, 'oh she's only with him because he's good looking," like yeah, shut up. . .
Angie: No, not at all! There's so much, like the fact that the way I feel when I'm with Carlin is a feeling that I've never had before. I can be vulnerable with him, and I never feel judged. Even if I am unapologetically myself, I can still be judged, but he doesn't do that. I feel safe with him. He also basically has a heart bigger than the damn ocean, it's just like next level large, and I just feel so grateful. You don't meet many people like Carlin in life!
PS: What's next for you guys now?
Angie: We just want to try to date like a normal, everyday couple. We're so excited just to go out and eat, go to the movies and go to the beach. We can just be like, "ooh, we can see each other this weekend," or "I'll see you tomorrow," which we haven't been able to experience yet. It's going to be so exciting. I'm probably going to move back to Sydney at the end of the year, but we don't want to make plans, we just want to live in the moment and just date like every other boyfriend and girlfriend.