Anna McEvoy and Josh Packham Interview Love Island 2019
Anna and Josh Thought They Had "No Chance" of Winning Love Island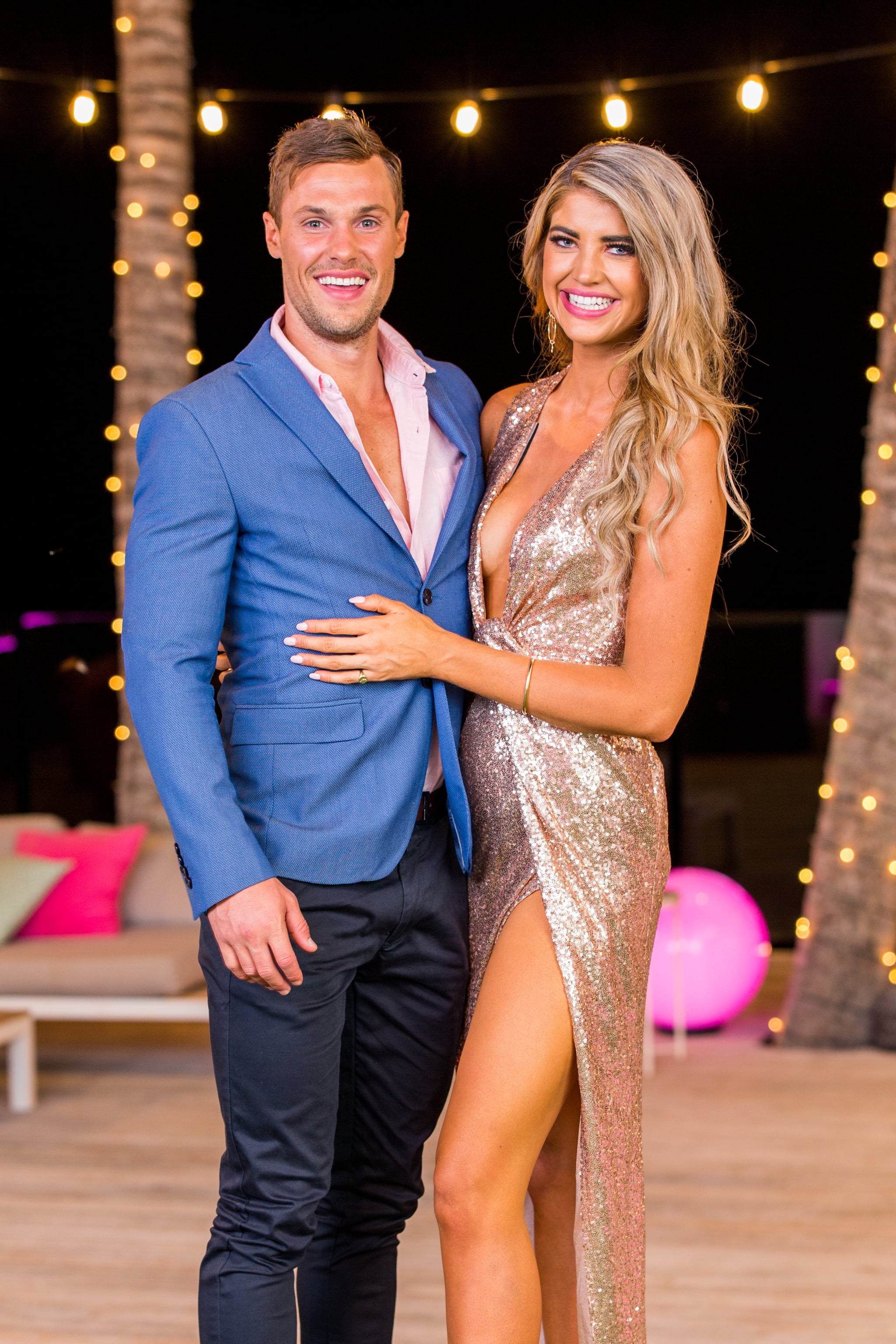 Anna McEvoy and Josh Packham were undoubtedly the golden couple of this season of Love Island Australia. Although they might not have been on the show from the very beginning, their sweet love story shone through and they were ultimately crowned season two's winners. Below, the lovebirds chat the lack of drama in the villa, which other couples they think will last, plus their plans for the future.
POPSUGAR Australia: Hi guys! Congratulations! Were you anticipating you might win, or were you surprised by the result?
Anna: We did not expect to win at all! We had no idea what anyone was thinking. We thought Matt and Cartier had it in the bag because they were both OG contestants, while Josh and I were intruders. We both were so sure that there was no chance of us winning that we were in shock when we found out.
PS: Josh, you got the envelope with the money, was splitting it something you were always going to do?
Josh: Absolutely! I wouldn't have run away with the money if it had been a million dollars. At the end of the day, it was about sharing it with Anna, and I can't wait to spend it together. We're looking forward to using the money to go on a holiday.
PS: Ooh I was wondering how you would spend the money, where are you wanting to go? Fiji again?
Anna: . . . no! [Laughs] We've just been surrounded by people for the past six weeks in the villa, and while that's been so much fun, we're ready to have some alone time and chill out together with no cameras. We were thinking maybe Thailand, but we haven't even gotten our phones back yet, so as soon as we have them then we'll be looking up flights for sure!
Josh: On top of that, we do live in different states, so the money will definitely help us out with the travel between Melbourne and Sydney. We'll probably get the air miles up over the next few months, but ultimately we'd like to move somewhere together. We're thinking maybe Queensland, but I might potentially move to Melbourne, we'll see!
PS: Josh, how do you think Luke being eliminated affected your experience in the villa?
Josh: I think it ultimately brought me closer to Anna, I didn't have to balance my time between them [Laughs], I could just focus solely on Anna. I think it benefited me in the long run, although I'm definitely excited to see him again. We get on very well, and then we'll have a fight, but we'll be best friends again by the end of the day. It was kind of nice to have a break from that for a little bit!
PS: Overall, this drama this season was pretty minimal. What do you think made the villa so harmonious?
Josh: I think it was just the characters among the cast this year, no one was there looking to have bad blood. There was also no two major personalities that clashed. I mean, there were a lot of big personalities in there, like Vanessa, Adam and Luke. . . if anyone's going to go to loggerheads, it's Luke! [Laughs] But we were all able to sort out our problems very quickly if anything came up.
Anna: Yeah, and I also think everyone was really just there for love. It was less about drama, and more about actually finding someone, which was nice and a better environment to be in.
Josh: There was just one person who was creating drama, and that was Vanessa. But she didn't really get to do that for long, because obviously we sent her packing! If she had stuck around longer then I'm sure there would have been more drama that unfolded.
PS: You guys appeared to be a super strong unit throughout your time together, was there ever a time in the villa that you felt like your relationship was tested?
Anna: Josh and I literally spend so much time together, and we never argue or bicker. We're so similar and just gel so well. But it was tense when the bomb squad came in, at least for me, because it was a bit of an emotional rollercoaster. Overall we still had moments where we had a couple of hiccups, but that's just like a normal relationship, and these things happen. 99 per cent of the time we were smooth sailing!
Josh: I think there was only one major time where we had a bit of an issue. It was just after someone got dumped from the villa, and at that point we really hadn't discussed in detail what we would do outside of the villa. It was basically just the question of what would have happened if either one of us had gotten dumped. There were question marks over that, but after it we came together pretty strongly and put a plan in place. We really had a think over whether we were right for each other, and in the end it brought us closer together.
PS: So, you guys dropped the L-bomb! Josh, on your final date you said you probably wouldn't say 'I love you' until you'd experienced things on the outside together. What changed?

Josh: I think I realised it when I was looking at Anna while doing my speech and thinking about everything we've been through. Seeing her with her family as well also really touched me. I definitely do love Anna, I love everything about her, from her personality to how she makes me feel so calm and natural. And, we still do have so much to go through together, which is really exciting!
PS: Other than meeting each other, what were both of your personal highlights from your time on the show?
Anna: For me, obviously meeting Josh has been absolutely amazing and a dream come true, but I think it would be meeting Cartier also. We built such a great friendship together and became so close, she was like a best friend/little sister to me. I think my relationship with Cartier was definitely a personal highlight, because it wasn't something I was necessarily thinking would happen. It was really nice!
Josh: I think for me it was the challenges, like the one where we found out what everyone said about one another, and the one with the Twitter comments. That was the most fun for me. The best part of the villa really was just when we were all cracking jokes together, especially when Adam was there! I think that's what I'm going to miss the most.
PS: Out of the other couples who left the show together, which ones do you see going the distance on the outside?
Josh: Both of the other couples who were in the finale were in different places. Matt and Cartier are obviously still fresh, and they really need to make sure that they're right for one another, which I'm sure they will. They didn't have a lot of time, but you could see that they both get along very well and provide a lot of affection to each other. We're hoping for the best for them, but they're have our support whether it works or not. As for Cynthia and Aaron, you probably saw on the show that I had a few question marks over Aaron, but I'm still very confident over how they'll go on the outside if it is as genuine as it seems to be.
PS: As you guys said, you haven't been able to access your phones or talk to anyone from the outside yet. Do you have any nerves at all over finding out how the public reacted to you?
Josh: You always think the worst and hope for the best! I mean, hate is going to happen when you put yourself on TV, and not everyone's going to love you. It'll definitely be interesting to see what people thought of us, and what their favourite moments were for us too.
Anna: We're so pumped to actually be able to sit down and watch it, Matt and Cartier are in the hotel room beside us watching the first episode right now, so we were dying to go see it! We can't wait.
PS: Considering you guys won, I don't think you really have anything to worry about!
Josh: It's very overwhelming to know we won the show, and we're actually really excited to get back to Australia and keep people who watched.
Anna: Again, we really did not expect it, it's so surreal and such a crazy feeling.
PS: Other than possibly making an interstate move, what's next for the two of you?
Josh: The first step for us will be to go home, see family and friends and unwind. I'll probably fly down to Melbourne within two or three days, I don't think I'll be able to be separated from Anna for longer than that to be honest with you! The thought scares me. . .
Anna: . . . separation anxiety! [Laughs]
Josh: We'll definitely catch up pretty much straight away, and then plan our holiday so we can get away for two or three weeks. No cameras, just us two having a good time.
Anna: We're open to whatever the future holds for us both, we haven't made any solid plans, we're just waiting to see what happens.
Josh: The location we're possibly looking to move to is the Gold Coast, we've both got a few friends there and we love the beach. It's just a fun place to be in your twenties, so why not!