The Bachelor Zoom Dates 2020
The Bachelor Recommenced Over Zoom & It Gave Us an All-New Insight Into the Season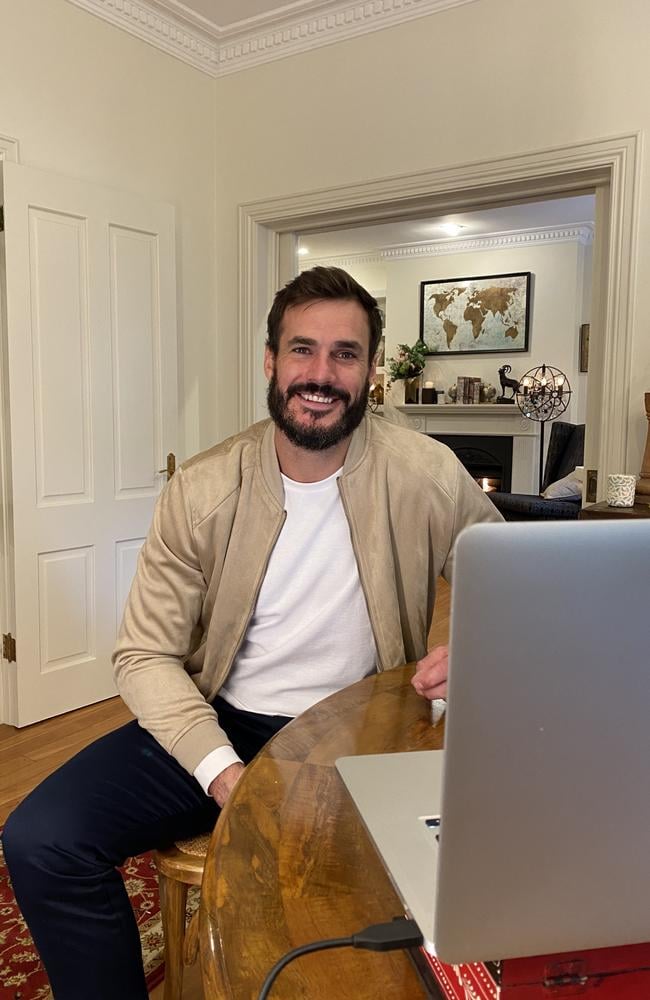 Thursday's The Bachelor was our first "Love in Lockdown" episode, with the final ten women resuming their relationships with Locky Gilbert over Zoom after production was shut down for COVID-19.
Having been delivered new laptops and webcams, the women were ready to embark on virtual single and group dates, under the overseeing eye of host Osher Günsberg, who communicated with the women from the mostly empty Bachelor mansion.
This Is How Virtual Dating Works on The Bachelor
The interesting thing about watching the episode came from seeing how production organised for these dates to happen, with boxes coming at the perfect times and roses stashed in convenient places. Some footage was taken directly from these virtual calls, while others came from camera people in the contestants' and Locky's homes.
Talking to News.com.au earlier this week, Osher explained the unique perspective of "Love in Lockdown": "When the girls are looking at Locky and telling him their emotions, they're looking straight down the camera. We're seeing what Locky is seeing. When Locky is telling the girls how he is feeling about them and their emotions, we're seeing what they're seeing. Locky is looking straight at us. We're so much more in it than ever before."
The cocktail party saw women jumping off for private conversations with Locky, before even being politely, gently interrupted by one another, just like they would in the mansion. For the rose ceremony, each woman had their own platter with a rose to pick up should they be chosen by Locky, who asked not "Will you accept this rose?", but "Will you accept your rose?" (we hate to think what happened to Bel's rose after she was dumped over Zoom.) And while the expected drama wasn't in short supply, contestants could extricate themselves from it by simply closing their laptops.
We Got New Insights Into the Contestants — and Their Relationships With Locky
"Love in Lockdown" also offered a fresh perspective on the contestants on the series and their intimacy with Locky, with previously unnoticed contestants like Izzy given time in the spotlight when they were taken out of a day-to-day group dynamic. Locky gushed about the way the changeup allowed him to make emotional connections with people like Izzy, which would play out physically when they returned to the mansion.
Other women, like Maddy, Steph and Nicole, realised that they hadn't all barely been speaking to Locky, while others had been maintaining a daily repartee, including Irena and Bella. At least in the mansion, the women had a sense of who had single and group dates, and who had time with him at cocktail parties. There was simply no way to know just how much other people were texting and getting to know the Bachelor.
We Saw Our New (Online) Way of Living Reflected Back at Us
And the best part of all was that we got to see something we all went through earlier in the year — and Melbourne and people in quarantine continue to experience — represented on screen, with us connecting with our loved ones, or even someone new, entirely online.
"It's coming very close to what everyone experiences in their day-to-day life," Osher said. "Everyone else is in this boat, everyone else is having video chats, and that's what we are showing on television. It's reality TV representing what it is to form a connection with someone in this environment we find ourselves in."
The only thing we're really missing from the virtual episodes — aside from Locky getting his smooch on — is the perfect cutaways of the alpacas . . .
The Bachelor airs on Network Ten, Wednesday to Thursday. Join us at our Facebook group Pass the Popcorn to gab about all things reality TV.