Bachie's Renee and Alisha Throw Ciarran's Ring in the Ocean
Renee and Alisha's Paradise Moment Was Pure "Girl Power" & We Have Some Things to Throw Out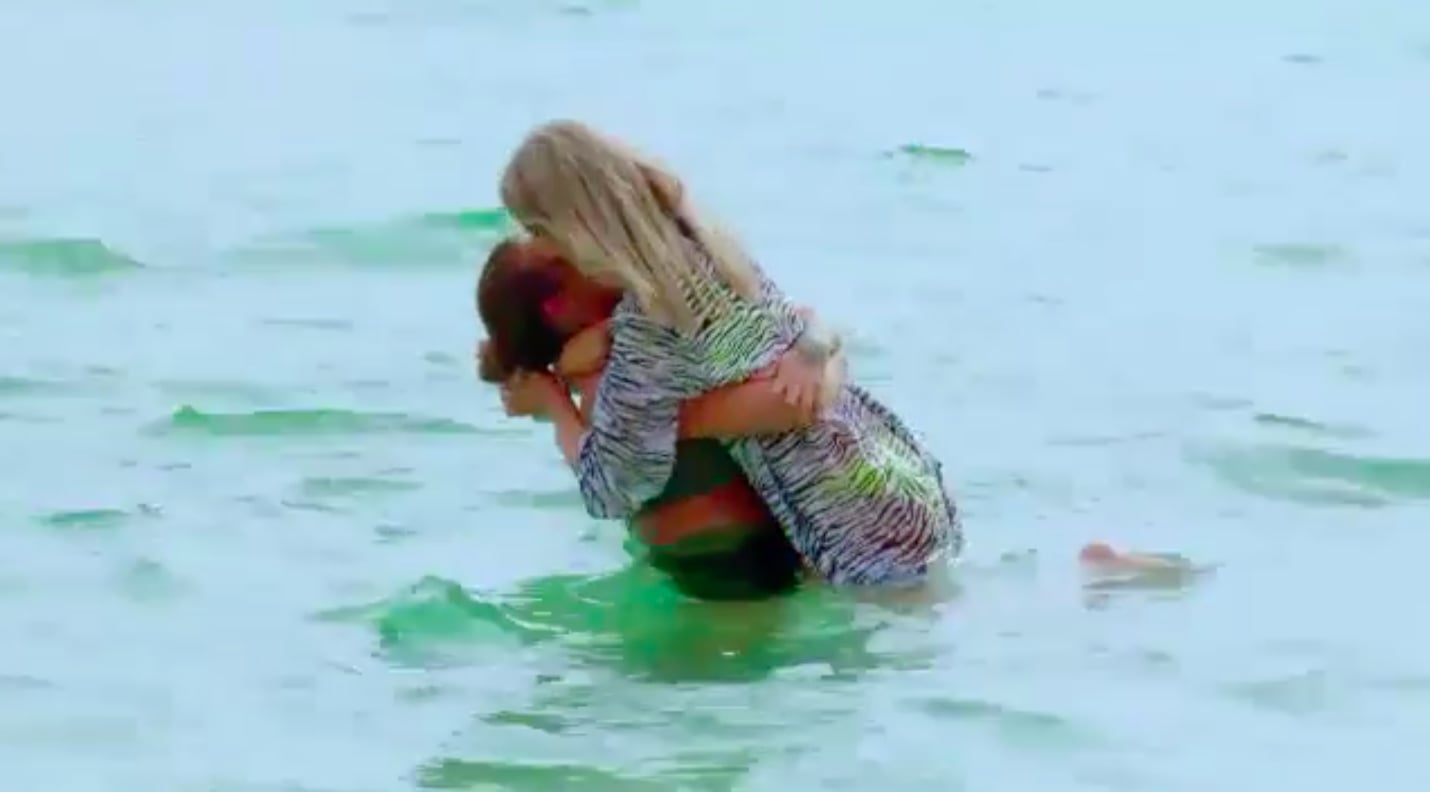 In all the Ciarran Stott and Renee Barrett drama that unfolded on Bachelor in Paradise on Tuesday, it was the friendship between Alisha Aitken-Radburn and Renee that gave us our most powerful moment of the episode.
Renee had worked with Cass Mamone to design a ring for Ciarran for his birthday, before he cheated on her and they split. Still, Renee brought it with her to Paradise — which makes total sense if you recall their split was just weeks before they went to Fiji and the ring was worth $800. She acknowledged to Alisha that she had held out some hope that she would reconnect with Ciarran there, because Ciarran had literally told her it could happen. That revelation makes her decision to support Jessica Brody after Ciarran betrayed her too seem even more saintly!
After Ciarran floundered at the human lie detector, Steve van Aperen's questions about his past with both Kiki Morris and Renee, he tried to tell the group about his positive but not romantic feelings towards his ex. "She's the most loving, caring person, and I said, at the end of the day, Renee, I'll always be there . . ."
But Renee wasn't interested in having that conversation in a group situation, pointing out that he'd never bothered to talk to her privately, and this was likely just another instance of Ciarran trying to present himself as a 'good guy'. They walked off together, where Renee accused Ciarran of being "disrespectful" for pursuing Cass despite knowing she was friends with Renee. "You know I still think you're beautiful," he said, between threats to "pull pins" and make Paradise unpleasant for everyone, as a skeptical Renee came to realise she wouldn't be getting any "closure" from Ciarran.
An upset Renee retreated to her room to cry, with Alisha soon arriving to comfort her. "This guy's a f*cking joke," Alisha said after Renee explained her feelings about the ring and the entire situation. "Should we throw it out?" Alisha asked.
Renee and Alisha resolved to throw the specially designed ring, a symbol of her former relationship, into the ocean. To let go of the ring was to acknowledge that she was finally ready to let go of her ex, and all the associated negative feelings.
Alisha and Renee paddled into the ocean together, still dressed (for Fiji) and holding the box. "This is your freedom," Alisha said. "Sometimes to go into the future, you've got to get rid of the past."
"I just need to get this f*cker out of my life. I'm done with this bullsh*t," Renee said.
Alisha and Renee hugged, before Renee hurled the ring deep into the ocean. "Goodbye to the old and hello to the new!" she yelled.
A newly liberated Renee told Alisha she loved her as they embraced, Alisha having helped Renee find the strength to move forward and wholeheartedly explore her new connection with Matt Whyatt. "Girl power!" Alisha cried as they walked back onto the beach.
It was clearly a cathartic moment, and one we're glad both Alisha and us here at home got to share! We're definitely feeling inspired to get rid of some junk from our own sh*tty exes . . .
Bachelor in Paradise airs on Network Ten, Sunday to Wednesday. Join us at our Facebook group Pass the Popcorn to gab about all things reality TV.