Ciarran Is Possessive of Renee on Bachelor in Paradise
Ciarran Invoked the "Bro Code" Tonight on Bachie to Get In Between His Ex and Her Love Interest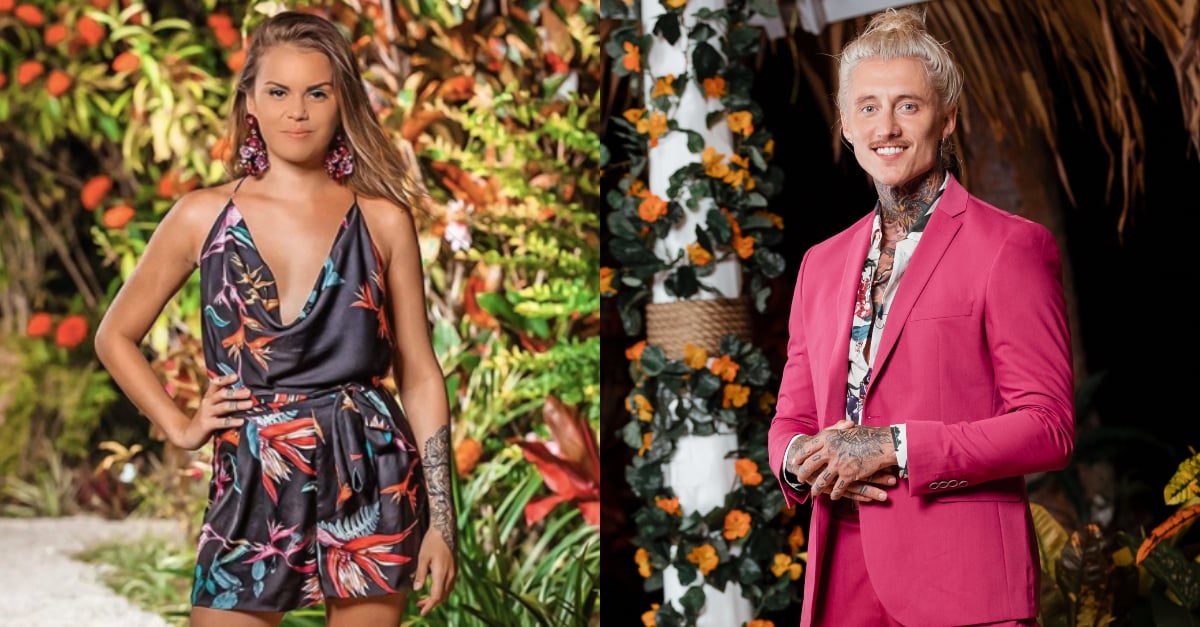 A familiar conversation came up on tonight's Bachelor in Paradise — the "bro code". But while last year the "bro code" was about etiquette in group date and cocktail party situations, this year it seemed more about the misguided idea that men can "own" a woman.
Ciarran Stott became possessive of his ex-girlfriend Renee Barrett and spent much of the episode complaining that new arrival Matt Whyatt hadn't asked "his permission" to take Renee on a date. He became obsessed with the so-called "bro code", accusing Matt of being a "snake" for texting his ex after they'd broken up, and for immediately choosing her for his date.
"I thought Matt and I were mates, and I was sweet with him, but then messaging Renee behind my back, and that, it really p*ssed me off," he said.
But the other contestants didn't think Ciarran could justify his position — especially after he'd spent Paradise pursuing and/or hooking up with Cass Mamone, Abbie Chatfield, Jessica Brody and, now, Kiki Morris. And seemingly without regard for their emotions, flicking them off nonchalantly as soon as it was convenient, treating women like they're disposable and always chasing the next best thing.
While Ciarran and Matt had appeared friendly on The Bachelorette, and had headed on a Bali holiday together with Renee and other alumni, it was argued that they're not brothers or long-time friends who have more of an obligation to one another. Close friends, absolutely, it's appropriate to talk it through before acting upon a romantic intention. But Ciarran and Matt were two men on a dating show. It certainly looked like it was "jealous" Ciarran's intention to undermine his ex's shot at forming a connection, under the mask of Matt treating their friendship with "respect".
"I think Ciarran is trying to set the rules here for me in Paradise," Renee said. "He can do what he wants, but I'm not allowed to do what I want. It's absolutely bullsh*t. I think I deserve to be happy, and if Matt taking me on this date today makes me happy then I'm bloody doing it."
Alisha Aitken-Radburn summed up the situation perfectly: "Ciarran has just made it very apparent to everyone in Paradise that he doesn't want anyone touching anything that he has previously touched, which is gross because it treats people like property."
She's exactly right. Renee isn't "owned" by Ciarran and neither she nor Matt require Ciarran's approval in Paradise. And Ciarran's interpretation of the situation, that he's somehow owed something by Renee or Renee's potential future partners, was toxic. Ciarran was just attempting to exert control over Renee by invoking the "bro code", an action which spoke to a larger idea around women "belonging" to someone, when we're actually fully formed human beings with lives and desires of our own.
No woman belongs to a man — whether they're together, or were once together, or might one day be together. Here's to both Renee and Ciarran finding what they're looking for in Paradise.
Bachelor in Paradise airs on Network Ten, Sunday to Wednesday. Join us at our Facebook group Pass the Popcorn to gab about all things reality TV.