David and Hayley Toothbrush in Toilet Scandal MAFS
David Put Hayley's Toothbrush in the Toilet on MAFS & Everyone Had Something to Say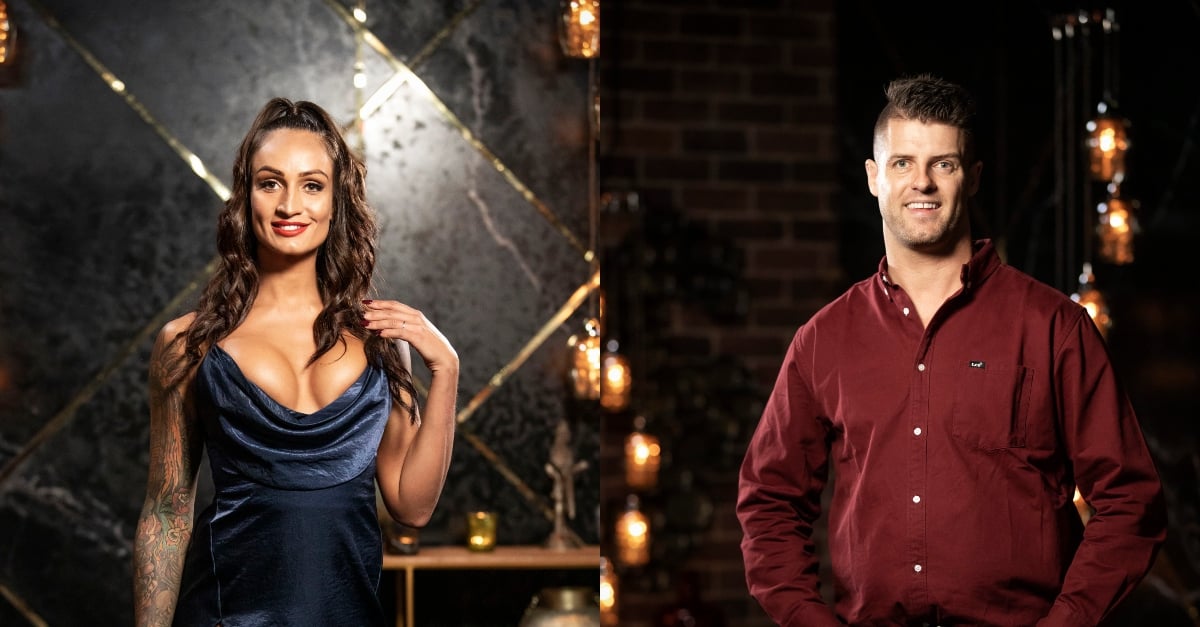 Tonight is the night that the long-rumoured toilet-toothbrush incident on Married at First Sight finally, repulsively goes down, with David and Hayley expected to hash it out at the dinner party.
The story goes that David used his wife Hayley's toothbrush to scrub poo off the sides of the toilet, as the Daily Mail reported on Jan. 21. He filmed the whole thing and sent it around to some of the other men in the "experiment", and, of course, it got around to their wives.
At the time, a source said that David was tired of Hayley's rudeness and "messy ways". "He couldn't take much more and had reached breaking point."
Now we know that it probably had something to do with Hayley kissing Michael on last night's episode.
David told News.com.au's Not Here to Make Friends podcast about his disgusting actions yesterday. About three days after Hayley and David kissed, and David found out, he says he was in "a really dark place" and hasn't heard from his TV wife. "I still had her room key, and that's when I did something really childish," he said.
"She would go to the toilet without cleaning up after herself, not very lady-like. I wasn't a fan of the . . . what she would leave on the toilet bowl, so that's when I grabbed the toothbrush and scrubbed the toilet with it.
"She used it for five days," he said. "It's her own poo, it's her own bacteria in her own body so it's not going to hurt her."
Hayley also told 3PM Pick-Up team, Monty Dimond, Rebecca Judd and Yumi Stynes, as Daily Mail notes, on Feb. 6 that the incident was "real", "repulsive" and "disgusting" and that she was oblivious to it for days and continued to use her toothbrush. "It's abusive. That's what I said straight off the bat. That's what my dad said. That's what everyone said."
She also described his decision to film it as "vile". All in all it revealed a lot about David's personality. "When you say, 'I want a good orthodox relationship,' or 'I'm a good Christian boy,' and you do something like that, you're kind of contradicting everything you're saying."
Then on Feb. 13, talking to Lise, Sarah, Dan & Ben, via Yahoo! Lifestyle, Hayley elaborated, saying that one of the other women told her about it. "He did one of the most repulsive things in the show's history and I'd almost say it was bordering on abuse.
"Everyone was in a particularly stressful set of circumstances. No one else lashed out like that and everyone was under the same amount of duress."
Speaking to Mamamia on Feb. 26, Hayley said that it was Natasha who texted her not to use her toothbrush, and she had heard from Mishel. Hayley went to Natasha's room to find out more. "I absolutely lost my shit. I broke down, I was screaming."
She regrets not going to police about the incident, saying that production advised her not to, and said they would deal with it. She has since spoken to them about it. "It's classified as a form of physical abuse. It can endanger your person and you can get Hepatitis A.
"It was such a high-pressure situation where everyone was feeling very stressed [however], someone going down the path of being physically abusive to someone else is just deplorable."

We've known this was coming for weeks now, but it certainly didn't make us feel any more prepared.
Here's what people online had to say about toothbrush-gate:
David with the toothbrush:#MAFS #MAFSAU pic.twitter.com/abiImpl9hm

— Stweetheart (@stweet_heart) February 26, 2020
Hayley brushing her teeth with her new toothbrush after discovering what David did to her old one: #MAFS pic.twitter.com/qu5fByUvUT

— Megan Pustetto (@meganpustetto) February 26, 2020
*Someone cheats*

Judges: *nothing*

*Someone uses a toothbrush as a toilet brush*

Judges: "that's disgusting!" #MAFS #MAFSAU

— Alex Lucifero (@LuciferoAlex) February 26, 2020
Every time I think this show can't get any more twisted, Hayley pulls a toothbrush covered in her own shit out of her bra (????) and flings it across the dinner table at her husband's head, who is dressed like the Riddler for some reason. #mafs

— Alana Calvert (@AlanaCalvert) February 26, 2020
"I've been nothing but a gentleman" says the man who put a toothbrush in a toilet at the age of 31 #MAFS

— Amy Sinclair (@amy_sinclair9) February 26, 2020
Married at First Sight airs on Channel Nine, Sunday to Wednesday. Join us at our Facebook group Pass the Popcorn to chat through the ep!