Elly Miles The Bachelor Australia Elimination Interview
Elly Miles on the Moment It All Changed Between Her and Bachelor Matt Agnew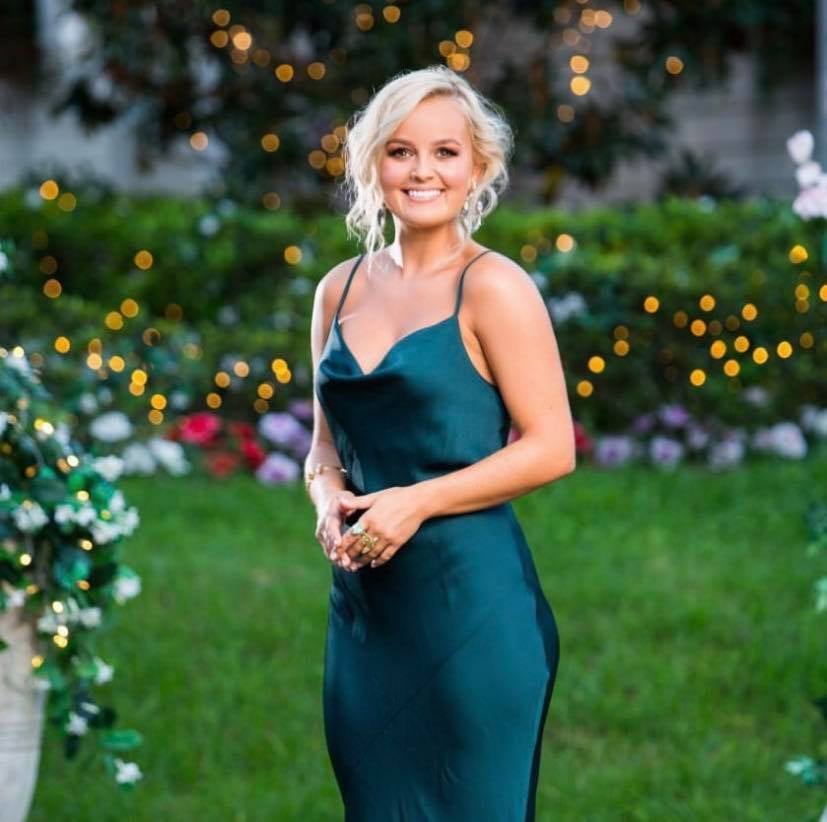 Elly Miles was the indisputable fan favourite of this season of The Bachelor. Not only was she easily the most popular contestant among viewers, but she also appeared to be one of the firm frontrunners in the race for Matt Agnew's heart. That was until things all came crashing down in last night's episode. After having made the decision to warn Matt about the possibly sketchy intentions of fellow contestant Abbie, Elly was sent packing in an emotional rose ceremony. However, as Elly details, her issues with Abbie were not the reason for her elimination. Below, she chats exactly where it went wrong between the pair, as well as her thoughts on the differing public reactions she and Abbie have received.
POPSUGAR Australia: Hey Elly! How are you feeling after watching the episode last night?
Elly: Well, it's sad watching yourself be sad on telly! [Laughs] Watching yourself be so upset about something you're now passed is weird. I don't feel that way now, I'm really happy at the moment, so watching it was just like, "oh my gosh, I was so sad!"
PS: You were clearly surprised to leave last night, what made you so confused about your elimination?
Elly: My time with Matt after the chemistry date was really nice, we spent a lot of time together and had some great conversations. It was the first time that I actually thought it myself, "maybe it could be me there at the end." So because of that I was left very confused, that's for sure.
PS: How strong were your feelings for Matt by the end?
Elly: I think I was falling for him, I certainly wasn't in love with him. I'm really glad I got to go when I did, because I think bringing him into my life and seeing him in that setting [at hometowns] would have made going so devastating. I probably would have fallen for him completely if he'd met my family. I think I probably left at the best time.
PS: I feel like we were all keen to see Matt go to the Parkes telescope . . .
Elly: Honestly it would have been hilarious, I would have put him through some country shit let me tell you! [Laughs] But it didn't go that way and that's okay.
PS: If you had never mentioned Abbie to Matt, do you think the outcome would have been different?
Elly: It's difficult to say, because I certainly never got that vibe from Matt, but I know it looks different on telly. Matt also said to me outside the limo that he's got to really hone in on who he can actually picture a long-lasting future with. There was a point when I gave him that flanno at at a cocktail party, and we had a conversation where I opened up about some of my insecurities. I said I was scared I would get to the very end, but that it wouldn't be me because we're too different. He reassured me of course, but I felt that he really took that on board. From that moment, there were changes with him towards me, and I think at the end of the day we were just a bit too different. I think it was at that point that things changed between us, but I also think it worked out the way it was meant to for the both of us.
PS: What do you think the key differences between the two of you were?
Elly: We're just kind of opposites! Which isn't a bad thing, I found our differences very refreshing and he was unlike any anyone I'd dated before. I welcomed our differences and just went for it. But you know, he likes AFL and I like NRL. [Laughs] He's from the city and I'm from the country. I don't know whether our lives would have meshed together as well as we would have hoped.
PS: We didn't really see you have any issues with Abbie until the last few episodes you were in. When did those feelings you had about her develop?
Elly: She and I were pretty close at the beginning, and she is a great girl, I just don't think she's someone you want to come up against on The Bachelor. We actually got along like a house on fire, and I think she's sort of gotten the short end of the stick. We've only seen one side of her on screen. Towards the end when she kept popping up in the drama, I was like, ooh, I want to distance myself from that. But then of course, I ended up smack bang in the middle of it unfortunately!
PS: How do you feel about all the backlash she's received?
Elly: I think it's awful. I've watched the show and I have seen how she's come across on screen, so I can understand why the public would be riled up from her. But no one deserves that kind of response in the capacity she's received it. It's bullying. I've had people send me awful messages they wanted to send to Abbie and that's just nuts, like why would it make me happy to see those awful things about someone? I've been so lucky to have so much support, but there's always the odd person who has something nasty to say, and it's the nasty things that stick with you. To be getting that all the time, I can't even imagine how she's bloody feeling the poor thing.
PS: Speaking of the support you've received, you've easily been the most popular contestant this season, how has that felt?
Elly: It's amazing. When I'm just walking down the street, I don't expect anyone to know who I am, but then someone will come up to me and be like, "you're so beautiful, you're such a nice person." It's surreal to have people you've never met before come up to you and have nothing but nice things to say about you. In essence, I feel like I've made people proud, and I hold that really dear to my heart.
PS: Looking back on the show, what have been some of your favourite moments or highlights?
Elly: Every moment I spent with Matt was obviously amazing, like the horse riding and the fire date, where it was a crack up to see him in that leather vest. But honestly the girls were the highlight, we had so much fun. At the end of the day, we spent more time together than anyone of us spent with Matt, and we developed wonderful friendships.
PS: What's going on in your life now? Do you get around all the "Elly for Bachelorette" comments?
Elly: I'm single! I've just come back from Europe and I had the absolute time of my life. I'm just working on myself now, it's nice to be settling back into my life and taking good care of myself after having gotten out of routine. In regards to The Bachelorette, it would just depend on if I was still single at the time, and ready to go for it again.
PS: Who do you think is the best match for Matt out of the top four?
Elly: Obviously Chelsie is basically Matt in girl form, I can see their kids doing bloody science experiments at the kitchen table. [Laughs] I don't know though, the heart want it wants and Matt's got to figure that out for himself. I'm so excited to watch the show now I'm not in it. [Laughs]