Emelia Jackson Wins Immunity Challenge MasterChef 2020
Emelia Would've Loved a Hug After Her Flawless Dessert Pressure Test Immunity Win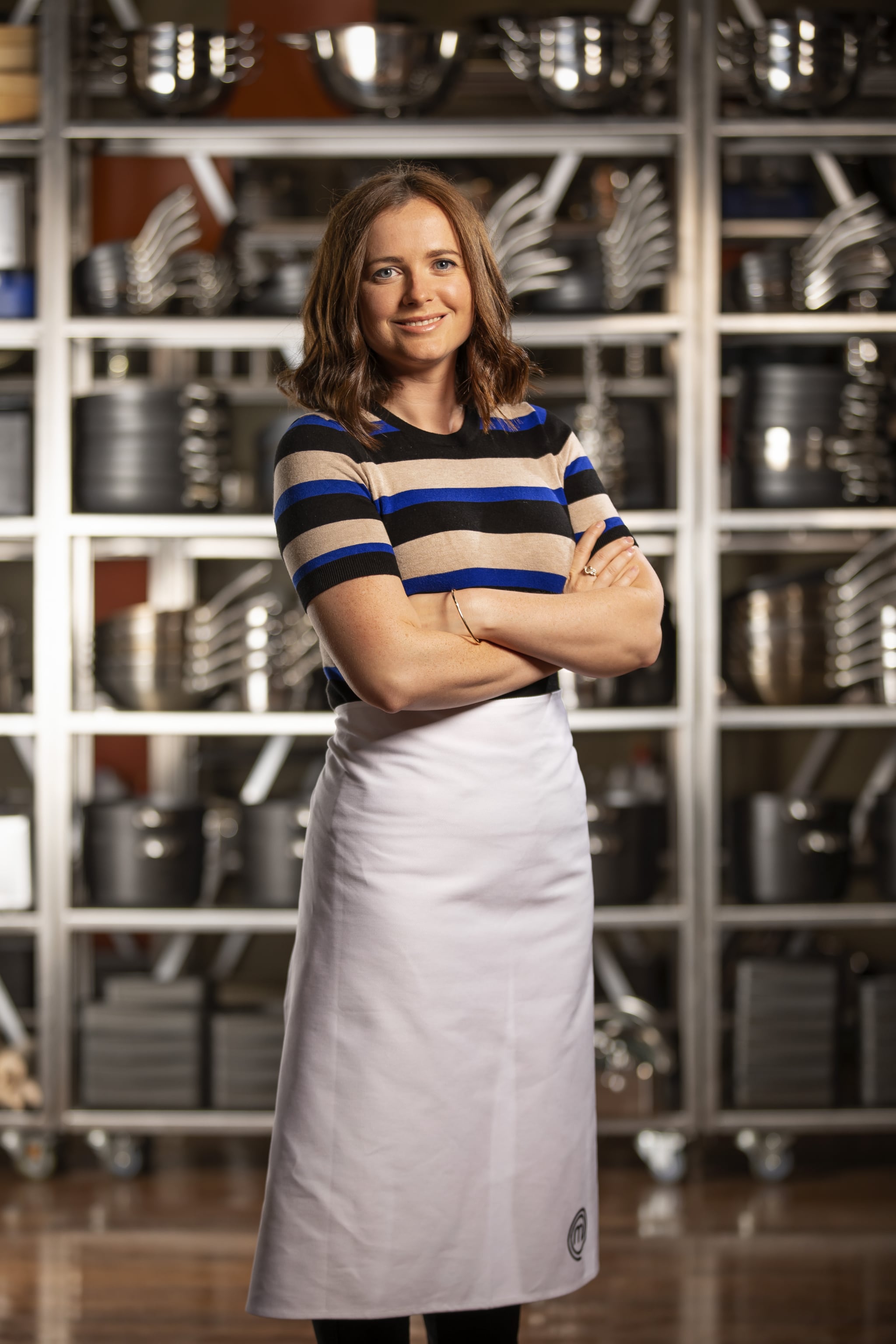 Emelia Jackson won immunity for the first time ever on last night's MasterChef in a dessert Pressure Test for immunity.
It was the only Pressure Test of the season so far to see the contestants — the winners from Monday's relay challenge — enter the kitchen smiling, because this time no one would be heading home.
The test from guest chef Kirsten Tibballs, founder of Savour Chocolate and Patisserie School, was to recreate her meljito from a 75-step recipe in just three hours. The dish consisted of layers of white chocolate cream; marinated melon; lime and mint madeleine cake; vodka, lime and watermelon jelly and a chocolate shell and straw.
Up against Simon Toohey, Khanh Ong and Brendan Pang, Emelia had a slight advantage going into the challenge, having started a cake business since coming third in season six. She was "thrilled" to have the opportunity to make one of Kirsten's creations in the MasterChef kitchen.
Simon and Khanh, who were each in last week's Peter Gunn Black Box Pressure Test, found themselves tempering chocolate yet again — and struggling. Brendan also had difficulty, going through the process repeatedly.
Khanh's chocolate shells both broke, and Jock Zonfrillo tried to give him a pep talk. "You will get it done," he said. "You're the last minute master!" He made the decision to patch one up so he would have something to plate up for the judges.
But it wasn't enough — both Khanh and Simon served up imperfect dishes, Khanh joking his was more of a "ninja turtle" than a watermelon. Brendan's was close in taste to Kirsten's, scoring a special mention, and made all the more impressive by the way he caught up after lagging behind to serve up his completed meljito. Overall though the standout was Emelia, who really "nailed" the cook.
Chuffed with her immunity win, her first from two attempts, Emelia said that it was really pleasing to win after feeling "crappy" about her performance last week, when she landed in the bottom three at Sunday night's Elimination. "I'm actually wrapped," she said. "I was so happy to see what this dish was."
Read on for our interview with Emelia:
POPSUGAR Australia: Competing in a dessert Pressure Test from Kirsten Tibballs, did you feel like you were in your element as a cake maker?
Emelia: I was absolutely thrilled when I saw Kirsten walk into the kitchen! But then I was incredibly nervous knowing her technical level in chocolate and pastry.
PS: When you nailed your chocolate straws, you joked to the contestants on the gantry, "Call me, Kirsten." How exciting was it to make a dessert by the Queen of Chocolate herself?
Emelia: "It was honestly one of the best days in the kitchen for me! Loved every second" — Emelia "Kirsten" Jackson
PS: As the others struggled with their tempered chocolate, you seemed to tackle all the components of the dish with ease. Did you feel intimidated at all by the 75-step recipe?
Emelia: I temper chocolate weekly for my cakes. So I knew that was one part I could tackle with confidence! But the entire recipe was SO overwhelming, it was massive!
PS: You won the first immunity after social distancing measures were introduced. How hard was it not to hug your fellow contestants when you finished your meljito?
Emelia: The social distancing thing was super weird for the first few days after it was introduced, but we were all so nervous about the virus that it almost came naturally to us after that. Would have loved a hug though!
PS: It's such an impressive turnaround from bottom three for Elimination on Sunday to winning your first ever immunity on Tuesday! Did you feel encouraged by the win?
Emelia: I couldn't believe the turnaround! That is the epitome of the MasterChef rollercoaster! I was so happy to have won, of course — such a massive confidence boost.
PS: You joked about looking forward to "a week off the crippling anxiety" by winning immunity. But did you want to get back in the kitchen for the rest of the week as you watched the other contestants continue to cook?
Emelia: No. Straight up, no. I enjoyed every second of that gantry time!
MasterChef Australia airs on Network 10, Sunday to Thursday. Join us at our Facebook group Pass the Popcorn to gab about all things reality TV.