Florence Alexandra Bachelor in Paradise Recap Week 4
The Flo-Down: Florence Alexandra Is Sick of the "Toxic Trainwreck" That Is Ciarran and Kiki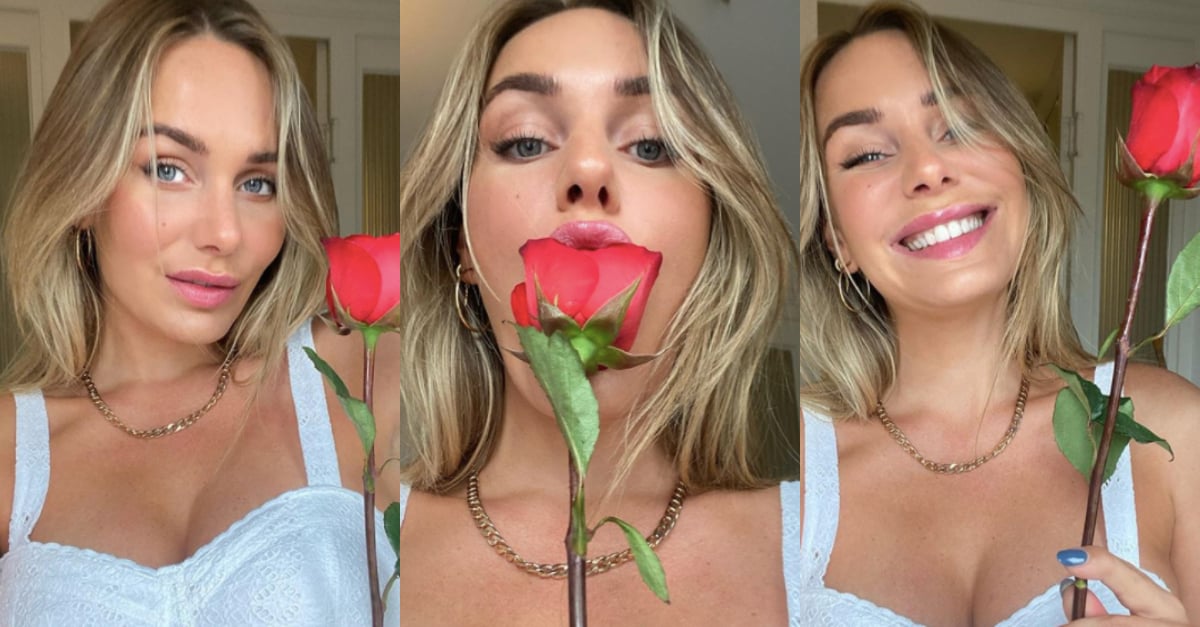 Welcome to The Flo-Down with Bachelor star, Florence Alexandra. In her weekly column for POPSUGAR Australia, Florence shares her thoughts with us on the romances, hook-ups, friendships and faux-ships of Bachelor in Paradise 2020. Using her insider knowledge after appearing on two seasons of the show, Florence puts the most talked about BIP relationships under a microscope each week, unpacking what's real, and what's not.
Bula everyone! We are approaching the end of season three of Bachelor in Paradise and all I can
say is please never do four episodes a week of this show ever again. I mentally wasn't and still
am not ready. One day I feel like I need to FaceTime my therapist at midnight because Ciarran
has told yet another lie, the next day I want to fall in love and get married because of the way
Conor speaks to Mary, or become a lesbian and date Alisha so Donna will become my
mother-in-law (leaning towards the latter) . . . It's just too much. This week was, again, filled with
drama and even a full-blown "bro code" brawl between Ciarran, Timm and Matt which, to be
honest, made me LOL. Calm your little tatted-up man boobs and get a grip, boyos. Fighting is
probably the biggest turnoff for a girl, second to asking if she's got Snapchat. But hey, there
were also plenty of hilarious moments, like Alex's permanently confused face and Keira's edit
when she "dumped" him after he had already dumped her (gotta give homegirl some credit here
as those interviews they showed were a mix of old footage that had been used before in
other scenes). And how about Brittney hand-swapping her drink over Jackson's head while
making out with him? That's an impressive skill right there, and, if I were Jackson, I'd be keen
to find out what other manoeuvres she can do. Hot damn. I'm actually gutted Brittney's gone
now but thankfully Renee and Alisha are still there to provide some iconic sisterhood energy by
dramatically tossing that $800 ring in the ocean to officially free Renee from toxic dollar store
Draco Malfoy (credit to the girl on Twitter who came up with this genius description). Last, but
definitely not least, we got to watch the couples that are left meet each other's friends and
family, which filled my heart with joy and made me tear up. How good is love! And how
good is Kiki's mum absolutely ripping Ciarran to shreds? Let's unpack the couples that are
heading into the finale this Sunday.
Alisha and Renee
Probably the most iconic couple to come out of this season of Paradise. I am all about women dishing out truthbombs that need to be told and these two ladies did me proud. The way they
stood up not only for themselves and what they believe in, but also for other people, showed
nothing but absolute class. When Alisha confronted Renee about the ring she found in her
luggage that turned out to be for Ciarran, and Renee admitted she still had some hope Ciarran
and her would rekindle because he had promised her that before coming on the show, Alisha
cried with her. And then suggested to yeet that motherf*ck*ng thing in the ocean. $800 ring or
not, getting rid of a toxic ex is priceless. I hope they will show these scenes to Year 12 girls for
the next century to educate them on what female friendship should be about.
The Verdict: Legends that deserve their own statue in every state of Australia. Currently on
the phone to Scotty M to organise.
Alisha and Glenn
Sigh. It was about time someone showed the men in Australia how it's done, so big thank you to
Jodie from casting for finding Glenn Smith and bringing him to our screens. After everything
Alisha went through with Jules last season, she deserves to be adored by a human Ken doll like this. Even Alisha's mum Donna seemed to be impressed, and I know from Alisha that her
mum can be very protective of her, so this is huge. I hope all the girls in Australia are taking
notes and vow to themselves in the mirror that they will never settle for anything less than a
man like Glenn, and the way he articulates and shows his love for Alisha. I have been told on
multiple occasions by multiple people that I have unrealistically high standards when it comes to
dating, but Glenn and Alisha have proven it's possible to find a connection that's so effortless,
raw, genuine, passionate, hot, steamy, respectful and real. You just need to find your person
and not settle for 'potential'. Save yourself for the real deal. And when you find it, take Alisha's
mum's advice: give it all you've got. The only downside to this for Glenn is that he MUST marry
her, because if he breaks her heart his only option will be going into a witness protection
program.
The Verdict: I don't know about you but I'm going to buy a few boxes of tissues after I finish
writing this as there is a 99 percent chance of tears when Glenn and Alisha officially commit to
each other in the finale this Sunday. There's also a 99 percent chance that the amount of single
men in Australia will double this week as loads of girls will be dumping their lousy
boyfriends now they have seen what a relationship should look like. I stan.
Conor and Mary
Can I just say that Mary beating Conor in a game of chess and Conor getting super turned on
by that was one of the most underappreciated scenes of this season? Mary is like an onion,
every time you think you've got her figured out she reveals another layer and she never
disappoints. Beating a guy in any game is hot, but especially when it's an intelligent game like
chess and you're playing against an intelligent man like Conor. F yeah. Another one of my
favourite Mary moments this week was her dropping the L-word to Conor's mum before telling
Conor himself, and when she was finally ready to say it to him she told him to stop smiling so
much as it was distracting her from telling him she loves him. What a mood. I literally cannot
remember the last time I have told a guy I loved him, so I'll probably do the same when the time
comes. Four simple letters but one of the hardest and scariest words to actually say to
someone. But Conor is a keeper and our girl knows it, plus when you have said it once, it gets
easier and you'll end up saying it a 100 times a day. Or is that just me who goes from stone cold
to stage five clinger like that?
The Verdict: Conor and Mary are the human version of yin and yang in all aspects, they just
suit so damn well. Conor told Mary's friend he is ready to take on the responsibility of
being a stepdad to Mary's daughter and someone should seriously start ordering some
flowers for Jodie from casting for finding this perfect cleanskin. Checkmate. Stick a fork
in me, I'm done.
Renee and Matt
Honestly, can we all agree that Matt got played when he got a date card and production made
him and Renee fly kites on the grass field next to the resort? If you're running out of budget just
give them a picnic blanket and a cheese platter. He also didn't manage to get it up and I hope that is a kiting-only issue, if you know what I mean. When they sat down for some champers
after the date, Matt told Renee once again how amazing he thinks she is (I think so too) and
how keen he is on her. Gotta give the bloke some credit for how vocal he is about his feelings
for Renee — it's really sexy when a man knows what he wants and is mature enough to straight
up tell the woman of his dreams how he feels about her. I feel like this is exactly what Renee
needs and deserves after getting cheated on and lied to by Ciarran. If it doesn't work out she
can always go and date Matt's DILFy dad. How's the bloody rig on that one? Good lord. If I didn't
have an appetite for younger guys I'd probably slide into his DMs.
The Verdict: Matt seems super keen on Renee, but I feel like the breakup between her and
Ciarran is still too fresh and she'll need some time to process and get over that before
she can move on with someone else. When Matt's dad aka t'he DILF' asked her (twice) if
she is completely over Ciarran, she couldn't give him a straight answer, and I'm afraid this
will give her some food for thought and she'll decide to break up with Matt before the
finale. Let's hope I'm wrong.
Kiki and Ciarran

Yawn. I'm actually kinda sick of giving this toxic trainwreck the time of day so I'mma keep it short
and sweet: Kiki deserves better and Ciarran needs therapy and a dictionary. Apparently he
didn't know what the word "monogamous" means, as Kiki had to explain it to him when
Steve, the human lie detector, questioned him on the topic. Yeah. Nah. Over it.
The Verdict: The only good thing to come out of this is that Ciarran will have no choice but to
have a long, hard look in the mirror after watching himself on this show and question his
actions. I'm hoping he'll realise his behaviour on the show has been utterly unacceptable
and moving forward he won't be treating women like toys anymore. Wishful thinking?
Maybe. But I do believe people can change and better themselves. Bring back the version
of Ciarran we saw on The Bachelorette! Where can I sign the petition?
It seems like four couples have decided to remain in Paradise and head into the
finale, aka the commitment ceremony. But didn't Osher say in one of the promos that only three
couples will last? This would mean that one couple is either going to split up or decide to leave
together, and naturally I'm hoping it's Kiki realising she's been making the wrong decisions and
deciding to catch the same flight as Matt's dad or take off with the bartender or something. But
something tells me Network Ten will torture us with this 'showmance' a little longer and one of
the other couples will decide to call it quits. Something tells me it will be Renee who's going to
pull the plug. Double Bachelor this year . . . ? Father and son? The women in Australia can only
dream.
To be continued in next week's episode of The Flo-Down. Please take some time to say
goodbye.
Love, Flo.